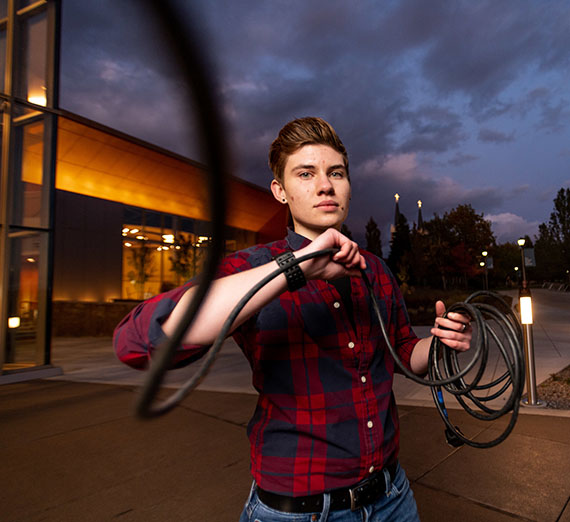 2021 Award: Academic Excellence and Citizenship Award DTM Concentration
Major: Theatre Arts (Tech Theatre Concentration)
Minor: Interdisciplinary Arts
Hometown: Aurora, CO
Extracurricular activities: Designing for Theatre and Dance Productions, painting and drawing
More about Xander
Future plans:
I have my first professional scenic design late this summer with an opera company I have interned at previously for several years. I will also be an M.F.A. design candidate at the University of Idaho starting in Fall 2021 where I will be expanding my theatre design studies and working as a graduate teaching assistant. After finishing my degree, I plan to pursue a career in scenic and lighting design, eventually working as a college professor.
How has your major contributed to your professional or personal development?
My major has helped me to really grow as a young designer and individual. My time at Gonzaga has fostered a lot of the confidence, communication, and creativity I now have as an individual, things that I sometimes struggled with before. I have noticed I see the world differently, using as much of it as possible as sources for my inspiration in my work. I have noticed that my ability to see inspiration from many places has led me to take more creative leaps than I was able to before. That and my strides in confidence for the work I do, has really helped for me to be able to have the future plans that I do.
What has been your proudest or most significant accomplishment during your Gonzaga career?
My proudest moment at Gonzaga just finished this March. Since the start of our Fall 2020 semester, I had been working to scenic design our mainstage play, Antigone, this spring. Creating art during this time has been challenging with many moments of uncertainty, but I couldn't see myself doing anything else, and that dedication for theatre helped me to be able to keep myself going. Having the creative outlet was a huge help and I really took advantage of the fact I couldn't do many other things. I spent a lot of time doing research of different art and architecture movements as inspiration sources for my design. I really am proud of the design I completed and how it functioned with the rest of our design team and our cast, to be able to create a staged production for the first time in over a year.