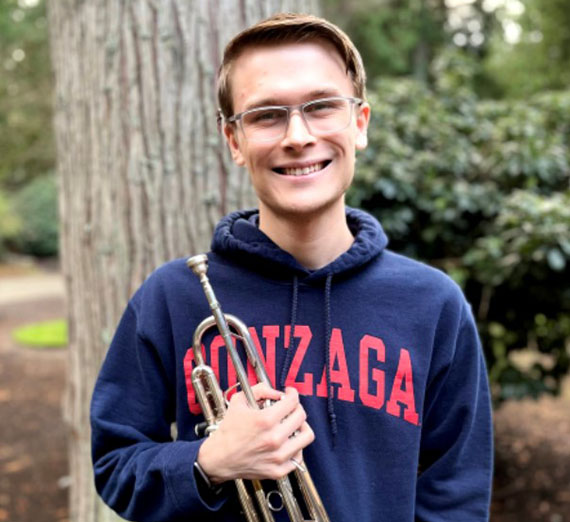 2021 Award: Merwin Award
Major: Music Education
Hometown: Sammamish, WA
Extracurricular activities:Running, hiking, Principal Trumpet in the Gonzaga Symphony Orchestra, and getting to spend time with my family and friends.
More about Kyle
Future plans:
As I continue my studies at Gonzaga, I look forward to continuing to take a part in the amazing musical community here and to continue my education as a future teacher. Beyond graduation my plans are still in flux, but I am considering applying to graduate school to get a master's degree in music education or waiting a few years to get some experience in the classroom. Regardless, I plan to continue to practice to be the best trumpet player I can be and teach private lessons someday. I want to help my future students find a lifelong love for music regardless of their backgrounds.
How has your major contributed to your professional or personal development?
Studying music education here at Gonzaga has allowed me to play both fun and challenging works in both wind ensemble and orchestra. Getting to work with amazing faculty as well as guest soloists has been inspiring and has taught me much about teaching and being a well rounded musician. The school of education has also given me amazing opportunities to work with students in the local Spokane community which have all been incredibly rewarding and have opened my eyes to issues in our community. My time here at Gonzaga has helped to make me a better person who will be better equipped to deal with the problems and challenges I'll face as a teacher and a musician.
What has been your proudest or most significant accomplishment during your Gonzaga career?
I'd say my proudest accomplishment here at Gonzaga has been playing in the Gonzaga Symphony Orchestra. The guest soloists have always been incredibly talented and inspiring people. The repertoire has always been fun and challenging and has exposed me to music that is different from wind ensemble repertoire. I would say the concert we played with cellist Brannon Cho in the Fall of 2019 was my proudest accomplishment here in that the music was quite challenging and pushed me as a trumpet player. I look forward to playing again together once we get through the pandemic.