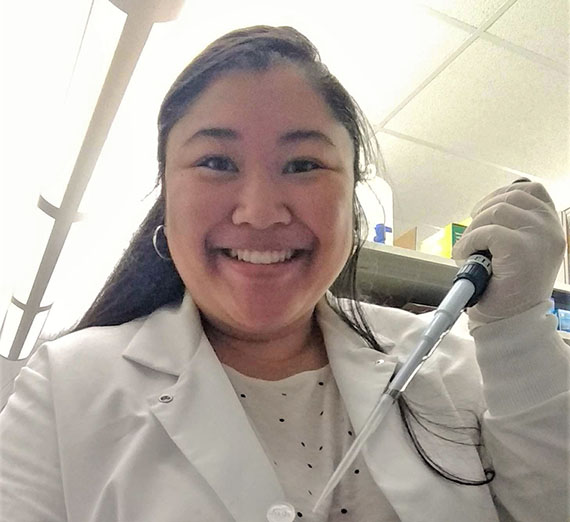 2021 Award: Peter. G. Pauw Award
Major: Biology, research concentration
Minor: Chemistry
Hometown: Bellingham, WA
Extracurricular activities: Filipino-American Student Union, Gonzaga Science Scholars, Undergraduate research with Dr. Laura Diaz-Martinez, SACNAS, SHAPE mentor, Teaching Assistant in labs
About the Award:
The Peter G. Pauw award recognizes students for academic excellence, distinguished by the ability to integrate and synthesize information from a variety of sources, and think in sophisticated ways. It also honors individuals who demonstrate academic excellence in biology, a commitment to their field as indicated by exceptional research or service, and potential for significant professional achievement.
More about Leilani
I'm the youngest of three kids! I'm Filipino and have been the Culinary officer for the Filipino-American Student Union on campus for 2 years, I enjoy cooking Filipino food for others, especially when they have never tasted it before. I love to paint and draw. I also love to travel and see and experience new places.
Future plans:
I plan to take a gap year then try to apply to medical school! I want to be a doctor, or something in the medical field.
How has your major contributed to your professional or personal development?
My biology major has taught me how to think critically from looking at a wide range of different perspectives. I have learned to look at things on a large scale environmental level, to the different mechanisms on a cellular level, then be able to connect how small changes can affect us on the large scale. I have been able to take what I have learned in my classes and be able to apply them to real life examples, it is one thing to learn and understand, but it's important to also be able to take it a step further and apply that learning.
What has been your proudest or most significant accomplishment during your Gonzaga career?
One of my proudest moments as well as it being an amazing accomplishment, was winning a poster Award in Cell/Molecular Biology at the 2020 Murdock College Science Research Conference. It was amazing to put in the hard work of hours of research and imaging cells, then presenting it to an audience outside of Gonzaga, and then being recognized for it!