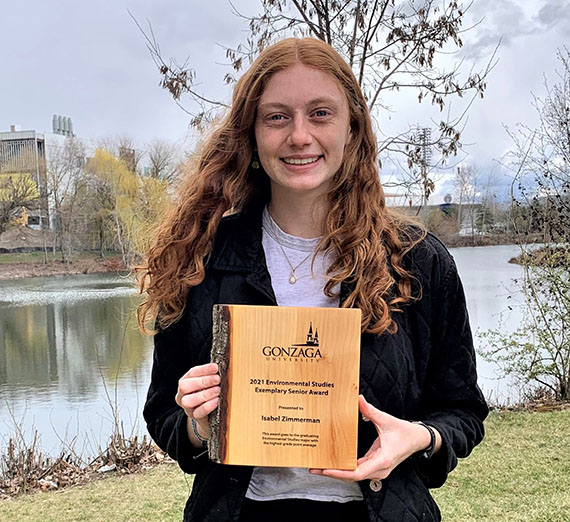 2021 Award: Environmental Studies Exemplary Senior Award
Major: Environmental Studies
Hometown: Lakewood, WA
Extracurricular activities: Fair Trade Gonzaga (GEO)
More about Isabel
About the Award:
This award is presented to the graduating environmental studies student with the highest overall GPA.

More about you:
Outside of my classes and involvement at Gonzaga, I work as a marketing intern at Second Harvest Food Bank. I love to hike and backpack on the weekends, and spend as much time outdoors as I can! Since transitioning to online learning, I have enjoyed going on walks and biking along the Centennial Trail. When I'm back home with my family, I have a dog named Franklin who loves walks and cuddles.
Future plans:
I don't have concrete plans for graduation as of yet, but my dream job would be working in outreach and communications for an environmental group or nonprofit.
How has your major contributed to your professional or personal development?
Environmental studies has helped me realize my passions and goals for my career and my life. The classes I've taken as part of this major have made me a more critical thinker, developed my personal philosophies, and taught me how to have conversations with people who hold vastly different beliefs than I do.
What has been your proudest or most significant accomplishment during your Gonzaga career?
The work I've done at Gonzaga that I am most proud of has occurred through Fair Trade Gonzaga. I started this group with another student my freshman year following my involvement in the student sustainability leadership program. A small group and I have worked on earning Gonzaga a Fair Trade Designation for the past three years. This includes hosting events, sourcing fair trade products on campus, and passing a resolution through Gonzaga's administration. We just finished writing the resolution with administration and the national campaign that grants the resolution, and so we are now working to meet with President McCulloh to sign the resolution!