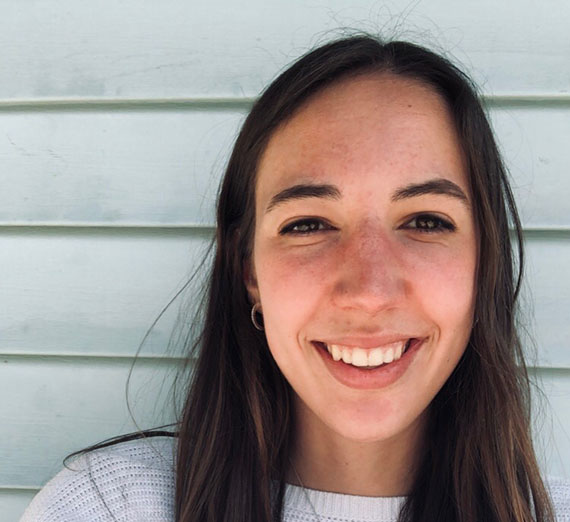 2021 Award: Anthony T. Wadden and Michael B. Herzog scholarship
Major: English (Literature Concentration) + Secondary Teaching Certification, ELA + ELL endorsement areas.
Hometown: Tacoma, WA
Extracurricular activities:Gonzaga Women's XC/TF Athlete, East Valley High School GEAR UP program (work study), GECO (Fall Semester 2020)
About the Award
The scholarship comes from a former Gonzaga University English major, Chad Bogar. He created this scholarship to support English studies, and to honor Drs. Wadden and Herzog who were his favorite professors. The scholarship rewards excellence in English studies for two students at the end of their junior year, to be used in the senior year.
More about Morgan
I am a dog lover (partial to labs); I have a black lab named Murphy! :)
Future plans or career aspirations:
As an English major pursuing my secondary teacher certificate and endorsements, after I graduate, my goal is to begin teaching and working with students as soon as I can. Along the way towards ending up in my own classroom, I want to attend graduate school to receive my Master's in Education.
How has your major contributed to your professional or personal development?
My experiences within the English major have challenged and pushed me to grow and think deeper about how my own experiences intersect with challenges facing our generation. I know that it is thanks to my professors and fellow students that I have been able to have the conversations that have impacted and shaped my current thinking and views, and for that I am incredibly grateful. Overall, it is thanks to them that I have learned how powerful it is to study literature. Literature is the means by which we sort through and make sense of our experiences. Stories can teach us where we have been, reflect to us where we are now, and point for us where we are going. There are countless connections between a literary text and "real" life issues, which make the importance of dedicating thought and energy towards studying literature and what it means to us and for us worthwhile.
What has been your proudest or most significant accomplishment during your Gonzaga career?
Getting to work with adult and high school English Language Learners through North Central High School and the GECO program. Through this work I have had the privilege to hear life stories and cultural experiences different from my own, which has provided me with some of my most valuable learning experiences at Gonzaga.