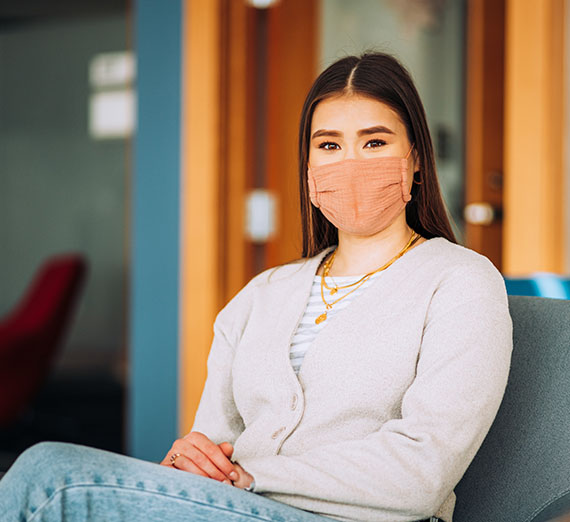 2021 Award: WGST Founders' Award for Excellence in Academics
Major: Business Administration, and English with concentrations in Economics and Writing
Minor: Women's and Gender Studies
Hometown: Corvallis, Oregon
Extracurricular activities:I am currently a Writing Tutor, Director of Diversity and Inclusion for GSBA, and volunteer at GECO (Gonzaga ESL Community Outreach).
About the Award
The Founders' Awards are named in honor of the seven women who, in 1991, established Women's and Gender Studies as an academic program at Gonzaga. As a way of acknowledging the relationship between feminist intellectual work and feminist praxis, each year the department makes two awards: one for achievement in academics and one for achievement in activism.
More about Haley
I grew up in Corvallis, Oregon with a love of baking, cooking, biking, hiking, and walking my lovely Golden Retriever before arriving at Gonzaga. At GU, I've worked in many different departments and programs: I was a Pro Rep, the Director of Diversity and Inclusion for GSBA, a Writing Tutor for almost four years, a Marketing and Promotions intern, and a Social Justice Peer Educator. All of my experiences exposed me to a plethora of students, faculty, and staff on campus and have played integral roles in shaping my sense of identity and belonging over the course of my college career. I am extremely passionate about Social Justice, in my free time I like to read and bake, and I also really enjoying biking and running.
Future plans or career aspirations:
Post graduation I will be working as a rotational development partner in Finance at the Starbucks Headquarters in Seattle, WA.
How has your major contributed to your professional or personal development?
Both of my majors and my minor, have been foundational to my experience at Gonzaga University and my development as a whole person. While English may seem far removed from Business, my English major has hugely shaped the way I approach problems, the way I construct presentations and craft compelling stories, and the way I problem solve. While Business has given me the foundational knowledge of the corporate world and equipped me with strategies for success, English has proven to be the skillset that enhances those abilities and has propelled me in my past business internships, and hopefully will continue to in my career. Adding WGST to this mix, is what has allowed me to grow the most and develop a stronger understanding of my identity, and positionality in the world throughout college. Without the WGST minor I would not feel as equipped to enter the "real world" with confidence, courage, and tools to thrive as a person of my particular identities. WGST is by far the most influential program I have been in during my time at GU, and I am so thankful to the professors and friends who have made the program, and the learning, exceptional.
What has been your proudest or most significant accomplishment during your Gonzaga career?
During my senior year at Gonzaga, I served the Gonzaga Student Body Association as the Director of Diversity and Inclusion. Taking inspiration from a previous internship, I spearheaded the "Zags for Black Lives Matter" T-shirt initiative at GU. It was an incredible amount of work, and something that had not been done before, but my team felt that creating community wide awareness about the importance of anti-racism and the lifelong process of allyship was essential. I am proud of the shirts but I am prouder of the anti-racism pledges that 2000 of our community members signed, and hope that the shirts and the pledges will persist in the future years as reminders of the importance of uplifting action and positive change that is not performative.