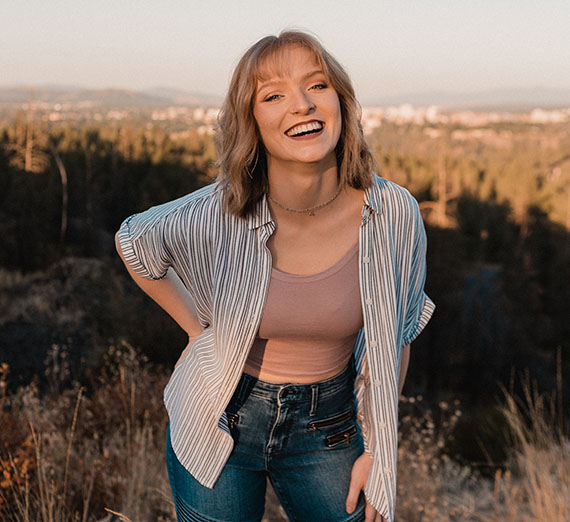 2021 Award: Dance Pedagogy
Major: Bachelor of Arts in Dance, concentrations in Performance and Pedagogy as well as a Bachelor of Business Administration, concentration in Human Resource Management
Minor: Communication Studies
Hometown: Goldendale, WA
More about Suzanna
I keep myself busy. However, I thoroughly enjoy and immerse myself in every activity I participate in, which is such a blessing.
I am in constant search of ways to break the mold, step outside of the box, and push the limits of the mind. What is dance? What is music? What is art? Are there answers to these questions, or will I be constantly hanging in the balance for oblivion? When constrained to the traditional ideas of media, dance, and art, we hold ourselves back from the most innovative thought. This mindfulness can only be achieved through immersion in the unknown, the uncomfortable, and the odd. These inquiries inspire me to keep learning, teach, create, and tell stories through visual and performance art.
Fun Fact: I am a beverage person with an affinity for the coffee variety.
Extracurricular activities:
Gonzaga Repertory Dance Company, Humanities Dance Company, Bomb Squad Member, American College Dance Association Company member and conference attendee, New Season dance ensemble for the opening of the MWPAC, ensemble member and soloist for the New Season's Florence Tour, Gonzaga in Florence Alumni, Co-Director/Producer/Founder of Gonzaga's Annual 60x60 Showcase, On-Campus Public Relations Officer and Treasurer for the Boundless Dance Club Executive Board, Thirst Worship Group Vocalist, Volunteer for Dance for Parkinson's, Youth Leader at Life Center Church Spokane, Resident Assistant for three years, Administrative Assistant and Web Content Developer for Gonzaga College of Arts & Sciences Office of the Dean, Marketing Coordinator for Gonzaga Dance Program & the At Present Documentary.
Future plans or career aspirations:
Post-graduation, I will be continuing education through the GU's Master of Arts in Organizational Leadership program and hopefully working as a business consultant (if you're reading this, please hire me). Eventually, I would like to own and run a Dance Academy and fitness center. In seven years, I hope to work as an Adjunct Professor of dance.
How has your major contributed to your professional or personal development?
I have always known I was supposed to dance, but it took my experience through the GU Dance Major to show my capabilities. This program helped me find myself as an artist, a choreographer, and a leader by providing endless opportunities to create, explore, and be challenged. I cannot imagine my life without dance. Sharing my love of this art form gives me purpose. The Dance Department, in union with my other areas of study, has not only bolstered my CV, but also helped me grow as a servant leader.
What has been your proudest or most significant accomplishment during your Gonzaga career?
My proudest accomplishment during my Gonzaga career was bringing the 60x60 art movement to the Gonzaga Dance stage. A fellow GU dancer, Claire Colombini, and I combined forces to direct, produce, choreograph for, AND perform in the first and second, now annual, 60x60 Dance Showcase. In Fall 2019, we gathered 75 dancers to put on an hour-long show with 60 one-minute pieces, performing to a sold-out audience. Against all odds, we rallied 80 participants last Fall for a live-streamed show, with the addition of screen dance to the original 60x60 framework. This program helped us push GU dancers, choreographers, and audience members beyond their comfort zones while encouraging innovative and explorative movement, film, and music. This experience allowed me to see my passion for arts administration and production. I am proud to leave a legacy for the Gonzaga community.