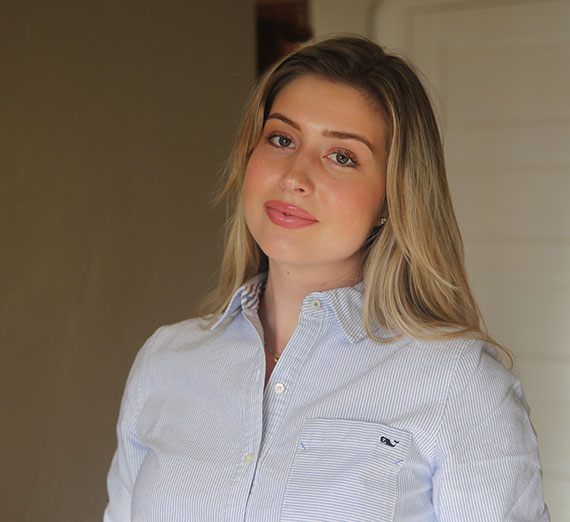 2021 Award: Robert D. Prusch Award, Department of Modern Languages and Literature Award in Recognition of Exemplary Academic Performance in Spanish
Major: Spanish and Biology
Minor: Chemistry
Hometown: Seattle, WA
More about Melina
I am an honor's student currently on the pre-med track hoping to work on dismantling systems of inequality particularly in the health care field, as it relates to immigrants, women, and those in larger bodies. The intersection of racism and fatphobia is of particular interest to me, and I am currently writing my thesis on the racist origins of body shaming, its false connection to wellness, and how it has infiltrated the medical community. I am a lover of animals and dorky things, and find immense pleasure in watching the same movies over and over again.
Extracurricular activities:
Volunteer at World Relief, Science in Action volunteer, President of Health Sciences Club, President of Students Empowering Women, Undergraduate research assistant in the Shepherd lab, Student representative in IDEAS in action committee, Student representative in Honors DEI Council, Gonzaga Science Scholars member, Volunteer at Horizon Hospice, Crafter of DEI student petition, Lead organizer for the first annual Fall Product Drive For Victims of Domestic Violence
Future plans or career aspirations:
Next year, I will be working with the Jesuit Volunteer Corps in a placement in Nashville, TN, working as a legal aid and outreach specialist to Southern Migrant Legal Services. As a bilingual volunteer, I will be working primarily to take statements from migrant farmworkers in their cases against corporations that have violated their contracts, caused them injury, or violated the law and human rights in any way.
After this, I hope to pursue medical school, though I am also considering law school and hoping that the year of service will provide me more clarity as to future directions!
How has your major contributed to your professional or personal development?
As a Biology major, I have been pushed to think critically, to approach difficult problems from an informed analytical perspective and above all, to work hard. This was not an easy path, but it gave me the tools to cope with stressors and challenges and maintain self-care and self-compassion. With the support of biology and other university faculty alongside my peers, I have been pushed to engage with whose knowledge we value, why, and how science, medicine, and systems of oppression all interact. Without the space to explore and learn about these issues provided by outstanding faculty and a liberal arts education, I never would have been able to blend the worlds of science, language and social justice, and imagine a path for myself that engages in all of them in an important way.
What has been your proudest or most significant accomplishment during your Gonzaga career?
My most significant accomplishment at Gonzaga was founding the club Students Empowering Women. It has served as a courageous space for women identifying individuals to share and advocate for feminist action items, always from an intersectional framework. Together, we raised $1,000 to buy products for victims fleeing domestic violence, created a mentorship program for young female identifying students to navigate a changing body and mind, created a petition that called for faculty to diversify their curriculum, created a ribbon demonstration featuring 380 ribbons for survivors of sexual assault, and consistently spoke out against injustice and arrogance. I created that club in one of the lowest moments of my life, and my passion for that work gave me a purpose and drive to gain my strength back and truly find my voice for the first time.