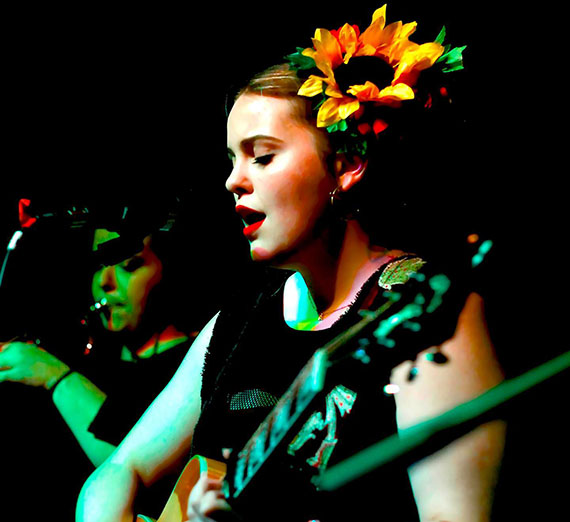 2021 Award: Merwin Award
Major: Music Composition
Minor: Conducting
Hometown: Portland, OR
Extracurricular activities: Songwriting, producing, recording, composing for media (podcasts, YouTube channels, screendance)
More about Annabella
Future plans:
After graduating, I plan to pursue a career as an independent composer for film and media. Eventually, I want to open my own recording studio, where I plan to compose for film and be a producer for bands, orchestras, singer/songwriters, as well as my pieces. I want to continue performing and touring both as a solo artist and with a band. At the end of the day, my goal is to grow musically and spiritually; and accept new musical challenges.
How has your major contributed to your professional or personal development?
I have connected with so many talented musicians, creators, and educators in my first semester at Gonzaga University. Music has repeatedly shown me the value of creative collaboration. Within Gonzaga's music department and everywhere I go, I am reminded of the beauty in working together toward a common musical goal. Being a composition student has taught me to see opportunities for unique and unusual instrumentation and a desire to compose for one's favorite musicians, who are often our friends. My major contributes to both my professional and personal development by encouraging me to pursue meaningful connections.
What has been your proudest or most significant accomplishment during your Gonzaga career?
During my first semester at Gonzaga, Fall 2020, I met one of the Gonzaga Dance program directors, Karla Parbon. I had just made business cards, and I was, admittedly, a little too eager to hand them out. I gave one to Ms. Parbon and asked her to let me know if she ever needed any music for her dance projects. Not long after, Ms. Parbon invited me to work on her latest screendance project, where I wrote and composed a piece of music to her choreography, "Tethered Edges." It was wonderful to communicate professionally and creatively as a student.