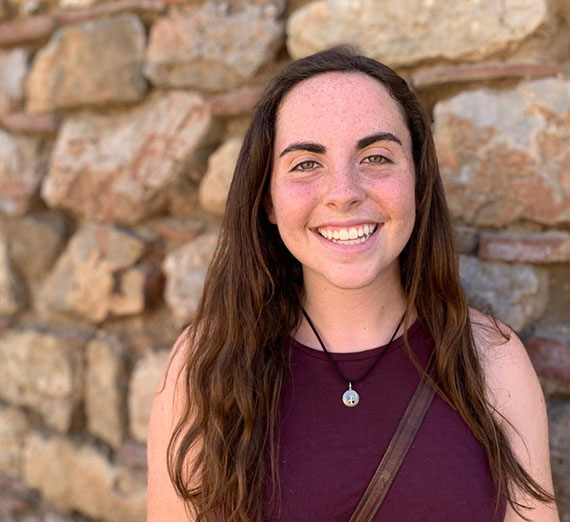 2021 Award: Robert D. Prusch Award
Major: Biology, Research Concentration
Minor: Psychology and Chemistry
Hometown: La Crosse, Wisconsin
Extracurricular activities: Gonzaga Environmental Organization President, Rethink Waste, Gonzaga Science Scholars, SSLP, Microplastics Research, Horizon Hospice volunteer, Sacred Heart Volunteer, Mission Possible, Health Equity Circle
More about Mikaela
Future plans:
I am hoping to obtain my Master's in Global Health next year. I hope to work one day researching the different effects of climate change on human health, especially on the most vulnerable. I also hope to work in creating and advocating for policy that mitigates the climate crisis. This allows me to take an intersectional approach and to combine my passions for health equity and climate justice.
How has your major contributed to your professional or personal development?
My Biology major has contributed greatly to who I am today. The skills I have acquired in scientific inquiry have caused me to always being asking questions and seeking answers in creative ways. I've also come to have a great appreciation for the details of how life works, and this has caused me to want to conserve and preserve our environment for all species and people even more. I've also learned about the importance of social justice through science and the need for research and science to have justice at its core. The Biology faculty have also challenged me to work hard and have supported me in so many ways.
What has been your proudest or most significant accomplishment during your Gonzaga career?
I think my proudest accomplishment at Gonzaga would be how much I've grown in my education and choosing to learn to learn and recognizing how much of a privilege a Gonzaga education is. I have really come to enjoy the learning process instead of always being focused on the grade or my future goals. I'm also proud of the relationships I have formed here over the past four years as I'm constantly being inspired by all of those around me.