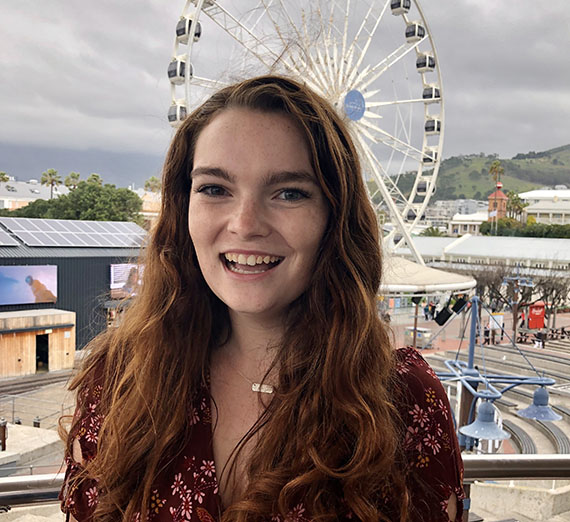 2021 Award: Global Scholars Award for Distinction in International Studies
Major: Political Science, International Relations, French
Hometown: Seattle, WA
More about Sophia
Extracurricular activities
Gonzaga Model United Nations Delegate (2017-2021)- Secretary General (2020-2021), Parliamentarian (2019-2020), Head Delegate (2018-2019); Study Abroad in Stellenbosch, South Africa (Fall 2019); Phi Sigma Iota Language Honors; Peer Tutor (2019-2020); GSBA On-Campus Senator (2018-2019); President's Council (2018-2019); Green Fund Voting Member (2018-2019)
Future plans or career aspirations:
I am hoping to attend law school following graduation. While I am unsure which concentration I will pursue, I am incredibly interested in international law, human rights law, and public interest law
How has your major contributed to your professional or personal development?
My majors have undoubtedly shaped my interest to go to law school. The international relations major has nurtured my passion for international affairs and has allowed me to be a much more engaged global citizen. International relations worked perfectly in conjunction with the political science major, and the combination of the two have provided significant insight into both domestic and international politics. I have also thoroughly enjoyed majoring in French, as it has bolstered my language skills while encouraging cross-cultural competency. All of these majors have been pivotal in my development professionally and personally. I believe that each of these departments focus on human rights and social issues have fulfilled Gonzaga's promise of educating the whole person and have changed me for the better.
What has been your proudest or most significant accomplishment during your Gonzaga career?
I am incredibly proud to have been a member of Gonzaga's Model United Nations (GUMUN) during my entire undergraduate career. GUMUN has allowed me to apply theory learned in class to current issues through the eyes of various foreign policies. This was an incredible organization that grew my public speaking, writing, and debate skills while providing a close-knit community of friends who are just as passionate about international affairs. I was honored to receive the NWMUN Outstanding Delegate in the General Assembly award as well as the NMUN Peer Award for Outstanding Delegate in the Security Council- Additional this year. I am proud to have served as Secretary General my senior year, especially after seeing all of the new members do so well in our national conferences. GUMUN was fundamental to my undergraduate education. I would like to thank Dr. Taninchev, our faculty advisor, as well as all of the delegates I have been lucky to get to know across my four years in GUMUN.