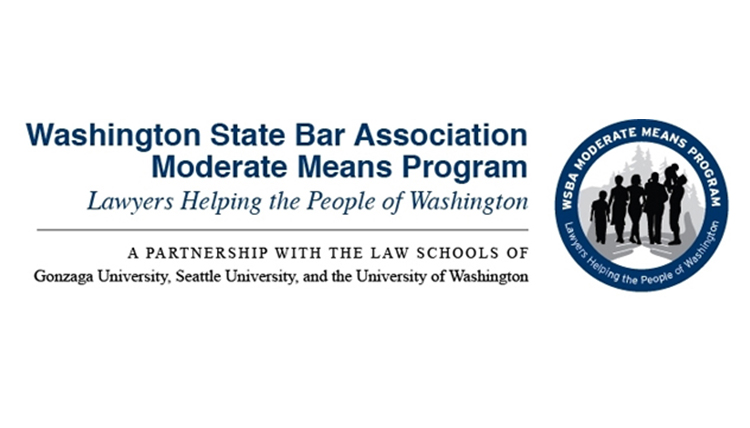 The Center for Law in Public Service oversees Gonzaga's participation in the statewide Moderate Means Program. Through the Moderate Means Program, law students work to provide access to justice to people of "moderate means": those who make too much to qualify for legal aid but not enough to retain an attorney at market rates.
CLIPS' staff attorney recruits, trains and supervises law student volunteers who handle client intake, case assessment and referral to private attorneys for reduced-fee representation. The program focuses on the highest legal needs for low and moderate income Washingtonians: family law, housing law, and consumer law.
What is the Moderate Means Program?
The Moderate Means Program (MMP) is a joint venture between the Washington State Bar Association (WSBA), and the law schools of Gonzaga University, Seattle University and the University of Washington.
The purpose of the program is to increase access to civil legal services for moderate means individuals (those with incomes between 200% and 400% of the federal poverty level), who cannot afford to hire private attorneys at prevailing rates but make too much money to qualify for traditional civil legal aid services.
MMP is the first program of its kind in the nation to partner with law schools to deliver these services. The program launched at Gonzaga during Summer 2011.
The program currently focuses on the areas of family, housing, and consumer law.
How do I apply for assistance through Moderate Means?
To apply for services through the Moderate Means Program, please go to our website where eligibility information and criteria are available, as well as the online application, which takes just a few minutes.
After we receive your application, a Moderate Means Program student intern will call you to review your information and complete your intake.
If your income falls below 200% of the Federal Poverty Level, you should contact the CLEAR Program instead at (888) 201-1014.
How does the Moderate Means program work?
MMP law student volunteers are supervised by the MMP staff attorneys at their law schools.
MMP law student volunteers interview potential clients, either in-person or by telephone.
After the client interviews, MMP law student volunteers draft fact summaries and case analyses to be reviewed by the MMP staff attorneys.
Working with the staff attorneys, MMP law student volunteers determine case eligibility for referral to MMP participating private attorneys. MMP law student volunteers present the cases to participating MMP attorneys who are offered the opportunity to work with the clients at a reduced fee.
Once a MMP participating attorney accepts a case, the client is directed to the attorney and the intake materials developed by the MMP volunteer law student is sent to the attorney.
The MMP participating attorneys meet in person with the clients to determine what services are appropriate and the fees to be charged.
Becoming a Moderate Means Program Student Volunteer
Participation is open to 2nd semester ILs who have a minimum 2.5 GPA, and to 2L and 3L students who are in good academic standing.
MMP law student volunteers need to be available a minimum of 5 hours per week.
MMP law student volunteers commit to one semester of service at a time.
MMP law student volunteers must complete all required training.
MMP operates year-round. If available, law student volunteers are welcome to participate during school breaks.
Law students will be able to volunteer throughout the week, in as little as 30-60 minute increments.

If you are interested in volunteering, please contact Gonzaga Law School's MMP Staff Attorney

Julie Schaffer.
"After a year spent solely in the classroom, it was a nice change of pace to begin working with clients through the Moderate Means Program. In dealing with clients, I started to see the bigger picture of the law I learned in the classroom. More importantly, though, the Program provided me the opportunity to aid a sector of the population that has repeatedly fallen through the cracks. While many people qualify as "moderate means," so few resources are available to help these individuals access justice. This experience tangibly reminded me that it is both my duty and privilege to legally advocate for those in need, not just those who can afford it."
– Molly Rose Fehringer, 3L
"The Moderate Means client interviews allow for practical application of the principles being learned in all of my classes. Having real facts, emotions, timelines and clients has been more beneficial to my legal education than any hypothetical taught in a class."
– Douglas Dick, 3L