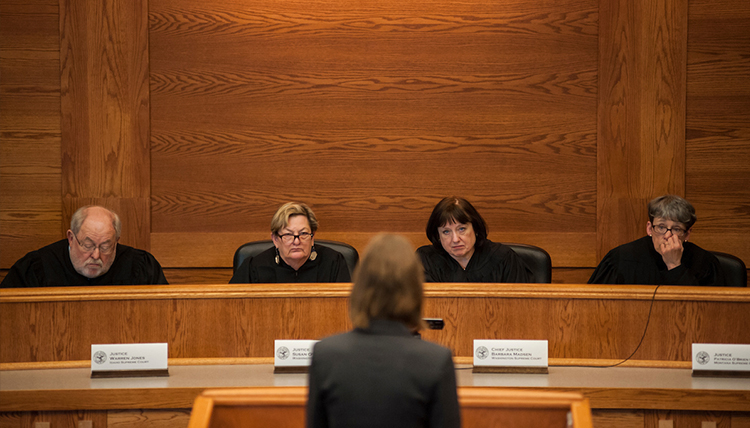 Student Competitions help law students develop real-world problem solving skills in close-to-real-world situations that encourage you to think on your feet. Intraschool competitions occur through the academic year, typically in October, March, and April. Interschool competitions are typically in the spring semester with a few exceptions.
The Gonzaga Moot Court Honors Council is comprised of students who have reached the final round of an intraschool competition or who are members of a faculty selected team who will participate in interschool competitions.
Alumni Volunteer Opportunities
One of the most tangible ways our alums can give back to our current students is by participating as a judge in the various student competitions throughout the year. Without our volunteers, our students lose out on these valuable and practical training opportunities. Our students use competitions such as Linden Cup, Clarke Family Prize in Legal Ethics, and the Sweetser Closing Argument Competition to sharpen their skills and gain hands-on experience.
Below are the annual competitions we host every year. If you can participate as a judge, please complete the interest form and we will contact you as we start planning for next year's competition!
1L Oral Argument Competition
Timeframe: January (annual)
Format: In-person
Time Commitment: 1-3 evenings during the week of the Competition
Additional Benefits: CLE credit
Linden Cup
Timeframe: March (annual)
Format: In-person
Time Commitment: 1-2 evenings during the week of the Competition
Additional Benefits: CLE credit, dinner during event
Clarke Family Prize in Legal Ethics Competition
Timeframe: March (annual)
Format: In-person or Online/synchronous
Time Commitment:
3-5 hours, depending on number of participants; judging is spread over 1-2 days
Client Counseling Competition
Timeframe: November (every two years)
Format: In-person
Time Commitment: 1-2 evenings during the week of the Competition
Additional Benefits: CLE credit, dinner during event
Negotiations Competition
Timeframe: November (every two years)
Format: In-person (Online for Fall 2020)
Time Commitment: 1-2 evenings during the week of the Competition
Additional Benefits: CLE credit, dinner during event
Sweetser Closing Argument Competition
Timeframe: October (annual)
Format: Online/Asynchronous
Time Commitment: 5-8 hours, depending on number of participants; judging is spread over 1.5 weeks