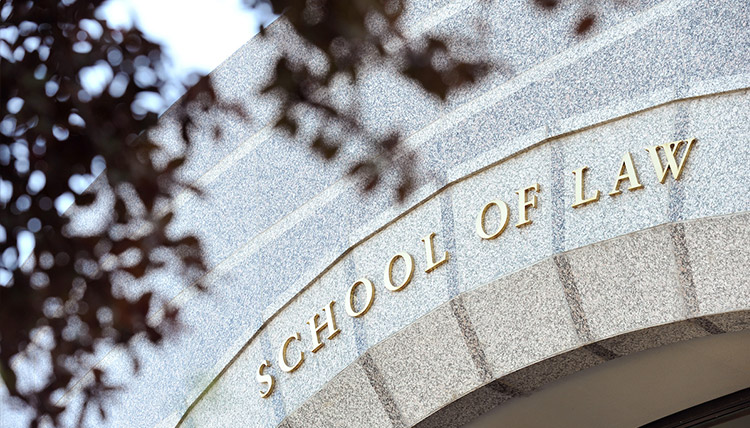 Prospective Students
Can I receive an application fee waiver?
Thanks to a generous donation from a distinguished alumnus, all of our application fees have been waived.
What is the application deadline?
Applications open October 1 and our priority deadline is April 15. Applications after April 15 will be accepted on a case-by-case basis. Please contact the Admissions Office for consideration after April 15.
How can I check the status of my application?
You may check your application status here. You will need the username and password provided in the email we sent upon receipt of your application. When a final decision has been made, the status checker will say "Decision Mailed." Gonzaga Law will not give out final decisions via the status checker, phone, e-mail, or any method other than direct mail. Please make sure the address you applied with is accurate.
How long does it take to review an application?
Review time can vary greatly depending on the time of year and on the application. The admissions committee begins reviewing applications in January. Typically, it can take anywhere between 6 and 8 weeks for a decision to be mailed but this is not a guarantee.
How are scholarships decided?
Merit-based scholarships are awarded based on an applicant's LSAT and GPA. These scholarships will be awarded as part of the student's acceptance. Additional scholarships may be available based on other aspects of an application.
Can I visit the law school?
Yes, although we recommend that students wait until they are admitted to schedule a visit. Gonzaga Law will cover one nights stay in a local hotel for admitted students.
Can I apply if I'm taking the February LSAT?
If you take the February LSAT you will be considered for admission so long as your application is completed before the April 15 deadline. However, February LSAT takers are not eligible for the Thomas More Scholarship.
Does Gonzaga interview applicants in the admissions process?
An interview is currently not a component of the admissions process. Applicants are welcome to visit the School of Law and meet with an admissions professional, but the visit is for purely informational purposes, and has no bearing on the admissions process. If you are interested in visiting the law school, whether you are applying for this year or a future year, please contact the Admissions Office.
How long does it take to complete my degree?
Gonzaga Law currently offers the traditional 3-year J.D. program. But there is an option for an accelerated 2-year J.D. program as well.
Can I attend law school part-time?
Gonzaga does not have a part-time program. A student may take reduced credit loads for good cause, or based on extraordinary circumstances, but such determinations are made on a case-by-case basis by the Associate Dean for Academic Affairs.
What dual degree programs are offered and when may I apply?
Gonzaga School of Law offers two dual-degree programs in conjunction with the Gonzaga School of Business: the J.D./MBA, and the J.D./Master of Accountancy.
We also offer a J.D./MSW in conjunction with the School of Social Work at Eastern Washington University.
Ideally, dual degree students will complete the first year of law school before participating in a dual degree program. Student must also be aware of application deadlines, entrance exams, and course prerequisites that the collaborating schools require.
Admitted Students
What is Thomas More Scholarship and how do I apply?
The Thomas More Scholarship Program provides a full tuition scholarship to highly motivated students committed to public service through the practice of law. Interested applicants must submit a separate application for the TM Scholarship by February 1, and must already be accepted to Gonzaga School of Law.
When do I register for classes?
First-year classes are registered for you by The Registrar's Office. Typically, you will receive you schedule about two weeks before orientation.
Can I visit the law school?
Yes. We encourage all admitted students to visit Gonzaga Law. We will cover one nights stay at a local hotel for students who come to visit.
How do I confirm my enrollment?
Admitted students can deposit via ZagWeb. The deposit deadline will be listed in your acceptance letter. Please refer to your acceptance packet for details on how to log into ZagWeb.
When is Orientation and when do classes start?
Check the Gonzaga Law Academic Calendar. Additional details about Orientation will be provided via e-mail about 3 or 4 weeks before classes start.
Where can I find information about housing?
The admissions office will share housing options periodically on the private Admitted Student Facebook group. You can also check our housing resource website: http://gonzagaoffcampus.org/
Where do I send my final transcript?
Many students apply to law school while still completing their undergraduate degree. If this is your situation, you will need to send a final transcript showing that your bachelors degree has been awarded. This transcript can be sent to LSAC (in the same fashion as when you applied) or mailed directly to the Gonzaga Law School Admissions Office.
Can I defer my admission?
Admitted students have the option to defer their acceptance for one year on a case by case basis. Students interested in deferring should e-mail their request with a brief explanation. The request would then need to be approved by both The Admissions Committee and The Associate Dean of Students. This process typically takes 1-2 weeks. If a deferral is granted, a letter will be sent to the student confirming the decision. Any awarded scholarships will carry over with the deferral provided that the student submits the $500 seat deposit.
What are some steps I should be taking to get my financial aid in order?
Please complete a current FAFSA as soon as possible to be considered for Federal Aid. Contact
The Financial Aid Office
if you have any questions.