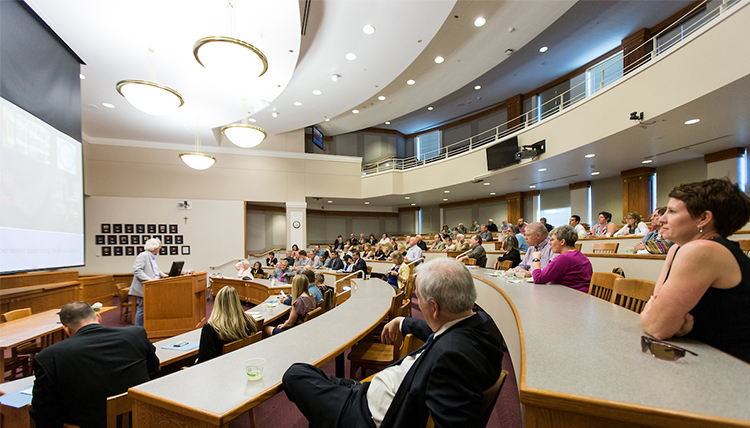 The Gonzaga Center for Law and Justice is home to University Legal Assistance (ULA), a not-for-profit clinical law program.
The Clinic is modeled after a general-practice law firm. Managed by faculty members, the Clinic gives students the opportunity to apply academics to legal practice.
The Clinic has received the Charles Goldmark Distinguished Service Award from the Legal Foundation of Washington, and the Emil Grumpier Award for Excellence in the Teaching of Trial Advocacy. It also has been recognized by the American College of Trial Lawyers.
For The Public:
University Legal Services (ULA) is located in the Center for Law and Justice at Gonzaga University School of Law.
ULA offers assistance to two groups of low-income residents. University Legal Assistance:
Provides representation, advice and counseling without charge to low-income persons 60 years of age and older who are residents of Spokane County.
Helps low-income taxpayers with Federal tax problems before the Internal Revenue Service and the United States Tax Court.
Cases are handled by second- and third-year law students under the direct supervision of attorneys.
To Get Legal Assistance:
Apply to University Legal Assistance directly by calling (509) 313-5791 or contact the Northwest Justice Project's Coordinated Legal Education, Advice, and Referral CLEAR Service.
A directory of other agencies that provide free or reduced cost legal services.
For Students:
Each of the six discrete clinics is organized to give you an opportunity to learn critical skills, where you will learn by doing. Credits earned in the Law Clinic qualify for the Experiential Learning requirement towards graduation. A student may take up to 15 total Clinical Law credits towards graduation requirements.
Each intern represents clients at all levels of the dispute-resolution process, and is responsible (under supervision) for case decisions and attorney-client collaboration.
If the case reaches the litigation phase, the intern handles all aspects of the pre-trial and trial preparation, as well as the trial itself.
ULA interns were the first interns in the state of Washington to try criminal felony cases, the first to try cases in the Federal Court and to argue in the Courts of Appeal.
Get More Information & Apply:
Students must apply to the clinical law program. Students must reapply for each semester that they wish to practice in the clinic.
Learn more about participating in the clinical law program.