Gonzaga Law School
Clinical Legal Programs
For over 40 years, students have represented real clients in the Clinical Legal Programs. Participants take on causes of people who otherwise would have no representation.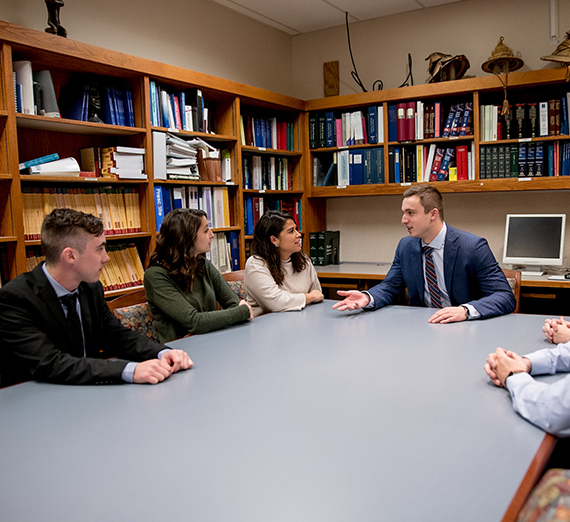 Clinical Legal Programs
Gonzaga Law School- Clinical Legal Programs provides legal advice, representation and counseling without charge to low-income community members. Cases are handled by second- and third-year law students under the direct supervision of attorneys.
Clinical Legal Programs offers legal assistance on a variety of matters:
Representation, advice and counseling without charge to low-income persons 60 years of age and older who are residents of Spokane County.

Assist low-income taxpayers with Federal tax problems before the Internal Revenue Service and the United States Tax Court.

Representation for members of the Kalispel Tribe in civil and misdemeanor criminal matters.

Assist with start-up and development-stage enterprises in business formation and related matters.

Representation and counsel for low-income individuals and families on immigration law matters, including family reunification, humanitarian protection, and citizenship advocacy.
To Get Legal Assistance:
Apply for assistance from Clinical Legal Programs by directly by calling (509) 313-5791 or contact the Northwest Justice Project's Coordinated Legal Education, Advice, and Referral CLEAR Service. Please note: The opinions, work product, and positions advanced by the faculty and students working in the various clinics operated by Gonzaga Law School – Clinical Legal Programs do not necessarily reflect the opinions or positions of Gonzaga University or the School of Law.
Contact Us
Call Us Today
721 N. Cincinnati St.
Spokane, WA 99202

TEL: (509) 313-5791
FAX: (509) 313-5805