In a competitive market, employers want graduates who can contribute from their first day on the job. That's exactly what we prepare you to do. Our curriculum provides expert training in litigation and transactional law while developing the critical thinking and communication skills necessary to succeed.
Our Jesuit values embrace service beyond self and a commitment to diversity. The end result is a degree that serves as the foundation for a long and successful career and a lifelong connection to a diverse group of leaders dedicated to creating a better world.
Students in good academic standing at ABA-accredited law schools may apply to transfer to Gonzaga to complete work toward the Juris Doctor degree.
To apply as a transfer student, please submit:
Personal statement which includes your reasons for transferring to Gonzaga
Law School Admissions Counsel CAS Report
Letter of good standing, sent directly from your current law school
Official transcript from your present school, with all terms of attendance recorded
Two letters of academic recommendation, sent directly from faculty at your current school
For applicants who have been academically disqualified or dismissed from another ABA law school, you cannot apply as a first-year law student until two years from the date of disqualification has passed, unless you obtain a standard 505 letter from the previously disqualified school.
Your journey into Gonzaga Law begins with a simple conversation. E-mail us, plan a visit, or request more information
The Admissions Team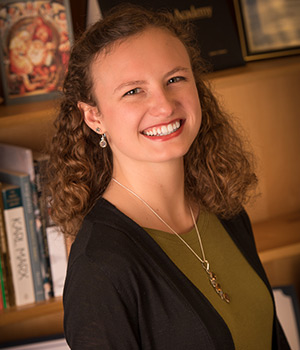 Assistant Director of Admissions
Law Admissions, Gonzaga University School of Law
Phone (509) 313-5532
Transfer credits.
Law school credits are eligible for transfer to Gonzaga Law School if the credit was earned at another law school fully accredited by the American Bar Association. Only law school credits for which the student received a grade of "C" or better will be available for transfer to Gonzaga Law School. Transfer credits will not be considered in computing the student's grade point average or class rank.
Transfer credits from courses taken prior to matriculation at Gonzaga Law School.
No credit will be given for any courses taken at any educational institution prior to matriculation at Gonzaga Law School unless the Associate Dean for Academic Affairs approves those credits for transfer pursuant to this rule. In no event, may the Associate Dean approve for transfer to Gonzaga Law School more than a maximum of one third (1/3) of the credits needed for awarding the J.D. degree.
Transfer credit for courses taken at another law school after matriculation at Gonzaga Law School.
No credit will be given for courses taken at another law school after matriculation at Gonzaga Law School except as provided in subparagraphs (a) through (d) herein:
Associate Dean approval.

The student must obtain written approval from the Associate Dean for Academic Affairs prior to enrollment in the course, including foreign study abroad programs offered through another law school. No approval will be given for taking a course at another law school unless the student has a compelling reason for doing so. Serious health matters, family problems, or taking a course not offered at this law school but of substantial importance to a student's career objective are examples of compelling reasons; the desire to finish law school in the locality where a student may wish to practice law is not a compelling reason.

Final semester visit away.

If the student is visiting at another law school in the final semester of study toward the J.D. degree, the student must achieve the semester final grade point average that would place that student in good standing on the visiting away school's grading standard.

Maximum credits.

A student will not receive credit for more than sixteen (16) credit hours of the credits required for the J.D. degree (whether from summer school, regular sessions, or foreign study abroad) taken at or through another law school after matriculation at Gonzaga Law School. The Associate Dean for Academic Affairs may make an exception to this credit hour limitation for good cause.

Study abroad programs.

A study abroad program is any program where classes are taken outside the United States. To enroll in any study abroad program (whether offered by Gonzaga Law School or through another law school), the student must have achieved a cumulative grade point average of 2.500 or above by the end of the fall semester preceding the summer the program is offered. In applying this rule, any advisory grades received by students after the fall semester immediately preceding the summer for which the student wishes to register, will be counted as if they were terminal grades.