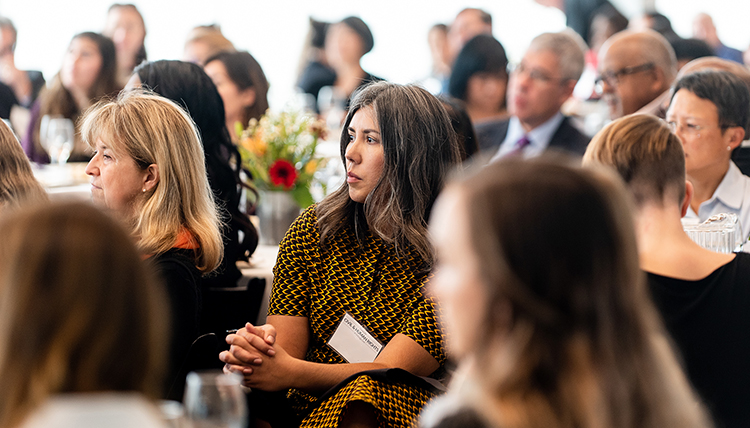 The Center's mission is to create a nationally-recognized civil and human rights program that enriches the educational experience of students, furthers the common good, and provides significant contributions to the policy and practice of civil and human rights.
The Center pursues its mission through three pillars of excellence: research, education, and community engagement.
The Center provides an institutional framework to promote the work of faculty and its partners in the area of civil and human rights.
The Center:

• Sponsors a Visiting Assistant Professor of Law to teach two courses a year and pursue a scholarly agenda, while assisting with the development of the Center,
• Puts on an annual conference on the pursuit of justice, attracting national and international audiences interested in civil and human rights, including scholars, judges, practitioners, and activists,
• Offers a series of workshops and presentations where faculty from Gonzaga and other institutions share ideas and works-in-progress on topics related to the Center's goals,
• Hosts an annual speaker series, bringing nationally recognized scholars for public forums regarding civil and human rights.

As an interdisciplinary project, the Center also works with other schools and departments, both within Gonzaga and beyond, to raise awareness about the ways in which the law can promote civil and human rights and serve the public good.
The Center builds on the social justice mission of Gonzaga Law School and emphasizes civil and human rights as an integral component of students' legal education. Through the Center, students can:
• Become a Thomas More Social Justice Scholar and receive full tuition,
• Pursue a
Certificate in Civil and Human Rights
through courses, clinic and externship opportunities, and extracurricular activities,
• Participate on the Civil Rights Moot Court team,
• Receive a Summer Grant to pursue opportunities with agencies dedicated to social and criminal justice.
The Center also sponsors a
jurist-in-residence program
, where a distinguished judge or accomplished practitioner teaches a condensed course for credit on a topic related to the Center's mission.
The Center engages members of the local, regional, and national community to address and understand issues of discrimination, inequality, and injustice. The Center:

• Offers CLE programs on topics related to civil and human rights,
• Partners with civil legal aid organizations to provide pro bono opportunities to students in the area of civil and human rights,
• Houses the statewide Moderate Means Program,
• Oversees Gonzaga's participation in the Juvenile Records Sealing Project,
• Partners with legal and community-based organizations working on related issues,
• Sponsors events on topics consistent with the vision of the Center.

As the Center develops, its goals also include expanding clinic and externship opportunities to provide direct assistance to members of the public, as well as engaging in high impact litigation and policy-making.

John J. Hemmingson Chair in Civil Liberties and Professor of Law
Director, Center for Civil & Human Rights
Email

Michelle Fukawa, J.D.
Assistant Director, Center for Civil & Humans Rights
Email

Visiting Assistant Professor, Center for Civil & Human Rights
Email
Upendra Acharya, Faculty, Gonzaga Law School
Catherine Clark, '91, Law Office of Catherine Clark
Colleen Durkin, '12, Holman Law
Jeff Geldien, Academic Development, Gonzaga University
James Headley, Faculty, Eastern Washington University
Brooks Holland, Faculty, Gonzaga Law School
Alejandra Lopez, 3L, Gonzaga Law School
Genevieve Mann, Faculty, Gonzaga Law School
Gloria Ochoa-Bruck, Adjunct Professor at Whitworth
Jeffrey Omari, Faculty, Gonzaga Law School
Sandy Williams, Editor-in-Chief, The Black Lens