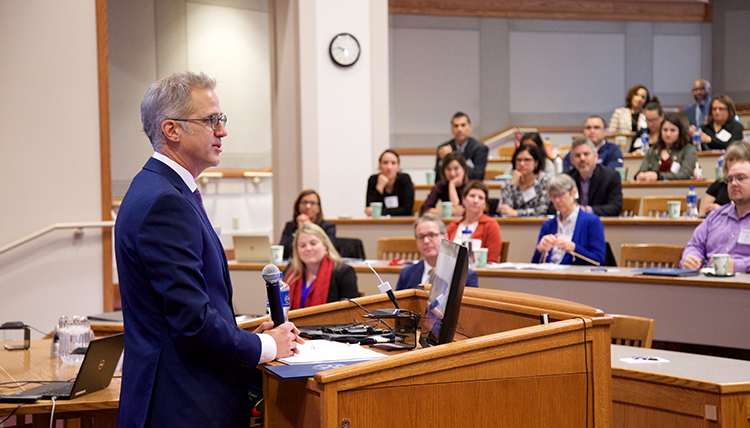 The Center for Civil and Human Rights at Gonzaga Law offers a number of programs designed to provide students and scholars opportunities to explore and address issues relating to civil and human rights.
In the fall of 2017, Gonzaga University School of Law opened the Center for the Civil and Human Rights. The Center's mission is to create a nationally-recognized civil and human rights program that enriches the educational experience of students, furthers the common good, and provides significant contributions to the policy and practice of civil and human rights.
In furtherance of its mission, the Center for Civil and Human Rights is pleased to announce its 1st Annual Center Art Competition. The purpose of the Art Competition is to build bridges between the Law School and the local community by supporting Spokane-based artists pursuing social and criminal justice themes.
See the full overview and rules
The Center for Civil and Human Rights hosts an annual conference on a topic consistent with the Center's mission. The annual conference brings together experts in practice and policy to promote access to justice and to further the rights of those who are underserved, marginalized, disadvantaged or otherwise discriminated against.
Click here to read more about the 2018 conference
The Certificate in Civil and Human Rights program provides an opportunity for students to formally focus their legal education on the study and analysis of civil and human rights and the legal, theoretical, and policy perspectives associated with these rights. It also offers the opportunity for direct action in civil and human rights advocacy work, and development of professional experience in this field.
The Center for Civil and Human Rights organizes and helps coach a Civil Rights Moot Court team. The moot court team participates in the William B. Bryant-Luke C. Moore Invitational Moot Court Competition held at
Howard University School of Law
in the spring.
The Center for Civil and Human Rights brings a distinguished judge or accomplished practitioner to Gonzaga every year to offer a condensed course for credit on a topic related to civil and human rights. The judge or practitioner also discusses his or her work, participates in law school events, and counsels students about career paths on both a formal and informal basis.
The Center for Civil and Human Rights oversees student participation in the Juvenile Records Sealing Project, a joint effort with the Center for Justice and Team Child. The Juvenile Record Sealing Project provides services to Spokane County residents seeking to seal their juvenile records pursuant to state law.
The Center for Civil and Human Rights oversees Gonzaga's participation in the statewide Moderate Means program. Through the program, law students work to provide access to justice to people of "moderate means": those who make too much to qualify for legal aid but not enough to retain an attorney at market rates.
The Center for Civil and Human Rights houses the Thomas More Scholarship program. Through the program, a small number of entering first-year students are awarded full tuition so that they may pursue careers in public service unencumbered by substantial law school debt.
See application information here
The Center for Civil and Human Rights administers a Visiting Assistant Professor (VAP) program for new law teachers. The VAP program provides time for an aspiring scholar to write and to hone classroom skills by teaching one course per semester while also pursuing a scholarly agenda related to the goals of the Center
Read about Professor Omari here