GU Law in Nogales
---
Returning from the border, Gonzaga Law students, staff share their experiences
The request read, "The Immigration Clinic is seeking Spanish-speaking law students to provide legal advice to asylum seekers in Nogales, Mexico over spring break."
It was no small ask, but in the end, five Gonzaga Law School students, three staff, and two alumni committed to spend their time assisting asylum seekers who had recently entered the United States without visas, been detained for one to three days in Tucson, then sent to Nogales, Mexico.
Changes in asylum law and policy are adversely affecting asylum seekers at the U.S. Mexico border. About 60,000 people fearful of persecution have been sent back to Mexico during the past year, where they must wait for their United States asylum court proceedings. Less than five percent of these asylum seekers are represented by a lawyer, significantly reducing their chances of success.
The trip to Nogales was a collaboration between the
Catholic Charities Immigration Clinic at Gonzaga School of Law
, the Arizona-based Florence Immigrant and Refugee Rights Project, and the Kino Border Initiative, a Jesuit organization established in 2009 focused on humanitarian assistance, education, research, and advocacy.
Each participant came away with unique and deeply moving reflections of their time in Nogales. We are proud to share their experiences with you. Personal reflections have been edited for length and clarity.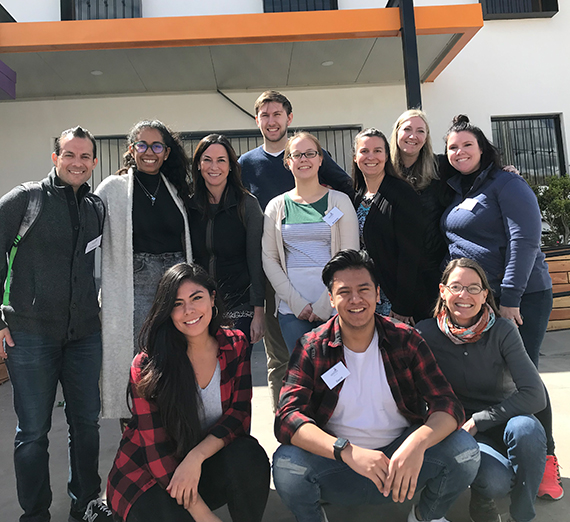 Students, staff and alumni outside of the Kino Border Initiative's New Migrant Welcome Center in Nogales, MX. Back, left to right: Emmanuel Elizondo Leon, '16; Alexandra Miller, Florence Immigrant and Refugee Rights Project; Megan Case; Andy Havens; Amanda Breck; Sarah Guzmán; Jessica Lewis, '13. Front, left to right: Marthy Hernandez; David Salgado; Megan Ballard
David Salgado, 1L Student
"We were not in the best of conditions, the wind sought to blow papers away, the rain came pouring down, the cold air sent chills through our fingers seeking to restrict our ability to type, but we pressed forward no matter the conditions because we were doing meaningful work. We were perhaps the only people who were going to take the time and effort to prove to these asylum seekers that their lives and their stories matter. I will not soon forget the experiences that we were privileged enough to encounter ourselves."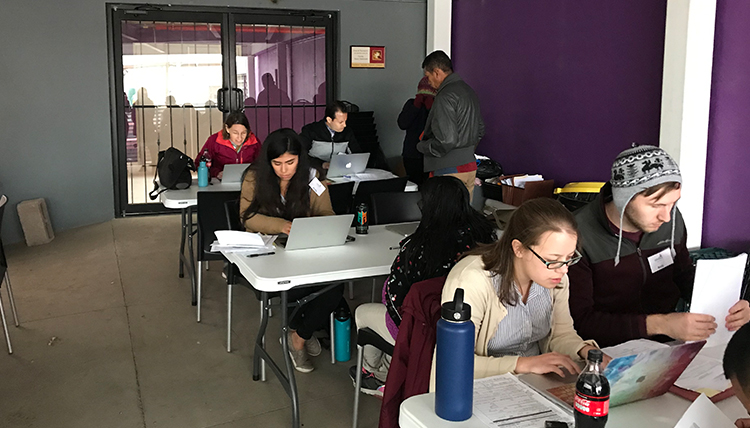 Students, staff, and alumni provide legal assistance to asylum seekers, Kino Border Initiative, Nogales, MX
Megan Ballard, Professor
"Working alongside such dedicated and compassionate students and alumni made me so proud to be a part of Gonzaga Law."
"I observed students listening to families recounting the atrocities they had endured in their home countries…Despite the emotional toll, the difficult working conditions, and diving head-first into a new area of law, our students exhibited incredible strength, professionalism, and maturity. They so inspired me with the warmth and patience with which they approached our work."
"It was also so gratifying to work beside our two alumni, now professional immigration lawyers volunteering their time to help asylum seekers and mentor students. While Gonzaga Law offers students the opportunity to turn "Passion into Practice," I watched these lawyers turn their practice into passion -- the passion for helping form young lawyers and advocate for social justice."
"It was an unforgettable experience for us all. A small but representative slice of the Gonzaga Law community worked together to embody the Jesuit ethos of accompaniment by offering respect, compassion, and aid to families seeking safety."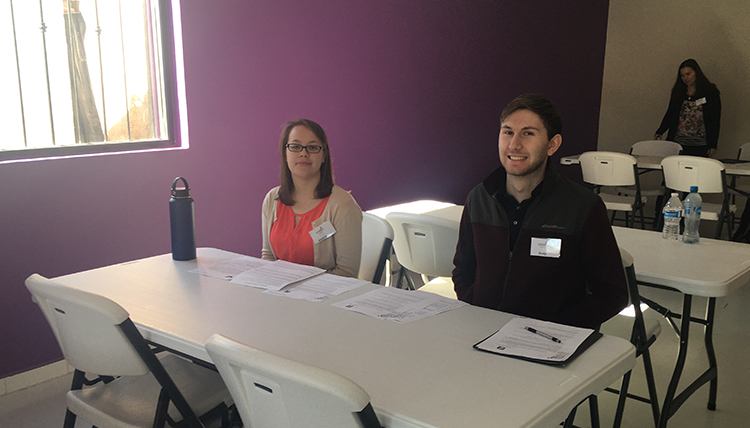 Amanda Breck and Andy Havens prepare to provide legal assistance to asylum seekers.
Amanda Breck, 2L Student
"I met many people who had experienced incredible hardships, violence, and persecution. The needs people had were overwhelming, and there was so little that I could do for them. I could help them fill out a form in a language they didn't understand. Despite how little we could do, the people we helped seemed so grateful. It was very humbling."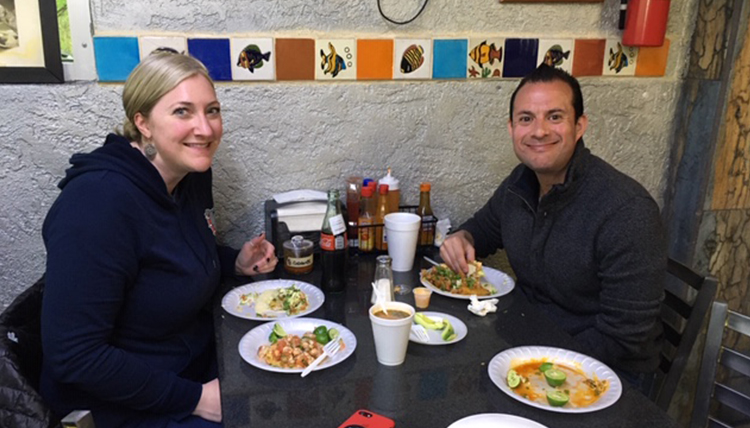 Sarah Guzmán, and Emmanuel Elizondo Leon '16, share a meal.


Sarah Guzmán, Director of Alumni Engagement & Strategic Initiatives
"I wasn't sure what to expect when I arrived. It became clear that my mission was to be of service, to be helpful whenever or however I could. I was going to listen. I was going to do check-ins. I was going to play with the children. I was going to show love."
"I was introduced to families one by one, and with a smile on my face, I took their children from them. I gathered all the children and led them to our area. I took out the crayons and coloring books I had bought the night before. We were all smiles at first, little talking as I was unsure of what to say or how to say it."
"We will never know the outcome of the 32 applications the students, staff, and alumni took. We will never see their faces again. We will never hear the rest of their stories. But what we can do is carry on. We can carry on this important work that must be done. We can carry on their stories in our hearts, and more importantly, we can share them. We share them with those who need to understand that our laws need to change. We need to open our borders. We need to open our hearts."