Gonzaga Law, Catholic Charities announce Immigration Law & Policy Chair, Border Justice Initiative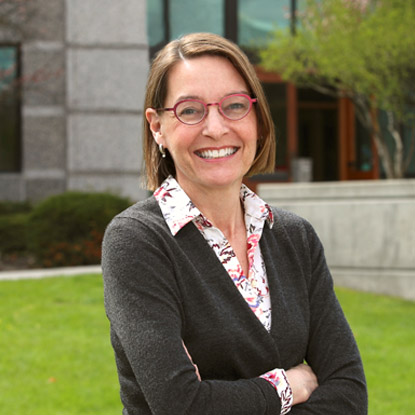 ---
Since its launch in October 2019, the Catholic Charities Immigration Clinic at Gonzaga University School of Law has served over 70 low-income individuals and their families in need of immigration legal assistance in the Spokane, Wash. area. Today, thanks to a generous gift from Ed and Beatriz Schweitzer, the joint venture will expand those efforts through a dedicated faculty chair and the development of the Border Justice Initiative.
"The shared desire to serve and support the most marginalized members in our community forms the bedrock of the relationship between Catholic Charities and Gonzaga University," said Rob McCann, president and CEO of Catholic Charities Eastern Washington. "This unique partnership between a Catholic Charities organization and a Catholic university that advocates for human rights of marginalized immigrants in our community is one of a kind."
Professor Megan Ballard, a two-time Fulbright Scholar and Gonzaga Law School faculty member since 2004, will serve as the inaugural Catholic Charities Professor of Immigration Law & Policy. Ballard's research and expertise focus on issues of immigration, forced migration, and refugee resettlement. She also facilitates efforts to increase access to immigration-related legal services among communities most in need. This spring, Ballard spearheaded a trip to the United States-Mexico border in Arizona with a group of law students, staff, and alumni to assist asylum seekers with their applications.
"This position allows me to merge my commitment to fostering student professional growth with my ongoing explorations of the impact of law and policy on immigrants' rights at our geopolitical borders, as well as the boundaries that limit belonging," Ballard said.
Ballard will also serve as the first director of the Border Justice Initiative and will formalize the law school's efforts to assist marginalized immigrants at the borders through student advocacy training, strategic partnerships, and educational programming.
The initiative will
create a
process through which law students will gain hands-on legal experience by providing direct assistance to immigrants at the U.S.-Mexico border in addition to serving the communities
in
E
astern Washington.
Ballard said
one of the program's aims i
s
to help
"
break down barriers that exclude immigrants from full civic engagement – from
being welcomed contributors to schools, communities, workplaces, and other realms of society."
Jacob H. Rooksby, the law school's dean, said the growing attention to immigration squarely reflects the law school's commitment to the community, Catholic identity, and its educational goals. "In Professor Ballard we are fortunate to have a nationally known scholar whose vision and dedication to building these important programs are unparalleled," he said.
Students involved with the initiative will study historical and legal facets of immigration in the United States. They will also attend immigration court, conduct workshops, and directly assist immigrants in navigating the legal process. Additionally, program participants will partner not only with Catholic Charities but other immigration-focused organizations such as the Kino Border Initiative and the Florence Immigrant and Refugee Rights Project.
Deena González, provost and senior vice president of Gonzaga University, said that the initiative will provide students and faculty with opportunities to channel several interests in immigration policies, refugee services, poverty studies, and the law — all in service of the common good.
"Studying conditions, rights, and responsibilities, and civic engagement is one thing," she said, "but seeing the impact of these concepts more immediately on the ground level adds to the law school's and Gonzaga University's ongoing commitment as a Jesuit, Catholic, humanistic university to creating a better, more equitable society."
---
About Catholic Charities Immigration Clinic at Gonzaga Law School
The Catholic Charities Immigration Clinic at Gonzaga Law School serves low-income individuals and families who need immigration law advice and representation. While providing crucial legal assistance for this underserved population, the Immigration Clinic allows Gonzaga Law students to gain practical immigration law education and training in a supervised setting. The Clinic offers legal help on family reunification, humanitarian protection, citizenship advocacy, and other matters.
About Catholic Charities Eastern Washington
Catholic Charities Eastern Washington affirms the dignity of our most vulnerable neighbors by offering collaborative and innovative solutions to the complex challenges facing Eastern Washington. Carrying forth Christ's love, we respond in crisis to ease the suffering of individuals and families, stabilize lives by connecting clients to their communities and advocate in hope to help people make progress in their own lives.
MEDIA CONTACTS
Gonzaga University, School of Law
Chantell Cosner | (509) 313-3771 | cosnerc@gonzaga.edu