Justice in January: Real People, True Stories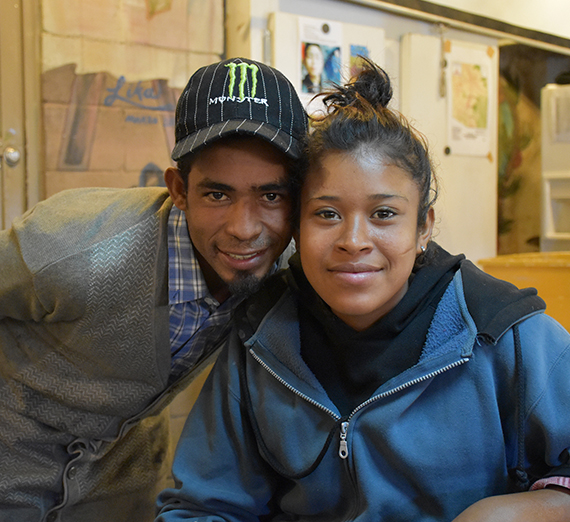 ---
A key experience for Gonzaga students traveling to the Nogales, Arizona / Nogales, Mexico border is a series of visits with Kino Border Initiative. Kino began in 2009 to work with one foot on each side of the Mexico border in Nogales, Arizona and Nogales, Sonora, Mexico. As a faith-based organization, the KBI strives to respond to the most critical needs by respecting the God-given dignity of the human person and by fostering bi-national solidarity through humanitarian assistance, education and research/advocacy.

A Gonzaga graduate, Father Peter Neeley, '71, S.J. assists the Director of Education and Advocacy in coordinating the educational programs and is responsible for the development and delivery of curricula that is attentive to both the Catholic social tradition and the contemporary realities of border and migration policies.

Here are reflections from students who had the opportunity to witness this work in action.

El Comedor
By Christie Henderson, '18
English & Spanish

Baskets of steaming tortillas are one of the most important food items at El Comedor, which sits maybe fewer than a hundred feet away from U.S. soil in the border town of Nogales, Sonora. El Comedor offers a safe place to many migrants, mostly men and a handful of women, seeking a meal, perhaps medical attention, and advice in how to move forward.

It's a moment of limbo for many migrants as some vulnerably shared how they felt defeated, unable to return to family members with full lives in the U.S. after being deported to Mexico. Some had tried to cross the border three to four times while others were resignedly returning to hometowns they hadn't seen for 20 years. Amid extreme life change, one of the nuns who helps run El Comedor creates a space for community. Once a schoolteacher, every morning she leads a new group in light-hearted reflex challenges before a meal.

During our visit, we served the migrants a meal and sat down with them afterward. One young mother shared photos with me of her on Christmas day a year ago, wearing a beautiful dress and proudly standing between her two sons, U.S. citizens who would be flying to Mexico soon to meet her. Even though she was uneasy about the education they would be receiving in the city she is from, she couldn't continue to live in separation. She was burnt out by demeaning U.S. immigration policies and ready to unite with family after six long months. Her vulnerability and resilience floored me. Besides commodities, this is what a space the size of a small living room can provide – where sitting across from another human being challenged me not to label her as 'other' but a person inviting me to join her in community for just a brief moment.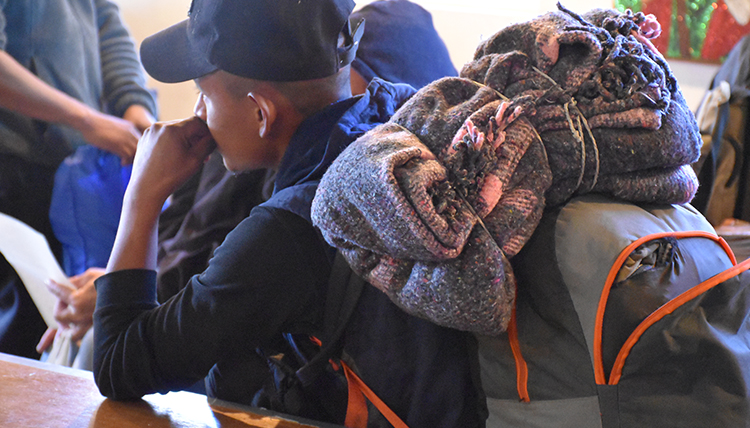 The Immigration Simulation
By Liz Helmer, '21
English

To gain a greater understanding of the paths immigrants take to come to the United States, Kino Border Initiative led the group in an immigration simulation. Each person in our group was assigned a role. I became a lawyer; others became consulate workers, a border patrol officer, an employment scout, or potential immigrants. We all received a card explaining our role, our goal, and the resources available to us. In the case of the immigrants, the roles came from real people who had received guidance from Kino Border Initiative.

To cross the border, immigrants had to avoid the swindling lawyer and corrupt employment scout, interview at the consulate with the correct papers and fees, and successfully pass border patrol's inspection. This feat was almost impossible for the various immigrants' roles. Due to resources like a higher education level or more money, certain people were able to cross into the United States more easily. Others were taken advantage of by the corrupt lawyer and employment scout and had to give up trying to immigrate.

My role was the swindling lawyer. My instructions were to pretend to have graduated from law school and manipulate desperate immigrants into paying large sums of money for false and useless documents. It showed me how vulnerable the immigrants are and how easy it must be for corrupt people to take advantage. It frustrated me to realize that my character embodies real people and that this manipulation happens daily along the border. The simulation enlightened us to the extreme difficulty that comes with immigrating to United States.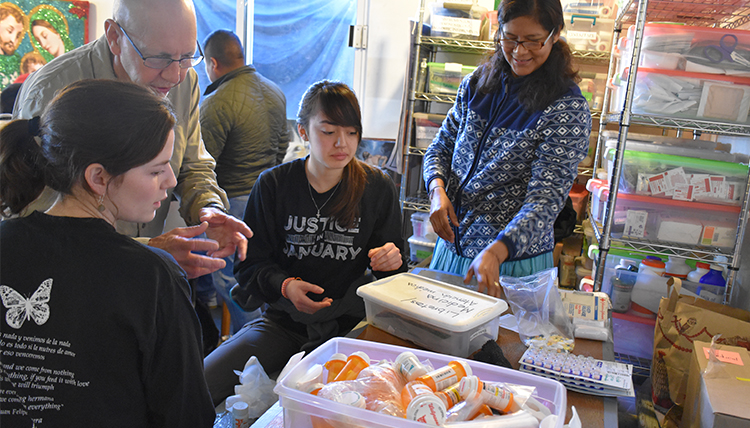 Casa Nazaret
By Lydia Lopez, '18
International Relations

One of the people I admire most in my life is my mother. She immigrated to the United States when she was about my age in search of a better life for the children she hoped to have. She risked it all for a dream. In visiting the women's shelter in the border town of Nogales, Sonora I found myself thinking about my mother.

We had the opportunity to meet three women who were in various stages of their immigration story. They all had children that they loved very dearly. In fact they loved their families so much that they risked it all, including their lives, to be with them again and provide them a life where they could have it all, most importantly an American education. They wanted to provide for their family in ways that were next to impossible in Mexico. These women are resilient and strong. Their stories were powerful and added more contexts to the reasons why people immigrated.

I kept on thinking about why my mother immigrated and I came to the realization that I need to thank her more often for risking everything to give me the opportunities I have today. As we left, I hugged all of these women and told them that one day their children will thank them for everything that they have risked for them. I told them that they were strong and powerful and that I hoped one-day things would get easier for them. Just like my mother, I admire these women.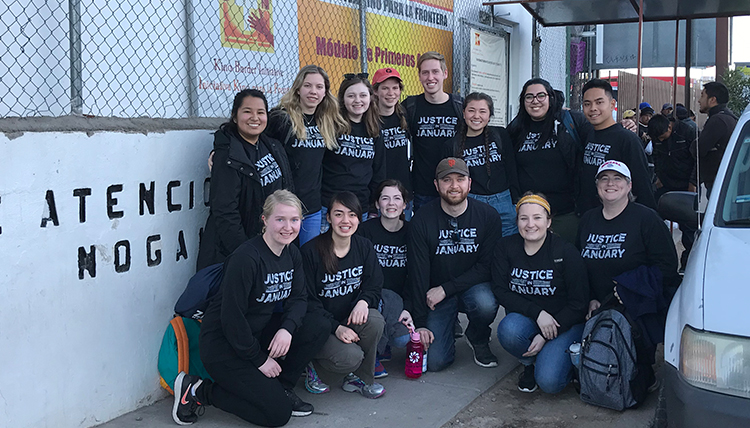 Read other Justice in January reflections here: