Lifting the Lamp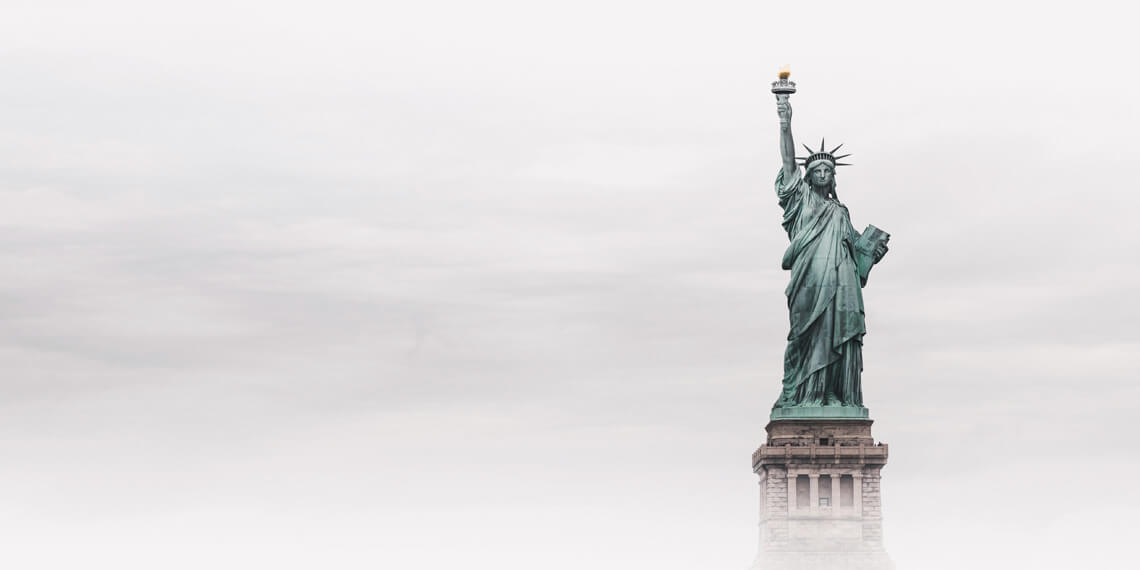 "Give me your tired, your poor, your huddled masses
yearning to breathe free, the wretched refuse of your teeming shore.
Send these, the homeless, tempest-tossed to me,
I lift my lamp beside the golden door!"
(from "The New Colosssus" by Emma Lazarus)
Before walking across the U.S.-Mexico border at Nogales, a town split between two countries, we listened intently to the white-bearded man in a straw hat who played host and tour guide, teacher and mentor. Answering to Father and Padre alike, he instructed us to focus on three actions: Humanize. Accompany. Complicate.
Among the dozen students and two staff members on this Justice in January journey, there was a unanimous understanding – and eagerness – to humanize the immigration debate and to accompany those we would meet during our short encounter at the border. But to complicate it? Wasn't it complicated enough already?
The priest answered: Simplifying the story doesn't capture the destitution that leads people to take the chance of crossing a border without documentation. Simplifying doesn't touch the hope they have that life on the other side will be better for their children. Simplifying can't capture the corruption that strips people of their limited resources and leaves them stranded with empty promises. Simplifying doesn't honor the fears of residents near the border who know that amid the innocents there are also still the smugglers who pose real threats.
In "Lifting the Lamp" – a phrase harkening to the inscription on the Statue of Liberty – we share the perspectives of several individuals who guide us toward the goal of productive conversation focused on collaboration for the common good.
— By Kate Vanskike
Index
The Priest
Father Peter Neeley, S.J. ('71)
Associate Director of Education
Kino Border Initiative
The Sociologist
Joe Johnston
Assistant Professor of Sociology & Criminology
The Immigration Attorney
Maxine Bayley ('01)
Associate, Duane Morris Law Firm
The Student Visitor at the Border
John Draxler ('14)
The Concerned Historian
Eric Cunningham
Professor of History
The Visitors at Border Patrol
Richard Wytmar ('20) and Allison Foster ('18)
The Hopeful Citizens
Satish Shrestha, Richard Nyambura and Danielle Xu
The Daughter of Immigrants
Lydia Lopez ('18)
First-Generation Student
The Leaders of Jesuit Universities
---

The Priest
Father Peter Neeley, S.J. ('71)
Associate Director of Education
Kino Border Initiative
To address this issue – personally, as a Jesuit and a priest – I do it in the framework of the Eucharist. It's the meal that Jesus left his disciples. At the table, there is no distinction between classes or races. You're not asked for your ID: All are welcome.
The "H.A.C." challenge I present to visitors to Kino – to humanize, accompany and complicate the matters of immigration – is rooted in the Gospel. We don't talk about politics, we talk about people, and we don't take a we-versus-them mentality. Border Patrol is not the enemy. Ranchers who love Trump are not the enemy. We don't agree, but we go to the same communion table.
To people who say "we're a country of laws" as if that explains the wall and tighter border policies, I say, go to the law that Jesus Christ gave us: Love God and love your neighbor. Americans will stop at a stop sign in the middle of the desert because it's the law. But we have a bigger law, a greater law: the law of love and compassion.
The bottom line with all this border stuff is just fear. That's why we encourage people to come down to the border and see for themselves. Meet the people who are most impacted, see their faces, hear their stories, then respond.
I do today what I do today because it needs to be done right now. I – we – have some responsibility for this situation. How can we diminish that responsibility? The answer is improved conditions so people aren't forced to migrate in the first place, and for the times that isn't possible, to update our system so entering the U.S. legally is more realistic.

The Sociologist
Joe Johnston
Assistant Professor of Sociology & Criminology
The first year I went on Justice in January, an immersive experience with students at the Mexico/U.S. border, I had a very clear goal: Write down every question or key issue about immigration that students talked about over the course of the week. From those notes and collaboration with an immigration expert, I created an eight-week course for students going on the next trip. It provides an overview of the current immigration system in the U.S., some historical background on the border and the rise of border enforcement, and how American thinking about its southern border has changed over time.
While the content of the course is important – to provide a common baseline of information for students to enrich their Justice in January trip experience – the more important function of the class is community building. From my perspective, building relationships and learning how to talk about immigration is foundational.
The course, and the trip, are also fascinating to me because of my own research interests in how patterns of racial and socioeconomic segregation (or integration) in our communities shape the way parents/guardians perceive what constitute "good" and "bad" schools. Understanding how more integrated, just communities and schools are possible is central to my scholarly identity. I see so many parallels between the perceptions of urban public schools in the U.S., and how the negative perceptions manifest themselves about migrants across our southern border. In each case, segregation allows for stereotypes about "others" to manifest themselves. The Justice in January immersion trip is an opportunity for Gonzaga students to interact with a range of individuals and organizations in the U.S. and Mexico, ask critical questions, and reflect on their prior perceptions about immigration.
This kind of immersive experience has the capacity to shape the course of our students as they embark on a lifetime, which hopefully is concentrated upon living with and for others in service of the common good.

The Immigration Attorney
Maxine Bayley ('01)
Associate, Duane Morris Law Firm
I decided to go to law school to pursue my interests in human rights and international issues. During the summer after my first year of law school in Washington, D.C., my study abroad experience included visits to the United Nations and Amnesty International, but I still came back not knowing what a career in that field would look like.
Then I met a refugee from China who told me his story – how he had gone on a hunger strike in prison during the Tiananmen Square protests of 1989. He shared about an immigration law firm looking for a summer intern and I met with one of the attorneys who told me about the case of a woman seeking asylum in the U.S. When I heard the details of her story and how the attorneys were helping her, I immediately knew this is what I wanted to do with my life.
We like to say we're a nation of immigrants, but that narrative doesn't stop anti-immigrant sentiment. I think that people need to be reminded that when we speak of immigration, we are speaking about human beings and families. We're talking about children being ripped away from their parents. We're talking about professionals turning down dream jobs in the U.S., or being forced out with their families due to changes in long-held policies, and these changes being made with the specific intent to halt legal immigration. We're talking about businesses losing key employees, and potentially having to shut down, which displaces American workers. I practice business immigration law, working with companies who need to sponsor foreign nationals for visas to fill critical positions within their companies that they cannot find enough qualified U.S. citizens to fill. These are research scientists, engineers and other highly educated professionals who want to contribute their skills and services here in the U.S. They believe in the American dream.
For those who don't have those prestigious degrees and skills, the journey to the U.S. legally is a rough road. I hear the question, "Why don't people get in line?" Well there is a line, but it is years and years long. Those who wish to come legally must be sponsored either by an employer or by a family member who is already a U.S. citizen, or in some cases, a lawful permanent resident. Those visas are limited and only available to certain family members, which has resulted in a 20- to 30-year backlog for many cases. For those fleeing horrific violence, abject poverty and lack of opportunity, our current system does not make it easy to come here legally and work.
Immigration law is also personal to me. I was able to sponsor my husband for his green card (he is from England). While the process was filled with anxiety for us, I know we had it much easier than many others, and did not suffer the prejudice and discrimination that so many others are facing right now.

The Student Visitor at the Border
John Draxler ('14)
It was January 2014, my senior year at GU, and I was following Father Pete Neeley, S.J., on a trail that only he could recognize. He stopped to point out a burnt-down house, a discarded plastic water jug, the remnants of a traveler's belongings. The Sonoran Desert was an unforgiving place.
Neeley wanted to show us how hard the journey of an undocumented immigrant could be. He told us about travelers so thoroughly lost that their entire lives were dependent on a coyote – smuggler – who charged vast amounts of money for the tenuous promise that this route would lead them to a better life. Neeley wanted us to understand the migrant's mindset.
Not everyone we met was sympathetic to the plight of migrants. We talked with a woman who grew up near the border, who saw passing immigrants as a mild, but harmless, nuisance. We met U.S. border agents who focused on the dangers that immigrants could pose to agents and our country. In both cases, self-interest overpowered compassion.
We also met countless individuals who devoted themselves to aiding migrants. Neeley works at the Kino Border Initiative, an organization that provides humanitarian assistance on both sides of the border. We spoke with volunteers who taught citizenship classes or provided homes for refugees as they transitioned to life in this country.
Inside a courtroom, we watched undocumented border crossers enter, hear their charges in a language they barely understood, and watch a court of law end their desperate gamble to reach the United States. We saw countless attorneys stand by and follow the script, and witnessed one who did not: Luis Parra, a Gonzaga parent and founding member of Neeley's Kino Border Initiative. To the judge, this session was part of a mechanica process, but to Parra, each defendant was a human being.
My understanding of immigration has shifted from academic to personal. When I discuss the crisis today, I remember these people. And I remember that many migrants believe, despite the danger, that crossing the border is simply their best option.
Did You Know? Gonzaga's Center for Community Engagement offers two "Justice in January" immersive learning experiences at the border each year. One takes place at San Diego and Tijuana; the other is connected to Fr. Pete Neeley's work with Kino Border Initiative in Nogales, Arizona / Nogales, Sonora.
Support students who wish to participate: Make a gift

The Concerned Historian
Eric Cunningham
Professor of History
Immigration is good. We have always enjoyed great cultural flourishing during times of influx of new ideas and energies. No rational person should want to stop immigrants, in theory, from coming to this country.
Illegal immigration, however, violates rules that were duly legislated through the proper functioning of the system, and erodes the concept of civic responsibility. To refer to illegal immigrants as "undocumented aliens" is a corruptive rhetorical strategy because it eliminates the essential question of legality from the conversation. Effective public generosity depends on the ability to maintain order — a society that ignores its laws will invariably fall through on the promises it makes.
A sovereign nation has as much right to close its borders as citizens have to lock their cars. Any citizen clamoring for an open border policy should recognize that there is no difference between the construct of law that protects them and their property and that which protects the country from illegal immigration.
The media's concern with the separation of families this past summer seems to be driven more by politics than by humanitarianism. Similar separations took place under the Obama administration, yet nobody was framing them as crimes against humanity — the separations were actually seen as a means of protecting vulnerable people. Few people seem to be looking at the past, or at the underlying causes of these families' legitimate tragedies.
The heavy-handed policies of agencies like Immigration and Customs Enforcement (ICE) should be unnecessary, yet it seems that authoritarianism and the growth of police states are inevitable consequences of lawlessness. If we neither obey nor enforce basic laws, we will create conditions that encourage more crime. Between these two poles of misfortune there is room for a great deal of mayhem. The common accusations made by each side against the other are irrelevant. Both sides are contributing to lawlessness and human tragedy.
Dr. Cunningham recommends a recent piece by Fr. James Schall, S.J., from Georgetown, published here.

The Visitors at Border Patrol
Richard Wytmar ('20) and Allison Foster ('18)
Both Justice in January teams – one at the San Diego / Tijuana port of entry and one at the Nogales, Arizona / Nogales, Mexico port of entry – visited with the Office of Border Patrol to hear from agents about their roles as "Guardians of the borders, America's frontline."
Rick Wytmar ('20) says, "I don't think anyone in our group came into Border Patrol with a positive perception. Few of us realized how dangerous the job was." Because of a lack of numbers, agents must ride by themselves, leading to many dangerous situations without immediate backup, he learned.
Agents shared why they joined the Border Patrol. "One man said hard drugs and illegal workers taking cheap wages and jobs had devastated his small Texas town," says Wytmar. "They showed us many pictures of the drug trafficking that goes across the border through intricate tunnels and various routes so they can sell illegally to Americans."
Students also saw portions of the wall and places where migrants have sliced through the last line of defense into the States.
It was an excursion that "led to good discussions about how we can help implement some possible solutions," says Wytmar.
Allison Foster ('18), a member of the trip to Nogales, said the visit with Border Patrol reminded her how easy it is to blame those who are carrying out orders.
"People become frustrated with officers because they are harsh on undocumented migrants, when Congress has been cooking the rules. Border Patrol merely delivers what was prepared," she says.
"We learned as children that blaming someone for another person's action doesn't work. Let's stop blaming our immigration issues on Border Patrol and start blaming ourselves. As citizens of a democracy, we are all at fault for our broken system," Foster adds.
How to fix it? She says: Vote. Volunteer. Make noise. "The only way a democracy works is when the people devote their time, talent, treasure and tongue to the nation they aspire to be."

The Hopeful Citizens
Satish Shrestha ('10, '14, '17), an enterprise app developer in Gonzaga's Information Technology Services, came to the States alone from Nepal for his college education. Securing a student visa and scholarships required about 18 months of multiple exams and applications, but that's nothing compared to applying for citizenship. Even with his employer sponsoring his permanent residency application, Shrestha says it's a "long and arduous process." He has lived in the U.S. for 12 years and expects that his wait will continue for a few more years.
Raised in Kenya, Richard Nyambura ('20) came to America by himself as a high school exchange student. Paperwork for that took about five months and was a straightforward process, but applying to join a special military program for students on visas showcased the complexities that evolve from involvement by multiple government agencies. There was confusion about when he first entered the U.S., even though he had the stamp from the port of entry of Chicago in his passport, his visa and his I-94 (record of arrival and departure).
"The immigration process can be very hectic and very intimidating," says Nyambura. "It can be scary, especially coming from Third World countries, to deal with U.S. Consulars at the embassy and even at the airport, if your status is non-citizen."
For Danielle Xu, professor of finance, the wait for citizenship ended on Sept. 17, 2018, when she took her oath with 97 others in Spokane on the anniversary of Constitution Day. She arrived with family in 1999 and was on a student visa for six years, then after one year of employment at Gonzaga, she began the application for a green card.
There were no complications in her process, Xu said. Because there is a quota on immigrants to the U.S., "I waited patiently for my turn to come."

The Daughter of Immigrants
Lydia Lopez ('18)
First-Generation Student
One of the people I admire most is my mother. She immigrated to the United States when she was about my age, in search of a better life for the children she hoped to have. She risked it all for a dream. During my second Justice in January trip to the border town of Nogales, where we visited a shelter for deported women, I found myself thinking about my mother.
We had the opportunity to meet three women who were in various stages of their immigration story. They all had children whom they loved very dearly. In fact, they loved their families so much that they risked it all, including their lives, to provide them a life where they could have it all, most importantly an American education. They wanted to provide for their family in ways that were next to impossible in Mexico. These women are resilient and strong. Their stories were powerful and added more contexts to the reasons why people migrate, even without documentation.
I realized that I need to thank my mother more often for risking everything to give me the opportunities I have today.

The Leaders of Jesuit Universities
In January 2018, members of the Association of Jesuit Colleges and Universities (AJCU) responded to federal court orders to change Deferred Action for Childhood Arrivals (DACA). The schools, including Gonzaga, rallied for undocumented students called DREAMers, who have been raised in the U.S. Faculty, staff and students joined forces in campaigns to contact legislators and to demonstrate solidarity, while also providing education and awareness on the impact of tightened immigration-related policies.
Gonzaga's President Thayne McCulloh was a signatory to a statement that read, in part:
Grounded in our Catholic and Jesuit mission, we are guided by our commitment to uphold the dignity of every person, to work for the common good of our nation, and to promote a living faith that works for justice. We see our work of teaching, scholarship and the formation of minds and spirits as a sacred trust. That trust prompts us to labor for solidarity among all people ... to embrace the entire human family, regardless of their immigration status. ... Our communities are immeasurably enriched by the presence, intelligence, and committed contributions of undocumented students.
Keep Learning
Share your thoughts
Email editor@gonzaga.edu
Diversity & Inclusion
Faith & Mission
Global Impact
Academics
Community Action and Service Learning
Center for Global Engagement
History
International Studies
Master of Arts in Teaching English as a Second Language (MA|TESL)
Political Science
Religious Studies
Sociology
Solidarity and Social Justice
Spanish
Juris Doctor
Gonzaga Magazine