Welcoming the Stranger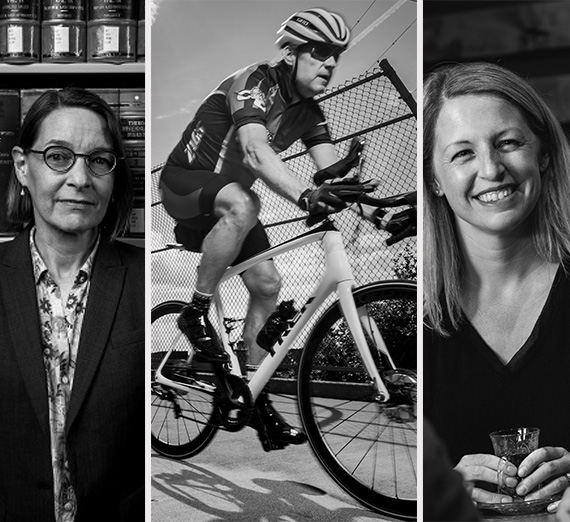 ---
By Kate Vanskike, Gonzaga Magazine editor
Uprooted from their homes and communities, refugees are, by definition, people forced out by war, persecution or conflict. Many traverse foreign lands where they live in the heartbreaking squalor of refugee camps to receive humanitarian aid. Over many years — sometimes a decade or more — they wait hopefully, completing a rigorous process for acceptance to a country of opportunity.
Helping refugees rebuild their lives takes a network of volunteers with broad skills and passions. Here, we learn how three Gonzaga faculty members ease the way for refugees among us.
Letter of the Law

The connection between property law and the plight of refugees – for most of us – is little more than a dotted line on an exercise in free association thinking.




Resiliency

Four hundred twenty-six miles on two wheels, with a gain of more than 5,000 feet in elevation. Nearly 40 riders raising a collective $151,000.




Open Mind, Open Heart

Since 2016, Dunn and her family have engaged in cultural mentorship with an Iraqi refugee family.
Join the Effort
Though "most direct acts of kindness toward refugees are mediated through organizations like World Relief or Catholic Charities," there are other simple ways to become an ally for refugees, says Shannon Dunn, mentor.
Brush up on your history, and cultural and religious understanding. Read "Fractured Lands" (published by The New York Times), which provides contemporary political history and shows the origin of the crisis surrounding refugees from the Middle East.
Join an interfaith organization to learn more about neighbors of different religions. Spokane FaVS, short for Faith and Values, is an example (spokanefavs.com).
Resist acts of injustice toward Muslims, Jews, immigrants and refugees by writing guest columns for newspapers and calling congressional representatives.
Engage in public acts of solidarity with refugees in the form of vigils, protests and other gatherings.
To find more opportunities to learn about refugee social justice and to volunteer in the Spokane area, visit worldreliefspokane.org or refugeeconnectionsspokane.org.
Learn More
Stay on top of topics related to refugee resettlement and immigration reform. Two Gonzaga centers are here to help: