Resiliency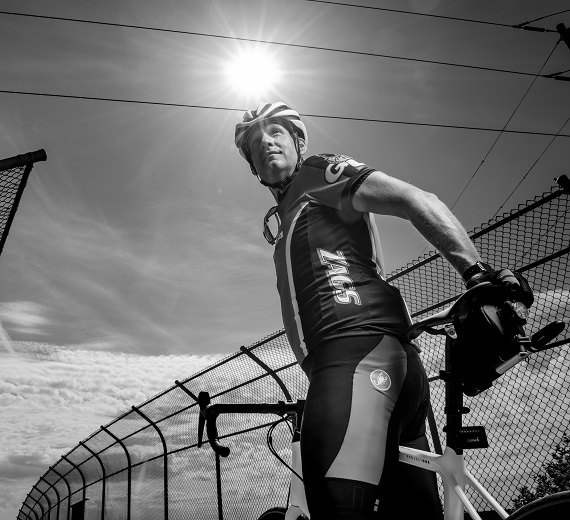 ---
By Kate Vanskike, Gonzaga Magazine editor
Four hundred twenty-six miles on two wheels, with a gain of more than 5,000 feet in elevation. Nearly 40 riders raising a collective $151,000. This trek from Puget Sound to Spokane is dubbed a "Ride for Refugee Resiliency," and it has been the love-work of Scott Starbuck, a cyclist, pastor and lecturer of religious studies at GU.
The preparation for a cross-state bike ride, developing a team and raising funds for World Relief's three Washington state resettlement offices came about after Starbuck's family and church congregation participated in a Rally for Refugees at Gonzaga in February 2017.
At that rally in the Hemmingson Ballroom, hundreds of students from local colleges and members of many faith communities filled the space to capacity and spilled out into hallways where overflow viewing was made available. President Trump had, just days before, announced new travel restrictions from certain countries and a reduction in refugee acceptance rates. Community leaders, educators, pastors and refugees themselves all took the stage to make their pleas, united in both angst and compassion over the impact the new policies would have on families who have already suffered so much.
For the following academic year, Gonzaga's religious studies department planned a yearlong public lecture series focused on migration and refugee populations.
Then, World Relief leaders reached out to Starbuck for help motivating cyclists to participate in a Seattle-based ride.
"It seemed like a good time to bring all these ends together and lead from a Gonzaga and Presbyterian church partnership," says Starbuck.
He and four other willing riders (including one resettled refugee living in Spokane) joined the Seattle group who would commit not only to the grueling training but also to raising funds. In Spokane, the team secured contributions from the religious studies department at Gonzaga, the Gonzaga Cycling Club, Manito Presbyterian Church (where Starbuck is pastor) and the Presbytery of the Inland Northwest, among others. Those gifts will be used to provide housing assistance, transportation, English language classes, job skills training and more for the individuals and families making their home in Washington.
Join the 2019 Ride!
June 19-23: Seattle—Tri-Cities—Spokane
Interested cyclists: Register here.
Read more from our "Welcoming the Stranger" feature:
Shannon Dunn, Religious Studies, befriends refugee families new to Spokane
Megan Ballard, Law School, is a Fulbright Scholar researching the ways we orient refugees to their new land
Academics
Diversity & Inclusion
Faith & Mission
Service & Community Impact
College of Arts & Sciences