Broadening Access to Justice at the Border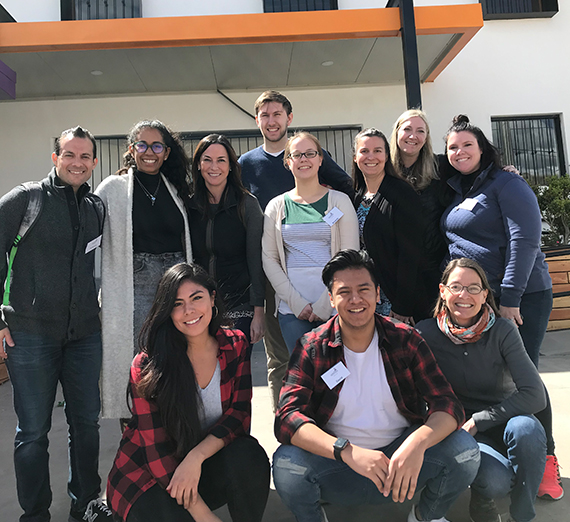 The request for Gonzaga Law in Action: Nogales 2020 read, "The Immigration Clinic is seeking Spanish-speaking law students to provide legal advice to asylum seekers in Nogales, Mexico, over spring break."

It was no small ask, but in the end, five Gonzaga Law School students, three staff, and two alumni committed to spending their time assisting asylum seekers, many of whom had recently entered the United States without visas, were temporarily detained in Tucson, Arizona, and then sent to Nogales, Mexico.

"It was an unforgettable experience for us all," said Megan Ballard, professor of law and co-organizer of the program. "A small but representative slice of the Gonzaga Law community worked together to embody the Jesuit ethos of accompaniment by offering respect, compassion, and aid to families seeking safety."

The Nogales project was a collaboration between the Catholic Charities Immigration Clinic at Gonzaga School of Law, the Florence Immigrant and Refugee Rights Project in Arizona (The Florence Project), whose mission is to provide free legal services to adults and unaccompanied minors in immigration custody, and the Kino Border Initiative (KBI), a Jesuit organization committed to humanitarian assistance, education, research, and advocacy.

Although visiting Mexico seems a conventional way to spend spring break, Gonzaga Law students understood the importance of the work they were doing and the meaningful impact it would have on the lives of those they were serving.

David Salgado, a 1L student, recounted that while the conditions for outdoors legal advocacy were not ideal – windy, rainy, and cold – pressing forward was critical. "We were perhaps the only people who were going to take the time and effort to prove to these asylum seekers that their lives and their stories matter," he said. "I will not soon forget the experiences that we were privileged enough to encounter ourselves."

Many thanks go to two alumni, Emmanuel Elizondo Leon ('16) and Jessica Lewis ('13), who rearranged their busy immigration law practice schedules to travel from Phoenix to help asylum seekers and mentor students.


Seeking Asylum
Two recent changes in asylum policy adversely affect asylum seekers at the U.S.-Mexico border, and Nogales is the largest port of entry in the state of Arizona, where vast numbers of immigrants gather to present their claims to immigration officials. Together, these policies have caused tens of thousands of people seeking protection to be stranded in Mexico with no legal help to pursue their asylum claims. Most are from Central America, Cuba, and Venezuela, countries where migrants are fleeing violence and unbearable conditions.

First, U.S. immigration officials limit the number of people who can request asylum at a border entry point each day. This metering policy means that people attempting to seek safety legally by requesting asylum at a port of entry must wait up to six months to even begin the process. In the interim, asylum seekers try to keep themselves and their families safe in a country where they are easily victimized. But some give up on waiting and resort to crossing the border illegally, between the official ports of entry.

Under the second new policy, U.S. immigration officials require individuals and families fearful of persecution to return to Mexico to wait for court hearings. At the time of the Gonzaga Law in Action: Nogales 2020 project, about 60,000 asylum seekers had been sent back to Mexico since the policy's implementation in early 2019. In Mexico, they wait for their United States asylum court proceedings, most with no legal counsel. Very few of these asylum seekers are represented by a lawyer, significantly reducing their chances of a successful claim.

"We rely on student groups to expand the impact of our work and to bear witness to the reality we are facing in the borderlands and to spread the word about what is happening on the border back in their own communities," said Alexandra Miller, manager with the Florence Immigrant and Refugee Rights Project. "We are so thrilled that the Gonzaga School of Law came to Nogales to join us in solidarity. This was much more than just a learning opportunity for the students."


A Joint Mission for Change
In August 2019, the Catholic Charities Immigration Clinic at Gonzaga Law School officially launched with the dual purpose of supporting low-income individuals in need of immigration legal assistance while providing training to the next generation of immigration lawyers.

The clinic is housed within University Legal Assistance (ULA), Gonzaga's public-serving law clinic, with second- and third-year law students advocating for clients under the direction of a supervising attorney. Students began serving eligible clients in fall 2019 with pro bono representation primarily in the areas of family reunification, humanitarian-based visas, and naturalization assistance.

"I'm thrilled to join Gonzaga in finding creative, new ways to serve our immigrant neighbors. This is a unique collaboration between a Catholic Charities organization and a Catholic university in the area of immigration legal services in the United States," said Rob McCann, Gonzaga alum and president and CEO of Catholic Charities Eastern Washington. "God calls us to go to the margins to serve the vulnerable, and our partnership means we can bring more resources and providers to this underserved group."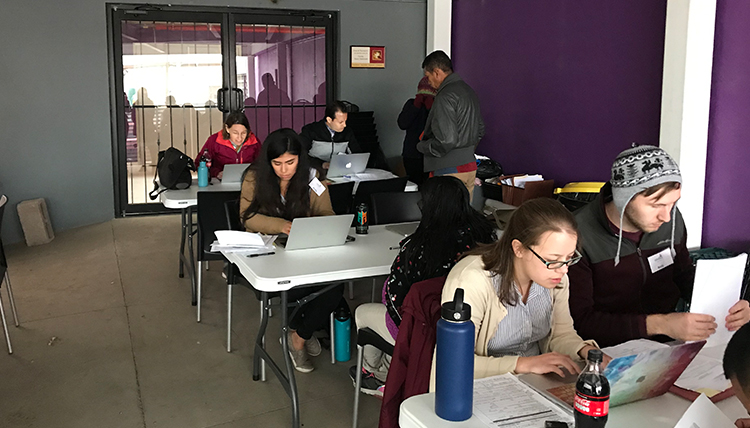 Students, staff, and alumni provide legal assistance to asylum seekers, Kino Border Initiative, Nogales, MX


Going Forward
True to the missions of both Gonzaga University and Catholic Charities in demonstrating Jesuit, humanistic values, the Nogales project provided students the opportunity to gain a unique, authentic experience while working with asylum seekers at the southern border. The group ultimately completed 32 Applications for Asylum and Withholding of Removal for migrants to present when their time came to appear before an immigration judge.

As Sarah Guzmán, director of Alumni Engagement & Strategic Initiatives, shared in a recent reflection, "We will never know the outcome of the 32 applications, the students, staff, and alumni took. We will never see their faces again…We can carry on their stories in our hearts, and more importantly, we can share them. We share them with those who need to understand that our laws need to change. We need to open our borders. We need to open our hearts."