Litigation No Longer A Daunting Task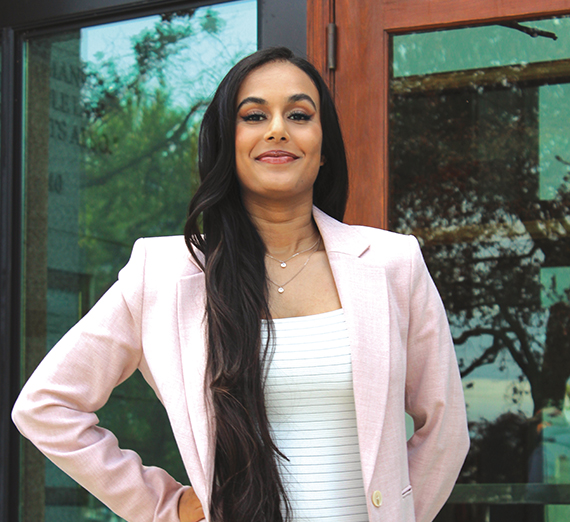 Although she never paid much attention to American author Chuck Palahniuk, Gurpreet Dhatt embodies part of his ethos: Find out what you're afraid of and go live there. For this recent graduate, her fear was The Law. "My parents are immigrants and small-business owners," she says, "and in the past, whenever they needed an attorney, it was when things were going wrong." As her parents' translator and interpreter from Hindi and Punjabi to English, Dhatt found the legal process both confusing and scary.

So, of course, she decided to go to law school. She wanted "to understand the law and learn how it could be a helpful tool – not just something to be afraid of," she said. Growing up, Dhatt recalls that she "didn't know or see any attorneys that looked like me or came from the same cultural community as me." This lack of representation further propelled her along her path to law school.

After her experience during the school's Admitted Students Day, Dhatt chose Gonzaga Law. "On that day, I felt that Gonzaga really welcomed me and showed me a sense of community that I had not expected," she recalls.

A tangible expression of this community occurred during Dhatt's first year when a second-year student, Victoria Elleby,"simply handed me her study materials from her 1L year," says Dhatt, "It was a simple and kind gesture, but it had an impact on me because I was just learning that law school can be a very competitive environment." So Dhatt paid it forward by sharing her materials with new students and encourages other students to share, as well. "It was a small gesture but helped me realize we should be helping raise each other up on our path through law school," she says.

As a first-year student, Dhatt took an active role in the Gonzaga Law community to better acquaint herself withfellow students. After running, unsuccessfully, for the 1L representative and diversity representative positions in the Student Bar Association, she persisted and won the SBA's election for ABA liaison.

She also restarted Gonzaga Law's Multicultural Law Caucus and joined the Asian Bar Association of Washington. "Diversity, inclusion, and support for minority groups is something I am very passionate about," she says, "It was important to me to be involved in groups that support those goals." The first event that Dhatt and her fellow students of the MLC put together was a panel on cultural competency. She was heartened not only by the response from local attorneys to serve as panel members and discuss their experiences as attorneys of color but by the number of attendees—even though the Bulldogs were playing in the Sweet Sixteen.

Along with her studies and leadership roles, Dhatt found time to intern with such disparate entities as International Criminal Court in the Hague, the Kootenai District Court in Idaho, Gonzaga Law's Business Law Clinic, and Piskel, Yahne, Kovarik, PLLC, a Spokane litigation fi rm. All these internships underscore Dhatt's understanding that effective communication is key to the just administration of the law.
It should come as no surprise that Dhatt, who started law school to overcome her fear of the law, will practice with a litigation fi rm after graduation, even though she never wanted to become a litigator. But it was her internship with Piskel, Yahne, Kovaik, PLLC in Spokane that changed her mind. While working for the fi rm as a law student, she was able to go to court and see how attorneys can effect change in court.
"Once I was actually exposed to litigation – it was not as daunting as it had seemed."

Upon passing the bar, Dhatt has an associate's position awaiting her with PYK.