Educator, Coach, Advocate for Restorative Justice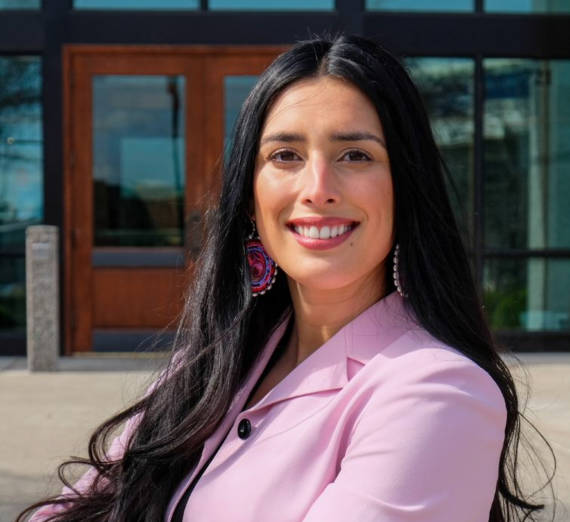 It started long before she decided to go to law school, long before she taught seventh-grade math and coached track in Hawai'i and Spokane. Long before she worked as
an undergraduate lab assistant at UW, exploring the social psychology of women and underrepresented minorities in STEM. It even started before she was a Thomas Jefferson High School Mathlete in Auburn, Washington. Bailey Warrior Pahang learned about the power of an advocate's voice long before these experiences; advocacy is in her blood.
A Passion for Advocacy
In 1970, Pahang's great-grandmother, Ella Aquino, staged a takeover of Fort Lawton in partnership with other Native leaders and the Seattle Chapter of the Black Panthers. Aquino passed a wealth of generational knowledge to her children, worked to keep her family together, even earned her high school diploma when she was in her 70s. From here, Pahang inherited a passion for advocacy, a fierce will to persevere, and pride in her roots.
"While teaching and connecting with youth and families was the most incredible experience of my life, and I miss it every day," Pahang says. "I knew I wanted to dismantle these systems of oppression through public policy and high-impact litigation."
Pahang chose Gonzaga Law for logistical and professional reasons. Her partner was attending medical school in Spokane, so she took a close look at options in the region. She was drawn to Gonzaga Law "because of the emphasis placed on public service and social justice, specifically through the Thomas More Program." When she interviewed to become a Thomas More Scholar, she "immediately knew that there was a community of compassionate, fierce leaders committed to amplifying the voices of our BIPOC communities, and I knew I wanted to be a part of it."
"I had absolutely no concept of what it meant to be an attorney," Pahang says. "I was so worried that it would be a hostile environment like the one I had seen on TV, students tearing out pages in books, hypercompetitive, and never having time for anything other than reading. But since coming to Gonzaga, my skepticism has been challenged, as I have formed connections with peers and faculty mentors that have changed my heart and my idea of what being an attorney can look like. I have witnessed firsthand the power of collaboration in this profession and the importance of attorneys becoming storytellers who affirm clients in their identities and journeys."
Finding Balance
A descendant of the Lummi Nation, the Lhaq'temish people, Pahang is one of few Indigenous students at Gonzaga. She admits that it can be "exhausting to learn about the ways in which the law often functions as an institution that further oppresses communities of color" and understands that for many students, the cases they study are "intangible, unfortunate events." But for students of color, the use of the law "to deny our existence is very real and deeply personal," she says. "Racial gaslighting that is masked as intellectual discourse" is also an insidious drain on students of color. But all of this makes her value the journey and motivates her to guard against burnout.
Pahang has excelled and throughout her education has consistently been inspired by the diligence of classmates and their commitment to maintaining routines to balance productivity and well-being. In Professor Inga Laurent's course on Restorative Justice, Pahang found inspiration and empowerment in the ways in which Indigenous restorative justice practices have informed current practices. Her experiences in and out of Gonzaga Law's classrooms taught her that she is capable of reimagining what it means to be an attorney to serve the greater good.
Pahang now serves as the inaugural Diversity Fellow with Stevens Clay P.S., a Spokane firm specializing in education law, and clerks for Justice Raquel Montoya-Lewis of the Washington Supreme Court. She hopes these experiences will lead to a career in educational equity work.
She has some advice for anyone contemplating law school: "Never rule yourself out. Never let anyone, including yourself, convince you that you are not worthy of this opportunity. We need your voice, your unique perspective, and your heart in this profession. And as you embark on your journey as a law student and you are overwhelmed with the volume of reading and the pressures of cold calls, stay grounded: Remember why you are in law school and who you are doing it for."