Father, Mentor, Legal Education Champion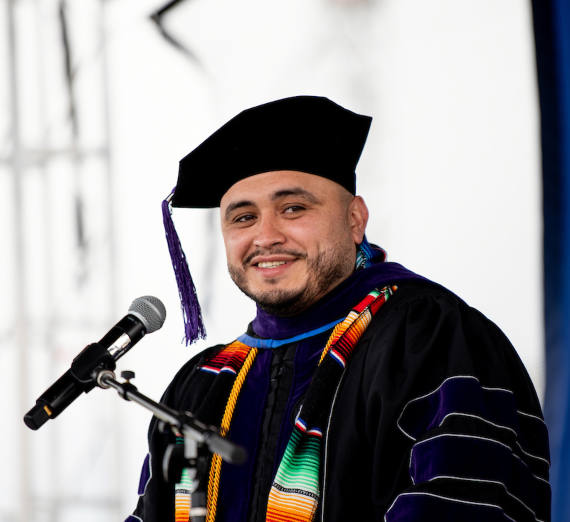 Hisrael Carranza is not a typical law student. It isn't that he is a married father of four. It isn't that he is the son of immigrants and a first-generation law student. It isn't that he had a criminal record before becoming a law student.
It's that he is so darn quiet.
Get any group of law students together, and the result is a bustling commotion of noisy debate. But Carranza has a stillness, a calm presence, an angle of repose immune to collapse. This centered nature makes his actions and voice all the more powerful.
This strong sense of self was hard-won. Early in life, Carranza saw that the path he was on had few possible outcomes, none of them good. He described himself as lost and hopeless in
the face of addiction and winding up in jail more than once. He knew he needed to find another trajectory. He started by finding a job, paying off his fines and other legal and financial obligations, then enrolling part time at Weber State University.
New Possibilities
His decision to change didn't bring him instant gratification, praise, or even complete clarity about his future other than the understanding that this new trajectory offered better possibilities. But he kept moving forward. He has undying gratitude to the people who helped him find his new path: his family, mentors, and professors.
After earning his bachelor's degree, Carranza turned his eyes toward law school. He settled on this path as a way to give back to his community. "Through my own lived experiences,
I know what the law signifies to many underrepresented communities," he says. "It is not always experienced or seen in the most positive light. After my own experiences in the criminal legal system and seeing how immigration laws can rip families apart, I decided that I wanted to be someone people in my community can go to whenever they are dealing with these issues."
Gonzaga Law was a perfect fit. As he entered the lobby for the first time, he saw the big banner that read Center for
Civil & Human Rights. "It is ingrained in my mind like a scene from a movie that replays in slow motion," he said. His family agreed "how cool it would be to be part of a school that was so involved in issues we saw as important."
An Experience Beyond Expectation
As a first-generation law student, Carranza didn't know what to expect when he joined the Class of 2021. He knew it would be difficult, and it certainly lived up to its hype. He was surprised by how rewarding it was "to survive some of the law school milestones such as my first round of midterms and finals."
While excelling academically, Carranza developed professional experience with work at the King County Department of Public Defense, Columbia Legal Services, the Federal Defenders of Eastern Washington and North Idaho, the Moderate Means Program, and Gonzaga Law's Legal Clinic. He spent spring break 2020 with Gonzaga Law in Action, conducting research on how to combat forced labor in prisons.
He works with administrators to ensure the school strives to retain diverse law students once they have joined Zag Nation. To this end, Carranza is active within Gonzaga Law's Latina/o Law Student Association, and several other committees and groups focused on diversity and inclusion.
Carranza will be clerking for Washington Supreme Court Justice Mary Yu in the 2022-2023 term. "My dream is to eventually practice both criminal and immigration law to assist people in the two areas of law that have intersected in my life," he said. "Until I can reach that, I plan to take all the opportunities that will allow me to be the best advocate for my clients."
With all this professional, academic, and community-based work, burnout is always a possibility. But not right now, not for Carranza. "I am so full of passion right now that 'burnout' is not on my radar," he says.