Caring For The Whole Person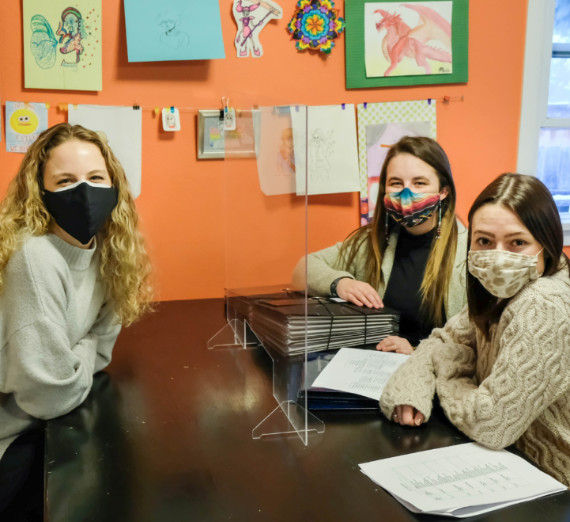 On a sunny day in spring 2021, law student Christine Luckasen ('21) carried two neatly labeled containers into Odyssey Youth Movement in Spokane's Perry District. The labels, printed on purple paper and decorated with rainbows, were for the School of Law's pop-up Name and Gender Change ID Clinic. Inside the containers were snacks for attendees, cleaning products to prevent COVID 19 transmission, and numerous government forms to help transgender and nonbinary individuals update their names and gender markers on their identifications.
"Every individual I have worked with has been so friendly and grateful," says Luckasen. "I wish we could host the clinic every single week because it is so fulfilling."
The pop-up clinic began in 2019 through the Center for Civil and Human Rights (CCHR). Michele Fukawa, CCHR assistant director, and Luckasen, research assistant, coordinate the monthly clinics.
The idea of the clinic began when Fukawa attended an Access to Justice Conference presentation by Seattle's Lavender Rights Project (LRP). Dusty LaMay, LRP's Equal Justice Works Trans Advocacy in Rural Places fellow, had been holding similar clinics throughout Washington state. "I knew that Spokane needed a clinic like this, so I asked for their help," Fukawa says.
At the first clinic in 2019, LaMay provided guidance to five law student volunteers. The clinic continued monthly in a small classroom on the third floor of the law school. On clinic days, pride flags decorated the law school building and individuals from throughout the Inland Northwest, including Idaho, dropped in with their questions on how to update their identification. Collaboration with LRP continued until March 2020, when the pandemic forced the cancellation of all inperson activities at the law school.
When law students returned to campus in fall 2020, Luckasen helped Fukawa transition the clinic to be a safe environment for students and attendees during the pandemic. It reopened in October 2020 at Odyssey Youth Movement, with appointments scheduled to limit the number of people in the space, and with protective measures in place.
"Volunteering for the clinic has been one of the biggest highlights of my 1L year," says June Bordas (Thomas More Social Justice Scholar). "While the general need is simple, every client's situation is different, and there's always something new to learn."
To assist more transgender and nonbinary individuals throughout the state, a virtual clinic took place in April, via a five-hour clinic on Zoom to help people from Spokane, Jefferson, King, Snohomish, and Yakima counties.
Bridgette Roll (1L), a volunteer at the virtual clinic, says: "It's been a great opportunity to realize that I'm starting a path in a professional field where there's space for compassion and for helping people. Also, as a queer person, it's really lovely to be able to support the community I'm a part of – especially the trans/nonbinary community since they have been trailblazers for queer rights."