Runner, DREAMer, Immigrant Rights Advocate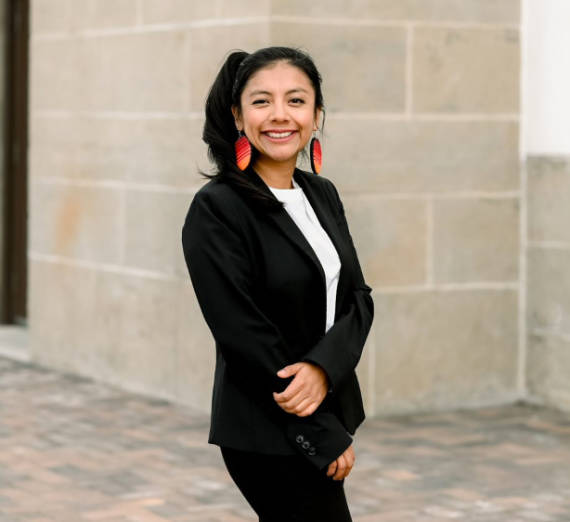 Lots of people become lawyers because of a childhood dream. Not so for Dalia Pedro Trujillo, who says she knew that the law had an immense power but couldn't see a place for herself in it.
After she earned her bachelor's degree, Trujillo took a job in Wyoming. She was an undocumented DACA recipient, a DREAMer, a woman of color, working with rural communities in a conservative area of the country when she saw the law and herself in a new light. "It was then that I realized that lawyers could be advocates for communities in ways that I had never thought of before," she says.
Mission Driven
She applied to Gonzaga Law because of its mission of social justice and its setting in Eastern Washington. She visited campus when she came to Spokane to see her sister, and then was selected to participate in Gonzaga's Thomas More Scholar Program. That settled it: She was going to be a Zag. While no longer in Casper, she is still active in the nonprofifit organization she co-founded there: The Immigration Alliance of Casper, Wyoming, which builds a network of resources for immigrants in the area.
"Law school was as hard as I thought it would be; it challenged me academically, as well as time management skills in ways I did not expect," she says.
Along with the usual first-year hurdles, Trujillo's stresses were compounded by the rescission of the DACA Memorandum in 2017 and our country's increased schism over immigration. "It's tough to go to school and be worried about old cases dealing with torts and civil procedure when you're constantly worried about whether the current administration is going to potentially focus on deporting you," she recalls. Her first year was a lonely experience in ways that most law students cannot understand.
Compounding the immigration issues, Trujillo points out that people of color "are not reflflected in the materials we cover, at least not in a positive light, and we also are not reflflected in our staff and faculty. And after a while, that wears down on you and makes you question whether you should even
be there."
Finding a sense of belonging as a Zag and law student was vital to her success as a law student. Gonzaga is legendary for its commitment to community but can do better in addressing
the needs of its students from historically underrepresented communities. "It can't just fall on the students to advocate for themselves, because then our law school experience will always have an added component that other students never have to think about," she says.
Along with the people of Gonzaga, she credits running with helping her stay on an even keel as a law student. Trujillo started trail running when she lived in Wyoming. She did her fifirst race — 18 miles through the Bighorn Mountains in Wyoming — and was hooked and recently completed a 50k race in 5 hours and 35 minutes.
A Voice for Inclusion
Trujillo, however, knows this call to action will only succeed if students like her keep their voices heard. Along with classes and internships, she was an active member of the national and Law School chapter of the Latina/o Law Student Association, the Student Liaison to the Washington State Minority Justice Commission, and a member of the Council on Equity, Diversity, and Inclusion.
But Trujillo also recognizes her own privilege as a law student, which helps keep her crackling with energy. She credits her undergraduate education at St. Martin's University in Lacey, Washington, with developing her critical thinking skills and challenging her to learn from a range of perspectives.
One part of Trujillo's Gonzaga Law experience that sparked joy was the school's emphasis on experiential learning and applying the intellectual to the practical.
"Working with clients puts law school in perspective, and it prepares you for going out into the 'real world,' and for that, I am so thankful," she says. Trujillo interned with the Federal Defender Services of Eastern Washington and Idaho, in both Boise and Spokane, where she handled the full range of pre-trial motions and sentencing memos as well as represented her clients in court. She works remotely as a Removal Defense Intern with the Refugee and Immigrant Center for Educational and Legal Services (RAICES), a nonprofifit based in Texas.
What advice does she have for prospective law students, especially for BIPOC students? "This profession needs you, and if this work calls you, then you shouldn't doubt yourself," she says. To weather
the challenges of law school, she urges prospective students to "come prepared to be challenged but stay true to your values and who you are as a person. Find something that grounds you and use that as your guide as you grow and learn."
Trujillo plans on clerking for Chief Justice Steven González of the Washington Supreme Court after she sits for the bar exam this summer.