Making the most of life's extraordinary adventure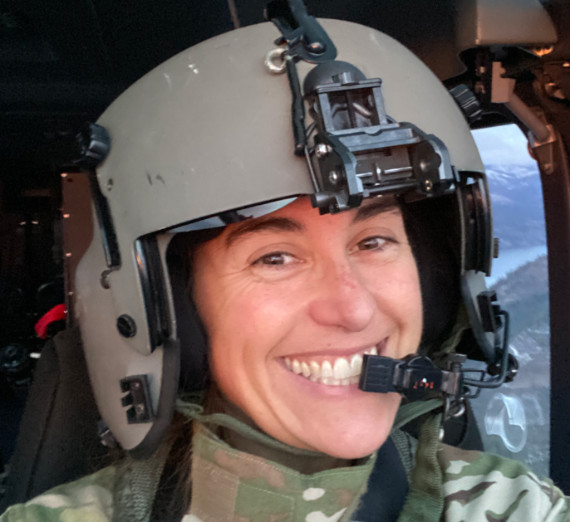 She wasn't certain how she would take to law school. By her own account, she hadn't studied "anything other than aircraft manuals" for the nine years prior to Gonzaga Law. Yet Melissa Coombes ('13) found a lot to love her 1L year. But let's back up nine years, before 1L orientation, before deciding to go to law school, before choosing to attend Gonzaga Law because the backstory is always important.
Coombes is stubborn. She admitted so in a profile written about her in 2011 as she competed in the Alpine Expedition Switzerland Adventure Race. The profile notes that "She can run for days — for fun." Coombes attributed her ability to sleep only a few hours a night, survive on peanut butter sandwiches and cheese crackers, and race for 24 hours for seven days to her stubbornness. "Once I get started, my stubbornness kicks in, and I won't give up," she said.
Stubbornness is a key to Coombes' success in life. She graduated from the United States Naval Academy in 2001 with a bachelor's degree in rocket science. Technically, aerospace engineering. Her curriculum tested both her academic and physical aptitude. So, rocket science with lots of pull-ups. Coombes also managed to shoehorn in playing volleyball for Navy.
But after graduation, Coombes decided to go to flight school and served nine years on active duty, flying MH-60S Knighthawk helicopters and fixed-wing aircraft. As a flight and academic instructor in the Navy, Coombes managed hundreds of students' training and professional development. In 2009, Coombes was named the Training Wing Five Instructor Pilot of the Year. She was also awarded multiple Navy commendation and achievement medals, including an Achievement Medal for actions that helped save an aircraft and the Humanitarian Assistance Medal for tsunami relief missions in Sumatra. But she was ready for a new challenge.
Feeling Right at Home
The answer: law school, and the practice of aviation law. However, research revealed that most firms with aviation practices were in big cities, which was not where she and her family wanted to be. It was important for her and her husband to be in the same place during law school, and Spokane was one of the few suitable places. Thankfully, Gonzaga Law was a great fit. "All of the admissions professionals were amazing in the process; we enjoyed our visit and fell in love with the terrain and opportunity available in Spokane," recalls Coombes. "GU was an easy choice."
A little worried about how her aerospace engineering background would apply to law school success, Coombes entered Gonzaga Law "with a completely open mind and a lot of humility."
"Much to my surprise," she says, "the analytical thought process honed through engineering studies" was directly applicable to the law school classroom and legal analysis. Coombes listened to her professors and "lo and behold, listening to what your professors tell you works!" This doesn't mean that Coombes didn't face doubts or hurdles.
But she defied intimidation. "This may sound crazy, but I loved my 1L classes, especially first semester," she says, not something often heard in law school circles. "I started the day with Professor Vickie Williams' Civ Pro class at 8 a.m., and she ran the class like a drill instructor. No nonsense. Coming out of the military, it made me feel right at home," she recalls.
On her Gonzaga path to a J.D. summa cum laude, Coombes clerked for the chief judge of the United States District Court for the Eastern District of Washington and interned with the Spokane County Prosecutor's Office. She served as managing editor of the Gonzaga Journal of International Law. All while serving in the Navy Reserves. She helped her fellow law students who had applied for JAG train to meet the physical fitness requirements.
All About Team
After graduation, Coombes became a patent attorney with Lee & Hayes, PC, in Spokane, is a member of the Washington Air National Guard and a part-time corporate pilot. Always a fan of cycling, running, kayaking, and climbing, Coombes decided to mix them all together and has been competing in multi-sport adventure racing since 2001.
Adventure racing is more than just an athletic workout, however. A team must navigate over an unmarked wilderness course and may have to climb, ski, bike, paddle, raft or run for many hours or days nonstop. Coombes and her team won the 2009 U.S. Adventure Racing National Championship in just 21 hours and 36 minutes, almost two hours ahead of the runners-up. She placed 12th in the 2017 Adventure Racing World Championships. She has competed in South Africa, Switzerland, and eight other countries around the world. All of this accomplished amid deployments, the birth of children, and her law practice.
In 2019, she competed in The World's Toughest Race: Eco- Challenge Fiji, where she and her teammates endured in an 11-day adventure race. The competition took place eight months after Coombes delivered her son via C-section. Not surprisingly, her favorite piece of gear during that race was "the magical acid that killed foot fungus," brought along by a teammate. A rolling stone may gather no moss, but a smart sailor knows how to keep her feet dry. Or something. There is an aphorism in there somewhere.
There is a common thread that ties Coombes' experiences together, whether family, school or racing: team. While she has no problem training on her own, adventure racing, as Coombes does it, is a team sport with each person contributing their skills and endurance. As a law student at Gonzaga, Coombes appreciated the time she spent with her professors and her fellow students.
It's often said that people who can't take advice often insist on giving it. But Coombes belies this bit of conventional wisdom. Her advice for prospective students: "Be humble. Listen. Really listen. As an advocate, friend, student, partner, or any other role, this is a critical skill that needs to be practiced." This is even more important when circumstances like the COVID pandemic have isolated people, and we feel the overwhelming urge to talk. "It is important to open our minds and hearts to what others are telling us," Coombes says. "That also takes some humility because it is not always easy to hear."