Entrepreneur, Marketer, Business Law Enthusiast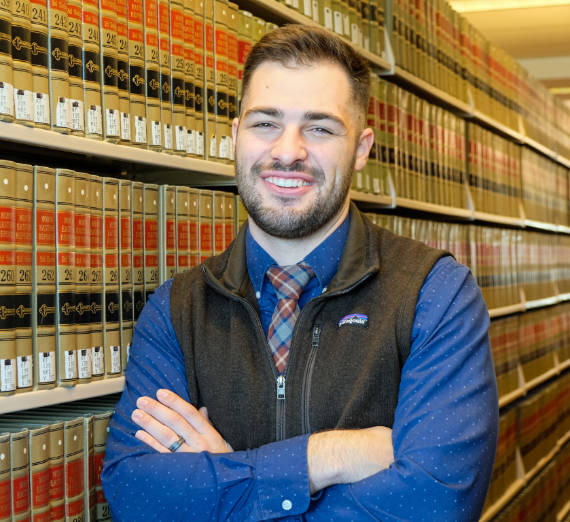 Nate Elliott just wanted to be a dentist, until he saw his brother-in-law drill teeth for three hours in dental school. "I quickly abandoned that dream," he says.
Then he founded a digital marketing agency — a surefire hit. But he realized how difficult it was to run a business while owning the business. Elliott decided he wanted to do something more than just marketing.
Working to build up his skillset, he pursed a degree in finance and management at Arizona State University, but his experience with a financial advising internship was like drilling teeth. Then a podcast prompted Elliott to consider law school, and his potential energy turned kinetic. He was on
to something!
Elliott and his wife were ready for a change of scenery, from Arizona heatwaves back to the trees of the Northwest, as both hailed from Ephrata, Washington. So he applied to Gonzaga Law, where he enrolled in the Executive Two-Year J.D. program and quickly immersed himself.
The first semester of anyone's law school experience is stressful. Elliott agrees, saying, "It was exhausting, but I look back fondly on those many hours I spent in the library, overlooking the river." He also appreciated the small class size and the chance to work closely with professors early in his studies. Academically, Elliott was quite successful, but something was missing.
Unlocking Potential
The missing piece fell into place when he started gaining clinical experience. "When I began my time in the clinic, I was almost ready to swear off a legal career completely," he recalls. "That all changed, however, when I started working with real businesses on real problems." Elliott joined the Business Innovation Clinic under the guidance of Jacob Rooksby, dean of Gonzaga School of Law. "It has been really fun to feel like I'm having a tangible impact on our clients' businesses," Elliott says, and adds that "I've also had the opportunity to research topics deeply and begin developing a bank of knowledge that will be useful to me for years to come."
Not surprisingly, Elliott kept himself busy outside the classroom. In addition to time with his wife and son, he started Gonzaga Law's Venture Capital & Private Equity Club, the only such law school student group of its sort in the country. He continued with Vöxtur, a company he founded with a friend and fellow ASU alumnus in fall 2018. Icelandic for growth and development, Vöxtur started as a clothing business, using its podcast, People of Growth, to bring the curious consumer to their site. The podcast featured Elliott in conversation with "extraordinary people," including entrepreneurs, venture capitalists, professional athletes, and photographers. Elliott's goal? Help listeners unlock their potential and grow.
After graduation, Elliott will continue his work, full time and as a licensed attorney, with Billbox Inc., a venture capital-backed startup in the financial technology sector aimed at solving the medical debt crisis. He is, at heart, an entrepreneur without the pejorative connotation that the current startup culture has added. "Entrepreneurship is about building something new and adding value to the world," he said. "It's about pushing yourself to build something that you can call your own and doing it without the stability of an employer."
Elliott has earned some hard-won insight. "Take everyone's advice with a grain of salt," he said, adding, "People offer advice from their own background and perspective, and that usually isn't true or applicable for you and your circumstances." Nor is there one true path to success, in law or elsewhere, he says. "You just have to figure out what works for you, and don't worry if what works for you is different than what works for others. You are different than everyone else, and that's something to be happy about."