In service of justice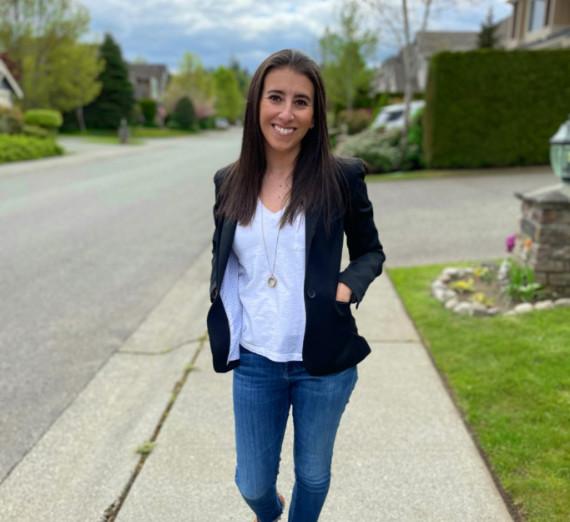 When called for jury duty, lots of people moan. Some groan. And some, like alumna Reisha Abolofia ('14), decide to go to law school. After earning her bachelor's degree in journalism from the University of Washington, Abolofia was interning with The Seattle Times and paying the bills with a job at Trader Joe's when she was called to serve on a jury.
The case involved the rape of a child, and after two weeks of sitting in the jury box, Abolofia and her fellow jurors were summarily dismissed with no explanation. "I (literally) chased the prosecutor down the hall to find out why we were excused after two weeks of trial," she recalls. "He explained after testifying about her experience, the survivor was too scared to sit for cross-examination, so the prosecutor had to cut a plea deal with the defendant."
In response to this experience, Abolofia decided to volunteer to work with the prosecutor's office to support survivors of sexual assault and domestic violence. Abolofia worked the victim hotline and spent her time answering calls and providing information about case status, victim impact statements, and restitution. She quickly realized that she wanted to do this kind of work, full time, as a career. So law school was the next logical step.
Gonzaga Law caught her attention because "its commitment to justice and public interest work felt like it aligned with my purpose in finding selfless, impactful work." She says she "felt a sense of community both on campus and in Spokane when I visited the school."
This doesn't mean she knew exactly what kind of law she would practice. She knew she wanted to advocate for others. "Law school was rigid and competitive, and that was what I expected, but I felt a real sense of camaraderie and support within a small group of friends," she says. She knew a law degree would open the door to new opportunities for her, "but I definitely didn't know where I would land," she recalls.
But it seems her heart was in public service. As a law student, Abolofia interned with the King County Prosecuting Attorney's Office and took an active role with the Gonzaga Public Interest Law Group as its VP and creative director. The tenacity that impelled her to get answers from a prosecutor kept Abolofia on a path of advocating for others.
It was Professor Mary Pat Treuthart, though, who helped Abolofia focus her goals. Professor Treuthart's Mental Disability Law class not only gave Abolofia a solid foundation in the law of disability, it also gave her the opportunity "to learn from a fierce advocate like Mary Pat."
"In the very beginning of my third year of law school, I woke up one morning without the ability to use my fingers and hands," she says. Ultimately, Abolofia was diagnosed with multiplesclerosis. Her symptoms and diagnosis coincidentally coincided with her class with Professor Treuthart. "I found a friend and an incredible mentor," she says of Treuthart. "She helped me find
a place to use my sense of justice and emerging knowledge of disability law and culture at Disability Rights Washington."
Abolofia took a job as a staff attorney with DRW after graduation and passing the bar in 2015. Her work focused "on the illegal conditions faced by people with intellectual and developmental disabilities in treatment facilities and state-run institutions." Her job also included starting DRW's Spokane office. Under her leadership, the Spokane office grew from Abolofia herself to a staff of eight employees who serve the region.
In 2018, Abolofia became the director of DRW's Rights Investigation and Accountability Program. "I run a program that protects people in their day-to-day lives from being exploited or mistreated by other people who manage their money or otherwise provide support," she explains. "I started this statewide investigation unit from scratch in response to a newly passed federal law that calls for greater oversight of people who manage the funds of people who receive Social Security benefits."
Abolofia explains, "I am working on expanding the program to help protect the rights of even more people, like those who have guardians and those who receive other daily supports, so their day-to-day rights and autonomy are protected." Abolofia is also a member of a national work group that develops strategies to prevent financial exploitation of Social Security beneficiaries.
She loves her work. "I work with an incredible, selfless group of people who show up every day totally committed to advocating for change," she says. "The work is challenging, and there is always more to be done, but I think we do a good job supporting each other." This fulfillment in her work and the people who share her commitment is an important part of Abolofia's life.
But she still works on finding a balance between her work and her life. When she is not advocating for others, she spends time with her new puppy. As Groucho Marx said, "Outside of a dog, a book is a man's best friend. Inside of a dog, it's too dark to read."