Gonzaga University School of Law invites all government workers and members of the legal profession, regardless of religious affiliation, to join members of the local judiciary officers for our Red Mass for the Legal Profession.
Originally held in 1310, Red Mass marked the beginning of the Michaelmas (fall term) of the King's Bench during the reign of Edward of England. It was an occasion of pageantry and solemnity as judges, barristers and members of Parliament gathered to invoke God's blessing and guidance for themselves and their profession.
The 2022 Distinguished Legal Service Award was presented at the mass to David A. Torres ('86).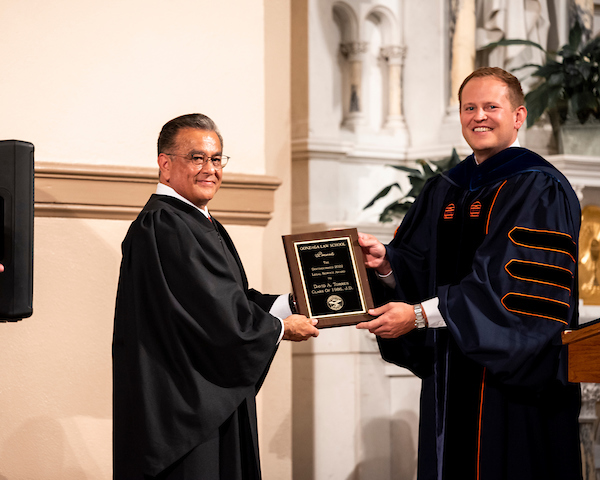 This award is one of the Law School's most prestigious, Dean Rooksby outlines the qualities of an honoree as someone who "exemplifies the mission of Gonzaga University School of Law, which is to provide an excellent legal education informed by our humanistic, Jesuit, and Catholic traditions and values; takes an active role in public service; has longevity of service, leadership, and commitment to social justice". During his lifetime commitment to law, David Torres has embodied these qualities and demonstrated them through his work.

Davis Torres is a well-respected, awarded Californian attorney, who has tried over 150 criminal defense cases in both federal and state courts. He served in the US Army Reserve, Judge Advocate General's Corp and holds the rank of Colonel in the California State Guard. Throughout his 30 years in the field, David Torres has received many honors including the Meritorious Service Award (3 Oak Leaf Clusters), Army Commendation Medal (two Oak Leaf Clusters), the Army Achievement Medal and the Parachutist Badge. In 2016, LTC Torres was Veteran of the Year for the 32nd State Assembly District. And in 2015, the Governor appointed Torres to the Fair Board for the 15th Agricultural District where he still serves. Now he can add the Distinguished Legal Service award to his long list of achievements.


Save the Date for 2023 Red Mass
2023 Red Mass will be held on October 12th, 2023 from 5:30-6:30pm at St. Aloysius Church. A reception will follow in the Cataldo Globe Room.
Rolando Adame, 1986 J.D.
Richard C. Adamson, 1975 J.D.
Bob Allen, 1974 J.D.
Bill Barber
Alfred Bennett, 1975 J.D.
William Bond
Eugene Brannan
Loren Burke
Brian Butler, 1985 J.D.
Pamela Candelaria
Dennis Corbin, 1976 J.D.
Anita Cornell
Christopher J. Dodd, 2001 J.D.
Leo Driscoll, 1951 J.D.
Chief Justice Mary Fairhurst, 1984 J.D.
John Fattorini, Jr., 1968 J.D.
Gerald Gates, 1961 J.D.
Robert J. Gunovick, 1961 J.D.
Douglas Hartwich, 1956 J.D.
Gene Huppin
Steve Jolley, 1982 J.D.
Gregory G. Jones, 1998 J.D.
Harold Karlsvik, 1993 J.D.
Gregory Kosanke, 1978 J.D.
The Hon. Thomas P. Larkin, 1973 J.D.
Richard Mah, Jr., 1965 J.D.
Frank Marchant, 1983 J.D.
Barbara L. Maurer, 1995 J.D.
Robert D. Miller, Jr., 1977 J.D.
Kellie K. Nielsen, 2005 J.D.
Warren Olson, 1952 J.D.
Steven Palmer, 1980 J.D.
Mark Pearson, 1985 J.D.
Thomas Pfalzer, 1977 J.D.
Anthony B. Rearden, 1976 J.D.
Michael and Linda Rengel
Gary Riesen, 1976 J.D.
The Hon. J. Justin Ripley, 1964 J.D.
Dr. Susan Tuck Rooksby
Laura L. Sokey, 2001 J.D.
Richard P. Solberg, 1976 J.D.
Melanie T. (Lowe) Stella, 1998 J.D.
Charles A. Stoner, 2011 J.D.
Patrick Sullivan, 1959 J.D.
Greg Tichy, 1984 J.D.
Julie Towler, 2007 J.D.
The Hon. Fred L. Van Sickle
Gary Watson, 1981 J.D.
William Hyslop, 1980 J.D.