The Holly Caudill Memorial Award is an annual award presented to a graduating student. This award is bestowed in memory of Holly Caudill, a '93 graduate of Gonzaga Law who was a quadriplegic. Holly showed incredible determination and grace in the pursuit of her law degree and would later become part of the U.S. General Attorney's office in San Diego.
Based on the wishes of the donors, every year the law school's staff and faculty work to nominate and vote for a 3L student to receive the Holly Caudill Award along with a $5,000 cash award.
In determining a recipient, the staff and faculty are to consider this non-merit award to a student who demonstrates a commitment to the law school by their involvement within the school's community through service, leadership, and citizenship while upholding high moral character. This student has made an impact on the student body, staff, and faculty of Gonzaga Law School.
The recipient's name is listed in the commencement program and on the plaque located in the law school on the 3rd floor.
Meet the 2020 Holly Caudill Memorial Award Recipient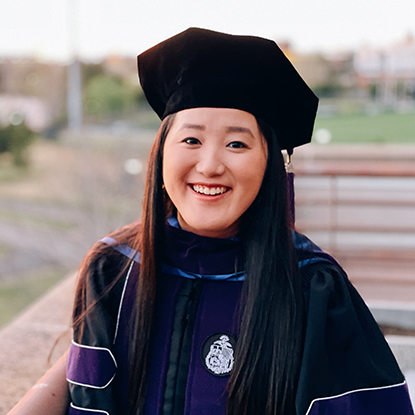 Sara Fukuhara has been awarded the 2021 Holly Caudill Memorial Award! Fukuhara has embodied service and leadership throughout her time at Gonzaga Law, starting as a 1L who assisted with reestablishing the Multicultural Law Caucus to a 3L serving as President of the Student Bar Association. A longtime leader for our Zag Law students, Fukuhara worked as an Admissions Ambassador, served as Auction Chair for the Gonzaga Public Interest Law Project, and held a student liaison role for the Asian Bar Association of Washington.
Fukuhara's far-reaching professional experiences are also a testament to her strong work ethic. In the summer of 2019, she worked for the Constitutional Court Research Institute for the Republic of Korea while studying abroad in Seoul. Fukuhara also assisted with the Elder Law Clinic and most recently wrapped up an externship with the legal department of Convoy, Inc., a Seattle-based tech start-up in the freight brokerage industry.
Holly Caudill graduated from Gonzaga with an undergraduate degree in 1987 and a law degree in 1993. Holly was born April 10, 1963 in Spokane. She became a quadriplegic at 13-years-old when she was hit by a drunk driver.
After the accident, her life began to fill up with a unique and powerful blend of remarkable people who would later become her support system. Family and friends shared the financial burdens to provide full time attendant care. Gonzaga Prep, Gonzaga University, and Gonzaga School of Law provided scholarships. Holly was the first recipient of the Gonzaga School of Law Holly Caudill Award that was established in her honor.
The community support for Holly typifies Spokane and Holly's tenacity to live with her handicap. Once you got to know Holly, the wheelchair disappeared from view and you only saw a beautiful, vibrant young lady with a hearty laugh and a warm smile.
Holly was believed to be the only female quadriplegic lawyer in the United States. She had one major goal: to be independent, both physically and financially. After graduating from law school, she worked as a U.S. District Attorney in Spokane. Holly later decided to live out her dream of living in the San Diego area and transferred to the U.S. General Attorney's office.
Throughout her life and career Holly Caudill was known as an inspirational and motivational speaker. She spoke to hundreds of people and organizations all over the country about her life and meeting life's challenges. She was indeed an eloquent role model for the physically challenged.
Holly's life was cut short on May 21, 1999, at the age of 36 from medical complication following surgery. She is greatly missed. But her legacy in championing rights/support for the physically challenged is remembered by all who came in contact with Holly. She is one who truly made a difference. Anyone who had any contact with Holly Caudill will understand the great loss to other physically challenged persons, her family, friends, the Gonzaga community and all whose lives she touched.
Rebecca Smith, Class of 2020
Sather Gowdy, Class of 2019