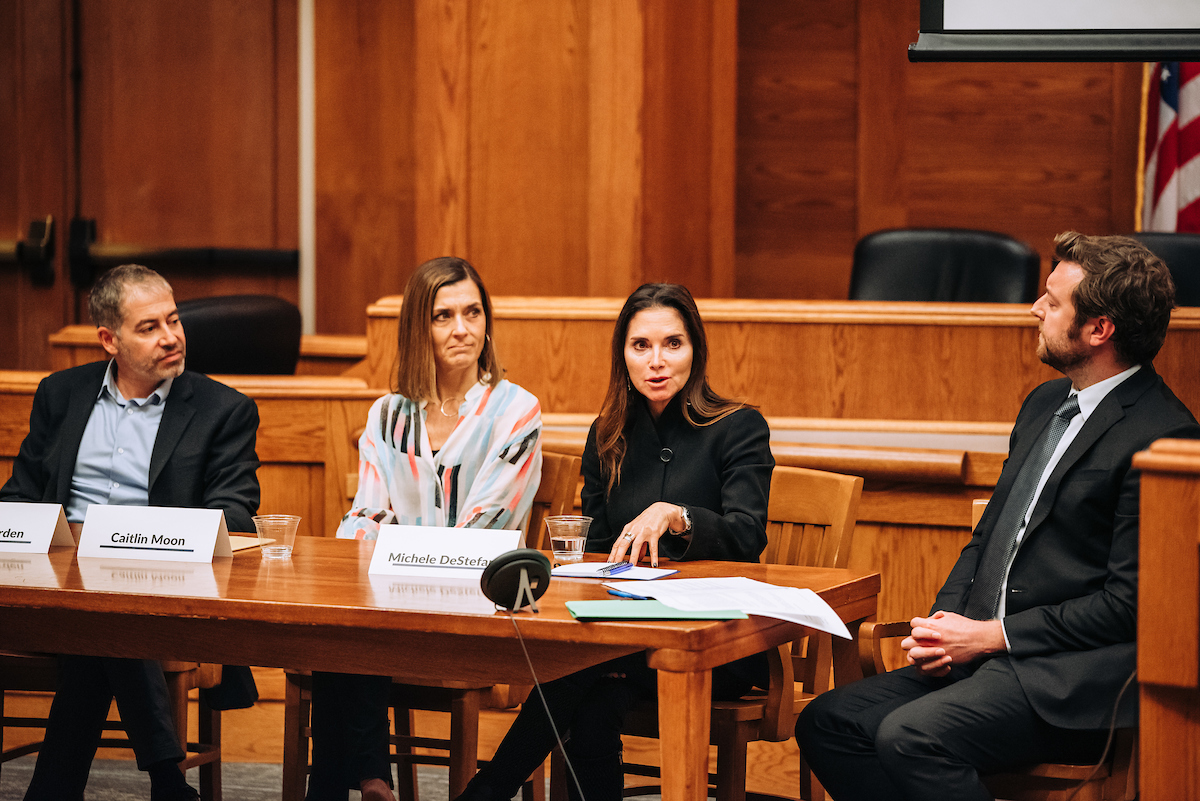 Upcoming CLE Opportunities
Ryan McNeice Law & Entrepreneurship CLE, October, 13th, 2023
This seminar is part of the new Ryan McNeice Law & Entrepreneurship Project which complements the work of the Center for Law Ethics & Commerce (CLEC) at Gonzaga Law School. This year's CLE is on the topic of Starting A Winery'.
Human Rights Conference (Florence, Italy), May 2024
Human Rights Symposium, which will offer world-renown scholars and professionals to address the given year's theme. Past year's theme have included: Artificial Intelligence, Government, Corporations, and Human Rights.
Clarke Family Prize in Legal Ethics CLE, April 2024
The annual Clarke Family Prize in Legal Ethics CLE is an annual Continuing Legal Education event focusing on the topic of professional responsibility.
Regulatory Reform as a Means to Increase Access to Justice
The 2021 Clarke Family Prize in Legal Ethics CLE featured leading state supreme course justices and legal scholars discussing regulatory reform, including exploring innovative legal services and the future of legal services delivery.
This program has been approved by the Washington State Bar Association for two ethics credits. Attendees needing credit in other states will be provided with a certificate of completion.
Register for the On-Demand Webinar
Choose the registration option below that applies to you.
I need CLE credit:

Register and pay here ($25 for alums; $50 for non-alums)
Attendance Certification (to be completed after you have viewed the program; please do not complete this certification if you have not already registered via the link above)

I do not need CLE credit:
2021 Panelists
Justice Deborah Stephens
The Honorable Debra L. Stephens has been a member of the Washington State Supreme Court since January 2008 and served as the court's 57th chief justice. Justice Stephens previously served as a judge for Division Three of the Court of Appeals and is the first judge from that court to join the Washington State Supreme Court, as well as the first woman from Eastern Washington to do so. A native of Spokane, she practiced law and taught as an adjunct professor at Gonzaga University School of Law prior to taking the bench. For a full biography, please view the Washington State Supreme Court website.
Justice Constandinos Himonas
Justice Constandinos "Deno" Himonas was appointed to the Utah Supreme Court in February 2015. Prior to his appointment, he served as a trial court judge for over 10 years. Justice Himonas graduated Magna Cum Laude and Phi Beta Kappa in economics from the University of Utah in 1986 and received his Juris Doctorate from the University of Chicago in 1989. Upon graduating from law school, he returned to Utah and spent 15 years working as a litigator, focusing on complex civil litigation. For a full biography, please view the Utah State Supreme Court website.
Andrew Perlman
Dean Andrew Perlman is a nationally recognized voice of the future of legal education and law practice. Dean Perlman was the chief reporter of the American Bar Association's Commission on Ethics 20/20, which was responsible for updating the ABA Model Rules of Professional Conduct to reflect changes in technology and increased globalization. He also served as the vice chair of the ABA Commission on the Future of Legal Services, which produced projects and recommendations designed to improve how legal services are delivered and accessed. He was appointed by the president of the American Bar Association to serve as the inaugural chair of the governing council of the ABA's new Center for Innovation. Dean Perlman was the founding director of Suffolk University's Institute on Legal Innovation and Technology as well as the related Legal Innovation and Technology Concentration. For a full biography, please visit his Suffolk University webpage.
Laurel A. Rigertas
Professor Laurel Rigertas joined the Northern Illinois University law faculty in 2006. She teaches professional responsibility, torts, advanced torts and a mindfulness course for law students. She also coordinates the first-year course, "Introduction to the Legal Profession: History, Culture and Values." Professor Rigertas' research and scholarship focuses on the legal profession, particularly in the area of ethics, professionalism and access to the legal system. She served as the College of Law's Interim Dean during the 2019-2020 academic year. Prior to joining the NIU law faculty, Professor Rigertas practiced complex commercial litigation as a partner with Michael Best & Friedrich LLP in Chicago. For a full biography, please visit her NIU webpage.
Ethics, Risk, and Compliance in Business
The 2020 Clarke Family Prize in Legal Ethics CLE featured leading legal scholars discussing Ethics, Risk, and Compliance in Business, including of-the-moment topics of access to justice during Coronavirus and lawyering during a public health crisis.
This event is no longer eligible for CLE credit, but can be viewed for educational purposes. Click here to watch.
2020 Panelists
Deborah L. Rhode
Discussion Topic: Legal Ethics in Compliance
Deborah L. Rhode is the Ernest W. McFarland Professor of Law and the Director of the Center on the Legal Profession at Stanford Law School. She graduated Phi Beta Kappa and summa cum laude from Yale College and received her JD from Yale Law School. She clerked for United States Supreme Court Justice Thurgood Marshall before joining the Stanford Law School faculty in 1979.
She is the founding chair of the Section on Leadership of the Association of American Law Schools and was the founding president of the International Association of Legal Ethics, a former president of the Association of American Law Schools, a former chair of the American Bar Association's Commission on Women in the Profession, a former founding director of Stanford's Center on Ethics, a former director of Stanford's Institute of Research on Women and Gender, a former director of Stanford's Program on Social Entrepreneurship, and a former trustee of Yale University. She worked as counsel to the House of Representatives' Judiciary Committee during the impeachment proceedings against President Bill Clinton.
She is the nation's most frequently cited scholar on legal ethics. She is the author of 30 books in the fields of professional responsibility, leadership, and gender, law and public policy. She has received the American Bar Association's Michael Franck award for contributions to the field of professional responsibility; the American Bar Foundation's W. M. Keck Foundation Award for distinguished scholarship on legal ethics, the American Foundation's Distinguished Scholar award, the American Bar Association's Pro Bono Publico Award for her work on expanding public service opportunities in law schools, and the White House's Champion of Change award for a lifetime's work in increasing access to justice.
Benjamin P. Cooper
Discussion Topic: Access to Justice in the Age of Coronavirus
Ben Cooper is the Senior Associate Dean for Academic Affairs and the Frank Montague, Jr. Professor of Legal Studies and Professionalism at the University of Mississippi School of Law. A member of the faculty since 2007, Professor Cooper currently teaches Legal Profession and Civil Procedure. He writes, speaks and consults on legal ethics and the law governing lawyers. Professor Cooper is the co-author (along with R. Michael Cassidy, John P. Sahl & Margaret C. Tarkington) of a Wolters Kluwer casebook entitled Professional Responsibility in Focus. Professor Cooper's scholarship has appeared in a variety of journals, including the Wake Forest Law Review, the Cardozo Law Review, the Cincinnati Law Review, the Baylor Law Review, Legal Ethics, and The Professional Lawyer.
W. Bradley Wendel
Discussion Topic: The Regulatory Perspective and Systems Thinking in Legal Ethics
Brad Wendel joined the Cornell faculty in 2004, after teaching at Washington and Lee Law School from 1999-2004. Before entering graduate school and law teaching, he was a product liability litigator at Bogle & Gates in Seattle and a law clerk for Judge Andrew J. Kleinfeld on the U.S. court of Appeals for the Ninth Circuit. His teaching interests are in the regulation of the legal profession and torts, and his research focuses on the moral and political philosophy to problems of legal ethics.
Maureen Weston
Discussion Topic: Ethical Issues for Lawyering and Representing Organizational Clients in a Public Health Crisis
Maureen Weston is Professor of Law at Pepperdine University School of Law and Director of the Entertainment, Media & Sports Law Program. JD, University of Colorado, BA, University of Denver. Professor Weston teaches courses on U.S. and international sports law, arbitration, mediation, negotiation, international dispute resolution, and legal ethics. Weston is actively involved in programs furthering opportunities for students to gain experience in negotiation, mediation and arbitration and coaches students in the international mediation and sports law advocacy competitions. Weston has taught law at the University of Oklahoma, University of Colorado, and in Oxford, England. Prior to teaching, Weston practiced law in Colorado. She serves on the ABA, Law School Division, Arbitration Competition, AALS Sports Law Executive Committee, and is a member of the Boards of Directors for the Sports Lawyers Association, the National Sports Law Institute at Marquette School of Law, and LawInSport Editorial Board. A frequent speaker at conferences, Weston is co-author of casebooks on sports law, arbitration, ADR, and has written numerous articles in the area of Olympic and International Sports Arbitration, disability law, sports law, and dispute resolution.