The Honorable Mary E. Fairhurst
1957-2021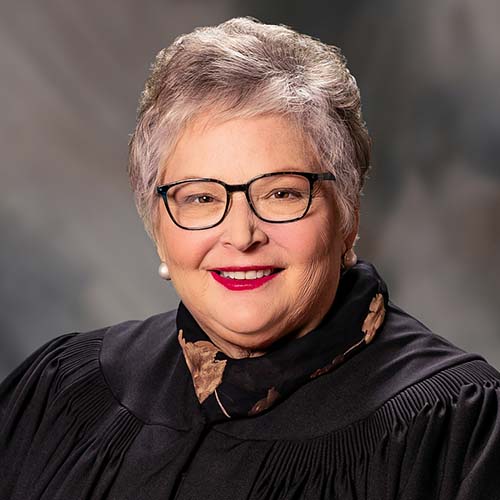 "We are deeply saddened to learn of the passing of our beloved friend, colleague, and mentor, Mary Fairhurst. Mary was a trailblazer of the profession, a continuous supporter of our law school, and an incredible mentor to students and alumni. Her kind smile, radiant presence, and unflappable optimism reminded us to embrace each person and each moment as we face challenges in both our personal and professional lives. Mary gave generously of her time and talents to the legal community and was a true Zag through and through. She touched countless lives in remarkable ways and will be profoundly missed."
---
The following is an excerpt from President Thayne McCulloh's message to the Gonzaga community. You can read the full message here.
Dear friend, loyal supporter, and distinguished Gonzaga alumna, The Honorable Mary Fairhurst ('79, J.D. '84), shared her final moments with her family and loved ones before she passed on December 28 at her home in Olympia, Wash.
Many will remember Fairhurst as a long-time member of the Washington State Supreme Court, most recently serving as the 56th chief justice from 2016 to 2020. When cancer left her too fatigued to continue on the Court, she wrote to the governor, saying, "I'm not going home to die, I'm going home to get better." She was first elected to the Court as an associate justice in 2002, following a 16-year career working in the Washington State Attorney General's office. She was re-elected to the bench in 2008 and 2014.
The first recipient of Attorney General Christine Gregoire's Steward of Justice Award, Fairhurst clerked for the late Washington State Supreme Court Chief Justice William Williams and Justice William Goodloe before joining the attorney general's office. She was the second woman and youngest attorney to have served as president of the Washington State Bar Association. She also served on the Bar's Board of Governors representing the Third Congressional District and as the president of Washington Women Lawyers. Her legal career included extensive experience in criminal justice, transportation, taxation, and labor. She headed the revenue, bankruptcy, and collections division during her time as assistant attorney general in Olympia.
Fairhurst was a loyal supporter of Gonzaga University and its School of Law. In addition to her financial generosity, Fairhurst served on many committees and task forces. She took a special interest in serving on the Myra Bradwell Award selection committee and enjoyed judging the law school's most prominent student competition, the Linden Cup, for many years. She was most proud to serve as president of the law school's Board of Advisors, which also brought with it a term as a University Regent. Mary Fairhurst will be remembered forever at Gonzaga and her legacy has been permanently memorialized with the establishment of the new Chief Justice Mary Fairhurst Bench-Bar Room at the School of Law.
Service Details
Mary's Celebration of Life will be on Saturday, April 9, at 1:30 pm in Marcus Pavilion at Saint Martin's University.
Additional details and obituary can be found here.
In lieu of flowers, a donation to one of the following is suggested:
Gonzaga University Law School
Legal Foundation of Washington's Campaign for Equal Justice
Seattle University's Public Interest Law Fund
Thurston County Food Bank
From the Community
Share Your Memories
Mary touched the lives of many of our alumni and community members. Those wishing to share personal stories or memories of Mary can do so by emailing lawalumni@gonzaga.edu.
A Legacy of Generosity
Mary could be always be found generously sharing her time and talent with others. In addition to her dedication to the citizens of Washington State, she served on countless committees, volunteered for student-led events and supported numerous nonprofit initiatives.
Mary was a member of the Washington Leadership Institute, a leadership development program created in 2004 by the WSBA Board of Governors. Its mission is to recruit, train and develop traditionally underrepresented attorneys for future leadership positions in the Washington State Bar Association and legal community. As woman entering the legal profession, Mary was a champion for those who did not fit the traditional mold of legal leadership.
Those seeking to give in honor of Mary's legacy are encouraged to give to the Gonzaga Law Dean's Fund for Diversity. Established in spring 2020, this fund directly supports students from underrepresented backgrounds.
Make a gift in honor of Mary Fairhurst.