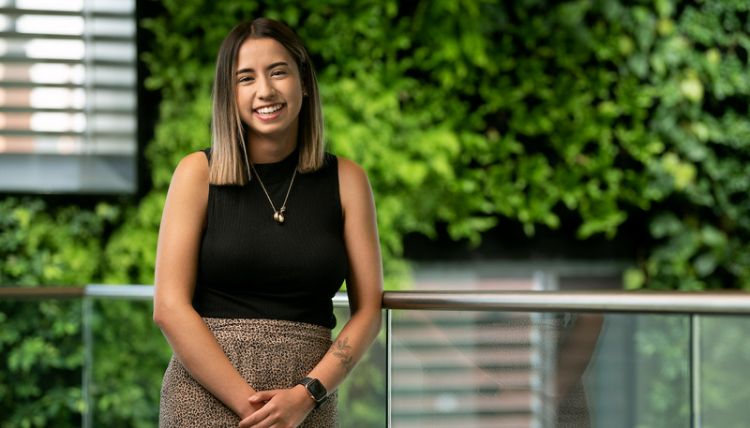 Name: Rosa I. Velasco Quevedo - Admission Counselor - Hispanohablante
(she / her / hers / ella)
Email: velascoquevedo@gonzaga.edu
Phone: 800.322.2584, extension 6285 - or - 509.313.6285
Hometown: Brewster, WA & Guadalajara, Jalisco MX
Degree: B.A. Social Welfare, minor Education, Learning, and Society - University of Washington
Territories: Arizona, California (San Diego, Yolo, Placer, Sacramento, and El Dorado Counties), Connecticut, Maine, Massachusetts, New Hampshire, Rhode Island, Vermont, North Central Washington (Chelan, Douglas, Grant, Kittitas, and Okanogan counties)
Why are you in admissions at Gonzaga?
Ever since I can remember, education has always been important to me. My first knowledge of higher education wasn't until a group of college students visited my 3rd grade classroom to present a STEM, week long unit with University of Washington's Pipeline Project. Prior to that, I had no knowledge of what college was. It was just my second year in the United States, but after learning more about college, I made it my goal to attend one day. Once I got to high school, I believed the dream of attending any school at all, would be impossible as an undocumented student. However, with the help of admissions counselors, Gear Up site coordinators, and school counselors I learned that my dream wasn't over and in fact there were plenty of resources to make higher education achievable for me. With their help and advocacy, I was able to attend UW as an undocumented student and be the first in my family to graduate from college. Now, as an Admissions Counselor at Gonzaga, my goal is to give back, share my knowledge and empower students to reach their own academic goals.
What's your favorite thing to do in Spokane?
Exploring nature! I love how anywhere you are in Spokane there is greenery to look at even on the freeway! My husband and dog (Kylo) love to go hiking, and Spokane offers so many trails to explore--especially doggy friendly ones!
Advice for prospective students:
Always advocate for yourself and never be afraid to ask questions. If I didn't advocate for myself as an undocumented student and ask for resources, I may have never attended college. So please, ask questions as small or as big as they may seem. Whether you're on a tour visiting campus, in the classroom, on the phone or email, as staff we are always happy to help and want you to succeed in your college journey.