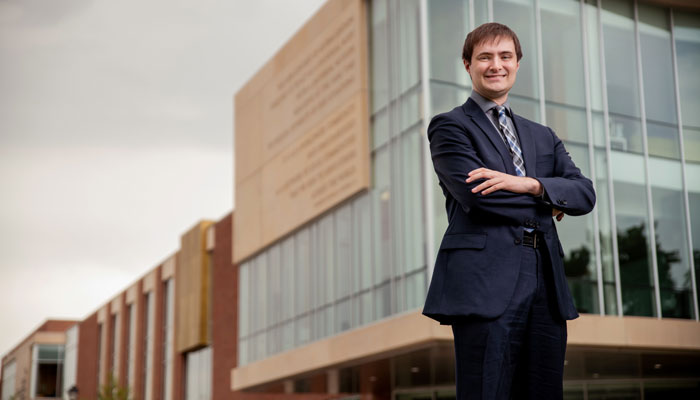 Name: Aaron Danowski - Senior Admission Counselor
Email: danowski@gonzaga.edu
Phone: 800.322.2584, extension 6571 - or - 509.313.6571
Hometown: Beaverton, Oregon
Degree: B.B.A. Individualized Concentration (Sustainability), Minor: Sociology – Gonzaga University
Territories: Alaska, Oregon, SW Washington (Clark, Cowlitz, Skamania, Wahkiakum)
Why are you in admissions at Gonzaga?
There are a lot of things that make Gonzaga special, including stellar faculty, a tight-knit community, and a ton of opportunities to travel and see the world. But what makes Gonzaga truly special is its identity as a Jesuit university and it's mission to educate students for lives of leadership and service. Both inside and outside the classroom, students are challenged to reflect on how they can use their talents and skills to make the world a better place. As a student I gravitated towards the fields of international development and sustainability. As I discovered more about my interests, Gonzaga gave me the flexibility to pursue my passion. I had the opportunity to study abroad in Cameroon and create my own concentration in Sustainability in the Business School. After graduation I spent several years working for an environmental nonprofit in Washington, D.C before returning to Gonzaga as an Admission Counselor. I love talking to students about their interests and how Gonzaga can support them in their journeys, and it's an honor to share what an amazing place this is.
What's your favorite place on campus?
The Hemmingson overhang. It's a great place to study because it's quiet and you can also look up and soak up the natural beauty of the campus through the floor-to-ceiling windows! Watching the leaves change color and snow quietly drift down in front of you can be especially magical.
What's your favorite thing to do in Spokane?
I love walking along the Centennial Trail! It runs right next to campus and follows the Spokane River into Idaho and Eastern Washington. Along the way you can explore Riverfront Park, watch and listen to Spokane Falls, or find silence and natural beauty in the hills past Downtown Spokane and Kendall Yards. It's easily one of the best parts of living here!
Advice for prospective students:
I know how stressful the college process can be, so whenever you're feeling overwhelmed just pause and take a few deep breaths! I was a very shy kid in high school and reaching out to ask questions to admissions counselors felt scary. Now that I'm on the other side, I know that we are here to support you and help you figure out what your college journey can look like. Please don't be afraid to reach out if you have questions or just want to hear more about life at Gonzaga. And always remember: you've got this!