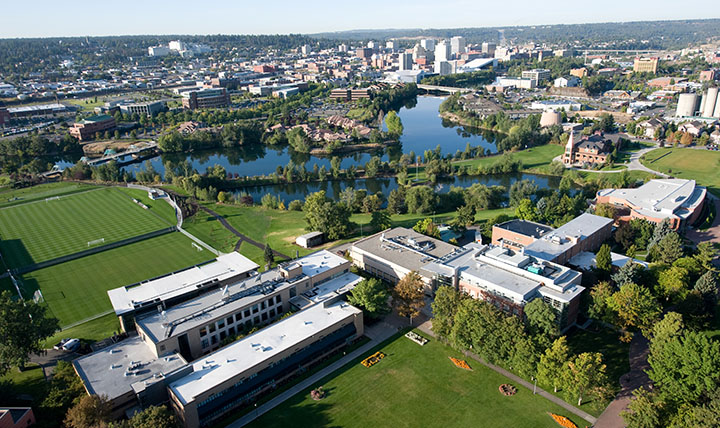 We (Heart) Spokane
As Zags, we consider ourselves lucky that Father Joseph Cataldo decided to establish a school here in 1887. Spokane (Spoh CAN)—the people, the activities and events, the landscape—we love it all.
Spokane sits on the east side of Washington state, along the beautiful Spokane River and Falls. As the largest metropolitan area between Seattle and Minneapolis (208,000 residents in the city and 688,000 people in the metropolitan area), the city is the financial, cultural and retail center of the Inland Northwest.
Anchored by a vibrant urban downtown core near our Gonzaga campus, Spokane is home to premier dining and shopping, arts and entertainment, popular regional events, sports teams, historical landmarks and so much more.
Our bustling city is surrounded by natural beauty: parks, pine tree forests, mountains, lakes and rivers. The region's scenic setting offers unlimited opportunities for enjoying the Northwest's great outdoors. And, because we're east of the Cascade Mountains, our weather is much drier and sunnier than that of our soggy neighbors to the west.
To learn more about Spokane, visit: