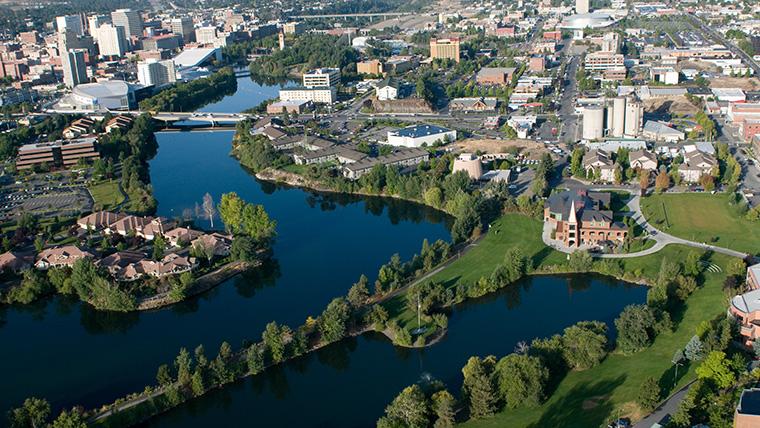 All students, staff and faculty who park a vehicle on Gonzaga University property must register the vehicle with Campus Security and Public Safety. This applies to all vehicles on campus, including motorcycles. Parking lots are designated and posted by permit color and are restricted to certain groups (faculty and staff, law students, residence halls, rental units, etc.). Vehicles can be registered at the Security office located at 503 E. Sharp or online.
Permits for the 2019-2020 school year go on sale online August 1st. Office sales and permit pick up begin August 20th.
Purchase your permit online and save time! Beginning August 1st, parking permits may be purchased online. You will need your vehicle license plate and Gonzaga ID number. If you do not know your ID number, contact the Registrar's office (509) 313-6592. Then, print out a copy of your receipt and bring it with you to the Security Office on 503 E. Sharp to pick up your permit. If you are a staff or faculty member, you can have your permit delivered through Campus Mail.
Visitors to Campus
Visitors must obtain a visitor pass from the Admissions Visit Office, Law library circulation desk, visiting the Parking Office at 503 E. Sharp or calling (509) 313-4147, or by prior arrangement online. There are Visitor stalls at various locations on campus. If you are a visitor and have received a citation for "No Current Permit" you can have that citation waived. Current Students, Staff and Faculty are not Visitors.
Parking Rules and Regulations
A copy of the parking rules and regulations is available from the Parking office, or available online.
Citations
If you received a citation at Gonzaga University and are not a visitor, you can pay your fine or appeal your citation. As an incentive to pay fines promptly, citations paid within 7 days of issuance will be reduced to half the price. Please visit our online portal to pay or appeal your citation, or visit the Parking Office at 503 E. Sharp to pay in person. Gonzaga students' citations that remain unpaid for 60 days may result in a hold on your Student Account.
Hours of Enforcement
University parking rules and regulations are enforced every day year-round unless otherwise specified. A heavier emphasis on parking patrol will occur during regular business hours throughout the academic year. Anyone with a valid permit, regardless of color, may park in any non-residential lot after 5:00 pm until the following 8:00am Monday through Friday, on weekends, and on University holidays and breaks. Parking in fire lanes, reserved stalls, disabled person stalls, sidewalks, brick, lawn, construction and maintenance areas is prohibited and enforced every day year-round.
Call the Parking Office at ext. 4147 or (509) 313-4147 for more information.