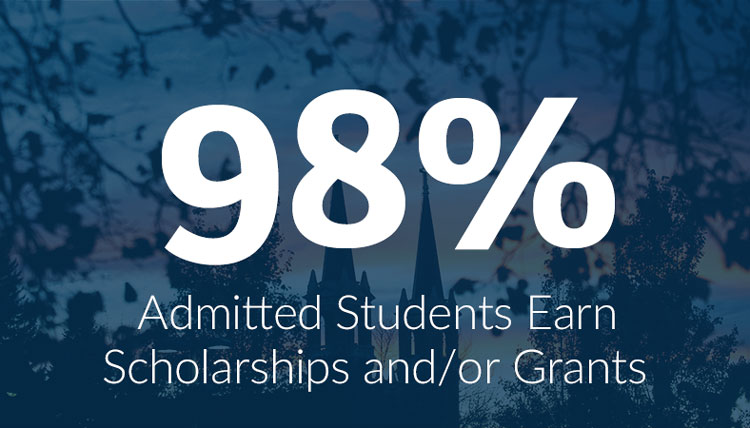 What does it cost to attend Gonzaga?
Figuring out your expenses starts with determining the total cost of your attendance for one academic year. Besides calculating obvious costs such as tuition, fees, room and board, you should add estimated costs for books, personal expenses and travel.
The Financial Aid Office reviews the average costs of each of these items every year and, using that figure, establishes a "budget" for its students. The budget varies depending upon whether a student is living on campus, off campus or at home with his or her parents. Although it is impossible to know precisely what an individual student's exact cost of attendance will be, the budget we establish for determining financial need attempts to consider most variable costs. Keep in mind that the cost of travel or other transportation-related expenses, as well as money for supplies, books and other items are often overlooked in planning for college.
2022-23 Undergraduate Cost of Attendance (Budget)
| | | |
| --- | --- | --- |
| Item | On Campus Cost | Off Campus Cost |
| Tuition | $49,800 | $49,800 |
| Required Fees | $935 | $935 |
| Room* | $7,234 | $9,495 |
| Meals** | $6,560 | $6,560 |
| Books & Supplies | $1,278 | $1,278 |
| Loan Fees | $88 | $88 |
| Personal Expenses | $2,180 | $2,180 |
| Transportation | $1,720 | $1,720 |
| Total | $69,795 | $72,056 |
* Weighted average of available options
** Most utilized meal plan
2022-23 Undergraduate Cost of Attendance (Budget) vs Direct Costs
Cost of Attendance is a federally defined term that includes costs above and beyond what you will be billed for. The Cost of Attendance includes additional expected expenses that Gonzaga does not bill you for, such as transportation, books, and personal expenses.
The Cost of Attendance represents the maximum aid you can receive from all sources, including gift aid like scholarships and grants, as well as self-help aid like loans and work-study.
Direct costs are what you are actually billed for and includes, tuition, fees, room & meal plans. Freshmen and Sophomores, who do not live at home with a parent or relative, are required to live on campus. Juniors and Seniors can live in off-campus in Gonzaga housing or make their own housing arrangements. Below is an estimation of average direct costs, both on and off campus, contrasted with the Cost of Attendance.
| | | |
| --- | --- | --- |
| Item | On Campus Cost of Attendance Budget | Estimated On Campus Direct Costs |
| Tuition | $49,800 | $49,800 |
| Required Fees | $935 | $935 |
| Room* | $7,234 | $7,234 |
| Meals** | $6,560 | $6,560 |
| Books & Supplies | $1,278 | -- |
| Loan Fees | $88 | $88 |
| Personal Expenses | $2,180 | -- |
| Transportation | $1,720 | -- |
| | | |
| --- | --- | --- |
| Item | Off Campus Cost of Attendance Budget | Estimated Off Campus Direct Costs |
| Tuition | $49,800 | $49,800 |
| Required Fees | $935 | $935 |
| Room* | $9,495 | -- |
| Meals** | $6,560 | -- |
| Books & Supplies | $1,278 | -- |
| Loan Fees | $88 | $88 |
| Personal Expenses | $2,180 | -- |
| Transportation | $1,720 | -- |
* Weighted average of available options
** Most utilized meal plan