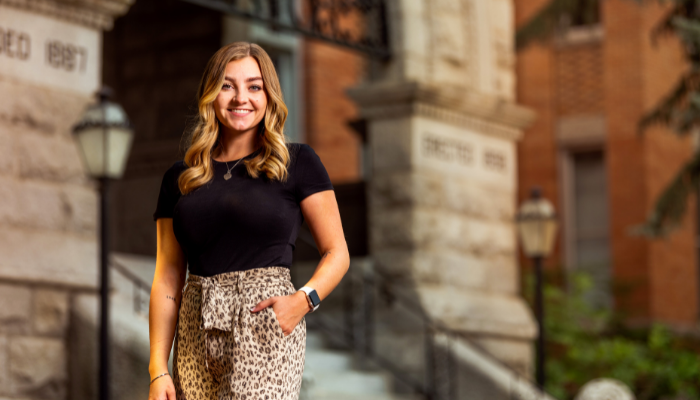 Name: Samantha Galluzzo - Admission Counselor
Email: galluzzo@gonzaga.edu
Phone: (800) 322-2584, extension 6576 - or - (509) 313-6576
Hometown: Newcastle, WA
Degree: M.A. Organizational Leadership - Gonzaga University
B.A. Communication Studies, Minors: Criminology, Political Science
Territories: Western Washington (King, Snohomish, Skagit, Island, San Juan, and Whatcom Counties), Illinois, Michigan, and Wisconsin
Why are you in admissions at Gonzaga?
I am in Admissions at Gonzaga because I very much enjoy meeting with students and their families, and working with them as they begin their college journey. I am one of the first in my family to attend college, so I can relate to all the worries and questions that come with this transition, and love supporting students and their families during this exciting yet stressful time.
What's your favorite place on campus?
My favorite place on campus is definitely the Hemmingson Center! During my time here as a student, Hemmingson was the place to meet friends to study, grab a snack or coffee between classes, or meet up with friends or housemates before making the walk home. I highly recommend reserving a study room or checking out the Hemmingson Den in the basement for a quiet and comfy space to do homework by yourself or with friends. No matter when you walk through Hemmingson, you will see people you know and can stop for a chat.
What's your favorite thing to do in Spokane?
My favorite thing to do in Spokane is walking along the Centennial Trail. Centennial Trail takes you through the city, walks you along the falls and helps you explore some great Spokane neighborhoods. Walking this trail is a great way to unplug from technology and connect with your new city!
Advice for prospective students:
While college searching, reach out to your Admission Counselor and build that relationship! Once you are on campus, interact with Professors and campus resources as much as you can! We are here for you and our faculty or staff, to help you succeed. If you can meet with your Professors during office hours, you not only get help on the course content, but you have the chance to build a relationship with your Professor. Building these relationships helps not only in academics but also in creating your professional network as you explore your career options!
Meet with an Admission Counselor