Your ZAGCARD is your connection to resources on and off campus.
Proper card care is essential. There is a chip inside the card with an antennae that wraps around the border of the card and a magstripe on the back of the card that needs to be read. You should keep your ZAGCARD with you at all times and never share it. We recommend storing your card in a hard acrylic case.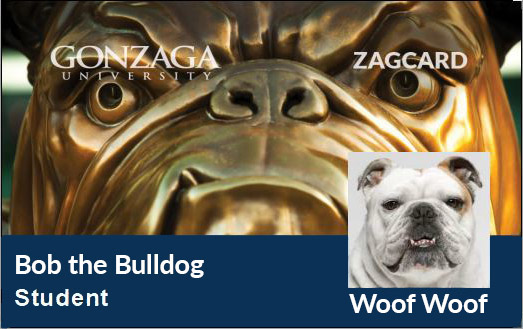 ---
---

---

---
---
---
---
---
Do not:

bend card or punch a hole in the card
place labels or stickers on the card
store the card in direct sunlight or expose to excessive heat
use as an ice scraper

If attaching your ZAGCARD on a lanyard, a hard acrylic case is recommended.
Rubbing the card directly against materials such as leather can dull the finish making the text, image and magnetic strip difficult to read.
Keep your card away from electromagnetic fields such as cell phones, microwaves, televisions and other cards with magnetic strips.
Do not store your card in your phone case. This can overheat your card and ruin the chip inside your card where you will not be able to successfully access doors.
A replacement fee will be need to be paid for cards that have become damaged due to misuse or improper care.
Alaska USA Federal Credit Union
Banner Bank
BECU
First Interstate Bank
Numerica Credit Union
Spokane Federal Credit Union
Spokane Teachers Credit Union
U.S. Bank
Washington Trust Bank