Bulldog Bucks is a fee free stored value account managed by the University and it's available to all ZAGCARD holders. Bulldog Bucks are worry-free since unused balances roll over from semester to semester and year to year. They are included in the residential meal plans and making a deposit to Bulldog Bucks is quick and easy. You or family and friends can add money to your account at any time (family and friends just need your GU ID number). Bulldog Bucks provide a convenient secure way to make purchases with vendors who participate in the program.
At Gonzaga, we love our Bulldog Buck vendors. They are an integral part of keeping student life fresh and also giving families comfort knowing that their student has access to a variety of additional amenities. Bulldog Bucks have a huge convenience factor for students, faculty and staff. You can always find the most up-to-date info about participating locations, but keep an eye out for the "Bulldog Bucks Welcomed Here" sticker at participating locations when you are out and about in the community.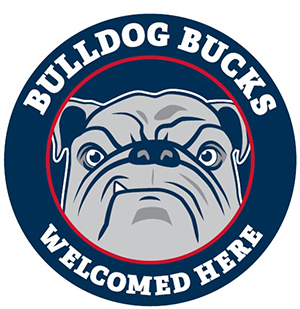 View Bulldog Bucks and Meal Plan balances and transaction history
There are two ways to view your Bulldog Bucks balance:
Download the eAccounts App
Log into Zagweb and click the ZAGCARD tile
If you discover an error concerning a Bulldog Bucks charge, please fill out the BDB Dispute Form so we can work with the vendor on resolution. For assistance in resolving a disputed transaction we must hear from you no later than 60 days from the date the transaction occurred.
If you have questions concerning your meal plan balance visit the Zag Dining office.