Photo Deadlines by Term:
Fall Term: July 31st
Spring Term: December 31st
Summer Term: April 30th
Photos are submitted online and go through an approval process to ensure the photo meets our requirements.
Review the requirements and submit your photo today.
Photo Requirements:
Photo must be square against a plain white, smooth background.

Photo must be forward facing, current, full color and unaltered.

Hat or head covering may only be worn if worn daily for religious purposes. Full face must be visible.

.jpg, .png, .gif format accepted.
Gonzaga University will defer to the US Department of State guidelines for passport photos when determining if a photo is acceptable.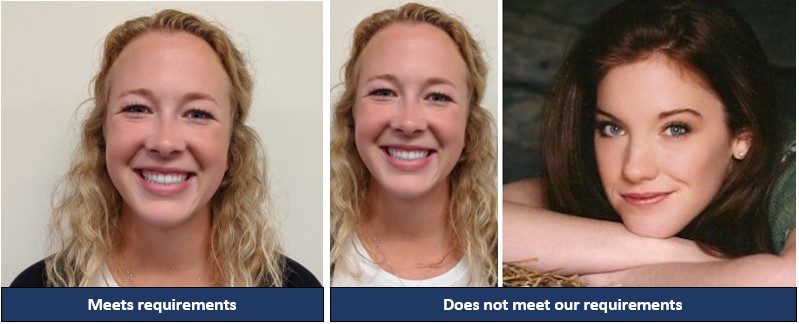 Upload Instructions:
Log into photoupload.gonzaga.edu with your Gonzaga credentials.

Accept the Terms and Conditions.

Review the photo requirements on the upload page to be sure your photo meets them and click the cloud icon.

Browse to select the photo you want to use or if you are using a mobile device, then use your device's camera to take a photo of yourself. Wait for your photo to finish processing. Once processed it will take you to the next part.

Click the cloud again and browse to select the photo or if you are using a mobile device, then use your device's camera to take a photo of your government ID. Give it a moment to process that image. You should soon see both your personal photo and government ID together. If you are happy with your submission, then click Submit and Sign Out.

Submit and sign out.
An email will be sent communicating if you photo has been approved or denied.
Having trouble accessing the site? We recommend you clear your cache and cookies.
Please watch the video below if you need step-by-step instruction for successfully uploading an approved photo and valid government ID.