Your gift makes a difference. Any amount helps Gonzaga Law support current and future generations of students who are working to put their Passion Into Practice. Your generous philanthropy helps make this possible.

Recent News
Immigration Clinic Launches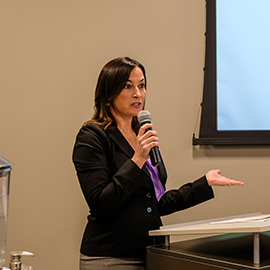 On October 29, The Catholic Charities Immigration Clinic at Gonzaga Law School was officially launched. It was an evening of excitement as the ZagLaw community celebrated the creation of this vitally important new clinic.

"Immigration is, unfortunately, one of the most contentious issues facing our society today," Immigration Clinic Director Megan Case said. "Gaining experience in this field of law will help prepare our students for career opportunities in law firms, non-profit legal organizations, government, and international organizations – both in immigration law and a wide variety of other legal arenas."
Solo Practice Incubator: Selected Recipients
We are delighted to share the news that the Solo Practice Incubator Program has officially begun. This innovative model partners a seasoned attorney with a recent law school graduate to help him/her build a solo practice with a particular emphasis on practicing Elder Law in Spokane.

Lindsey Paxton has been selected as the first incubatee. Paxton has been paired with mentor Liz Wallace, who is looking forward to offering her guidance and support as Paxton embarks on her solo venture.
Ben Joyce: Go Forth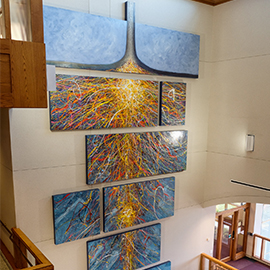 We are pleased to share with the entire ZagLaw community that there is an energetic and invigorating new piece of art on display at the law school. Commissioned by a generous ZagLaw donor, local artist and GU alum Ben Joyce has created "Go Forth," an installation of paintings that celebrate the roots of a student's journey forged at Gonzaga Law. The piece, which runs the multi-story height of the law school's atrium, is 100% donor- and artist- funded.

We are ever mindful of the words of St. Ignatius of Loyola: "Go forth and set the world on fire."

Learn more
Watch a video about the creation of this spectacular work of art
Greetings! From Father Pham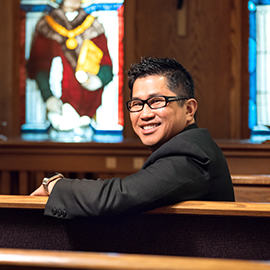 Greetings, from your Chaplain!

I am Fr. Bryan Pham, a Jesuit priest missioned here at Gonzaga School of Law. I also work as a supervising/staff attorney in our University Legal Clinic, teach bankruptcy law, and serve as your chaplain. Before coming to Gonzaga, I was at Loyola Law School in Los Angeles where I was a practiced immigration law. I did my undergraduate studies here at Gonzaga University, so it is great to be back on campus.

The Law School Chaplain's Office, in collaboration with the Office of Mission and Ministry here at Gonzaga University, are here to support you in any way we can. From pastoral counseling to spiritual conversations, please feel free to visit our websites for upcoming events. If you are near campus, you are always welcome to attend our weekly Catholic liturgy on Tuesdays at 12:15pm in the Chapel of St. Ignatius.

In our Catholic tradition, the month of November is designated as the time where we remember and pray for all those have departed from this life. Whether they have been officially canonized as saints or they are the many unsung heroes in our lives, we honor these men and women and pray with/for them. During this month, we remember particularly deceased friends, families, alums and former colleagues of all faith traditions who had been a part of our Gonzaga Law Community. While we pray for and remember our beloved deceased every Tuesday at our weekly eucharistic celebration, we join our universal Church and dedicate the entire month of November to purposefully celebrate their lives. We give thanks for them, their dedication, and their commitment to our shared mission. We hope that their spirit of generosity and passion for justice will continue to inspire and guide our work today.

Starting in November, the Book of Remembrance will be available in the back of the Chapel of St. Ignatius. Please feel free to write the names of deceased loved ones in this book so we can pray with you for these beloved. You can also email me these names and I will include them in the book as well. As alums of Gonzaga School of Law, you and your families are very much in our thoughts and prayers always—especially during this month of November. We accompanied you while you were here; you continue to be a part of this community even after you have moved on. Please know that the Chaplain's Office is not only available to current students, faculty, and staff. I am here for you as well. Please do not hesitate to reach out. You can contact me directly at pham@gonzaga.edu.
Alumni in the News
Judge Chuck Harrington ('84) Retired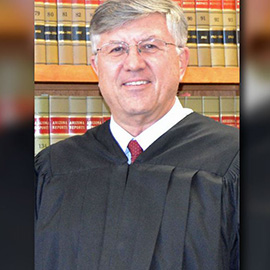 The Honorable Charles "Chuck" Harrington recently announced that he retired from the Superior Court of Pima County in Arizona on October 31, 2019.

Throughout his time on the bench, Judge Harrington has served on a multitude of committees, commissions, and workgroups at both the state and local level. He was also instrumental in implementing the Fast Trial and Alternative Resolution (FASTAR) program in Pima County, a pilot program designed to resolve statutorily-designated civil claims quickly, efficiently, and fairly.
Chelsea W. Rengel ('11) Appointed as a Jackson County Court Judge
Chelsea W. Rengel was recently appointed as a Jackson County Court Judge in the 8th Judicial District in Colorado. Before her appointment, Rengel was an associate attorney with Miller and Associates Law Offices whose practice handled Social Security disability cases. Previously, she was a deputy public defender for the Office of the Colorado State Public Defender in Jefferson County (2014-2017); and judicial law clerk for the Honorable Randy J. Stoker in the Fifth Judicial District of Idaho (2011-2013).
Upcoming Event
Feburary 21-22, 2020
St. Helena, CA

Join the Wine Law Institute for this exciting California event. "Women in Wine" is co-sponsored by Gonzaga Law and WOMEN LEAD at the School of Leadership Studies.

Learn more
Scholarship
LRAP: Applications Now Open
The Gonzaga Law Loan Repayment Assistance Programs (LRAP) are designed to assist a select number of our graduates who are pursuing careers in public service. Applicants with outstanding law school student loans, both federal and commercial, are invited to apply to the LRAP program. The program functions to provide loans of up to $4,000 a year to help meet the repayment of specified law school loans.

Gonzaga Law currently offers two LRAPs: The Gonzaga General Loan Repayment Assistance Program and The John R. Clark Loan Repayment Program.
Recent Photos
2019 Distinguished Legal Service Award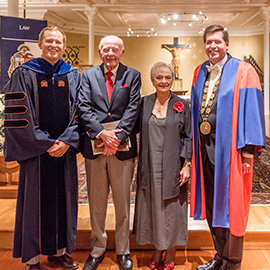 The 2019 Distinguished Legal Service Award was recently bestowed upon recipients Don ('60) and Va Lena ('58) Curran. The Currans were presented with this award at the 2019 Red Mass for the Legal Profession. Don is a former president of the Spokane County Bar Association, and Va Lena has served on Gonzaga Law's Board of Advisors for over 30 years.
Mentoring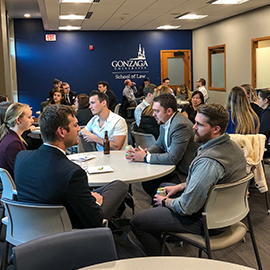 The Center for Professional Development (CPD) kicked off this year's 2L/Attorney Mentor Program with a meet-and-greet at the law school. Thank you to all our attorney mentors for your service! Want to get involved? Please contact CPD Assistant Director Abe Ritter.