Announcements
New Hires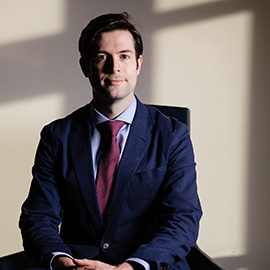 Gonzaga Law is pleased to welcome Mason Marks, M.D., J.D., who will join our community as an assistant professor starting in August 2019. A graduate of Vanderbilt University Law School, Dr. Marks' research focuses on health law, data privacy, and FDA regulation with a particular interest in the application of artificial intelligence to medical decision making. His research on using AI for suicide prediction was recently featured in The New York Times.

"Law is a beautiful subject to study because it is fundamentally about the human experience, social interactions, and determining how we should live," Dr. Marks said.

Dr. Marks participated in a Q&A to introduce himself and share his journey from medicine to law to academia.

Read the full story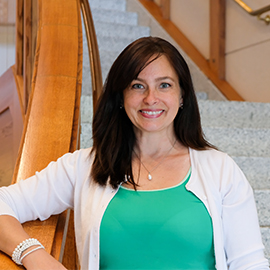 Gonzaga Law is pleased to announce the hiring of Michele H. Berger as our new assistant director of academic support and bar services.

Berger was previously a professor and associate director of academic success and bar preparation at Thomas Jefferson School of Law. Having begun her legal career in civil litigation, Berger also worked as a corporate counsel in New York and a managing attorney in San Diego. Prior to law school, Berger was a high school English teacher. Her passion as an educator eventually drew her back to academia after practicing law for 9 years.

Michele will play an integral role within our department dedicated to supporting students on their journeys to succeed in law school and tackle the bar exam.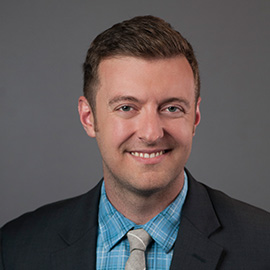 Professor Drew Simshaw will be joining Gonzaga Law's faculty as an assistant professor starting in August 2019. Coming from Georgetown University Law Center, Professor Simshaw is an expert in legal writing and advocacy with a special interest in the regulation of emerging technologies and their interplay with legal ethics.

"The law is inherently social; it cannot be learned or practiced passively," Professor Simshaw said. "Every student brings a unique perspective to the classroom, and there is a lot we can learn from each other."

Professor Simshaw participated in a Q&A to introduce himself and share what he hopes to bring to Gonzaga Law.

See the full story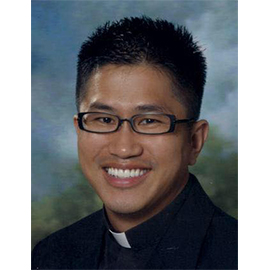 Gonzaga Law is proud to announce the hiring of Fr. Bryan V. Pham. In addition to being Chaplain to the law school, Fr. Pham will be working as a Staff Attorney in the Indian Law/General Practice Clinic, teaching Bankruptcy Law every other semester, and serving as an affiliated scholar with the Center for Law, Ethics & Commerce.

"Coming back to Gonzaga is like coming home," Fr. Pham said. "This place was so instrumental in my formation—both as a Jesuit priest, as an attorney, and as a person. Gonzaga takes its mission to form the whole person very seriously!"

Fr. Bryan V. Pham is a Jesuit priest of the USA-West Province of the Society of Jesus. He is an active member of the Washington State Bar Association and the Canon Law Society of America. He also serves on the Board of Trustees of Gonzaga University, the Board of Directors of Gonzaga Preparatory, and represents the Jesuits on the Jesuit Committee for Investment Responsibility.
Hire a Zag
Did you know? Whether you need short-term project help, a Rule 9 intern, or are ready to expand with a new associate, you can post your hiring needs for FREE on the Gonzaga Legal Applicant Window (ZagLAW).

Looking to explore your own career options? Gonzaga Law alum can also create job seeker accounts on ZagLAW to search for opportunities or schedule career coaching appointments with CPD staff.
Now accepting AMEX cards
Gonzaga Law is now accepting AMEX cards for payments and donations. As American Express says, "Don't leave home without it". Though, in this case, we will accept submissions from anywhere, including home. Your generous philanthropy helps our students put their Passion Into Practice.
Alumni in the News
Chelsea Williams: County Court Judge of Jackson County
Chelsea Williams was recently appointed to the Eighth Judicial District as a County Court Judge of Jackson County. Williams is replacing the Honorable Cindy L. Wildon following her retirement.
Upcoming Events
Orientation Alumni Mixer
Tuesday, August 20, 2019
4:00 - 5:00 P.M.
McCarthey Athletic Center East Lobby

During our fall orientation, you are invited to join the incoming Class of 2022 for an alumni mixer. Enjoy a barbecue and visit with the newest 1L students.
Pilgrimage 2019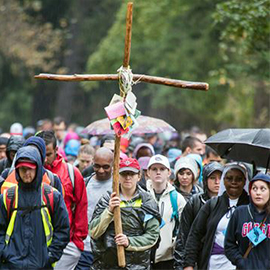 Dean Rooksby and Law School Chaplain, Fr. Pham, will be joining Gonzaga's Mission & Ministry on September 14, 2019, for the annual pilgrimage to the Cataldo Mission. The pilgrimage is an 11.5 mile hike to the historic Mission of the Sacred Heart in Cataldo, Idaho. Alumni and students are encouraged to participate. 2019 marks the 50th year that the Gonzaga community has embarked on this holy pilgrimage.
Medicine, Music, and Mascots: Furthering Social Justice in the Age of Intellectual Property
September 20, 2019

As we move further into the information age, the domain of intellectual property (IP) continues to grow exponentially. This domain––which includes algorithms, digital creations, genes, and even living organisms––is a vast economic resource that garners massive earnings for the media, pharmaceutical, agricultural, and academic industries, among others. Often overlooked are questions of how the resources of IP can be used to advance the wellbeing of our communities, nations, and the world at large. With these tensions in mind, this conference puts IP into conversation with social justice by asking how the areas of patent law, trademark law, and copyright law can better serve the public good in the modern world.
Red Mass 2019

The annual Gonzaga University School of Law Red Mass for the Legal Profession will be held Tuesday, October 1. The Mass will take place in the University Chapel on the third floor of College Hall.

The 2019 Distinguished Legal Service Award will be presented at the conclusion of the liturgy and a reception will follow at Cataldo Hall, 502 E. Boone Avenue. More information to come.
Recent Photos
Mediation Competition in Florence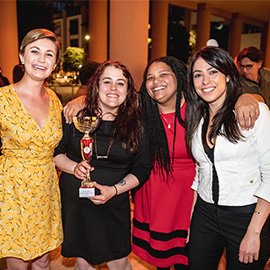 Saluti da Firenze! In May, students in our Florence Summer Law program participated in an annual mediation competition at the University of Florence. Our students faced competitors from Italy, Lebanon, and France during this enriching international experience that included mediators and judges from Italy, France, and Germany, as well as the American Bar Association's Section of Dispute Resolution.

We are thrilled to report that the Gonzaga Law team of Kayleigh TenBarge and Staniela Nikolova (from University of Idaho) won first prize in the competition. Another Gonzaga team composed of Lindsey King and Jessica Miglarese also won an award for most creative options.
Staff Excellence Award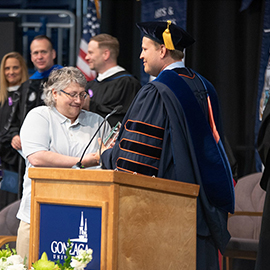 Law school staff members serve with a dedication to excellence that often goes above and beyond expectations, providing service to students, faculty, community members, and each other. The annual Staff Excellence Award recognizes a staff member who has accomplished exceptional achievements in their respective job assignment or contributed to an outstanding work environment with an enthusiastic, positive attitude, supported the fulfillment of Gonzaga's mission, and worked collaboratively with co-workers, faculty, and students.
Dalean Neiner
, IT Support Tech II, Law School IT, received the inaugural Staff Excellence Award at the 2019 Commencement ceremony.