Your gift makes a difference. Any amount helps Gonzaga Law support current and future generations of students who are working to put their Passion Into Practice. Your generous philanthropy helps make this possible.
Give to Gonzaga Law
Alumni in the News
Angela Jones ('16): On Education, Equity & Faith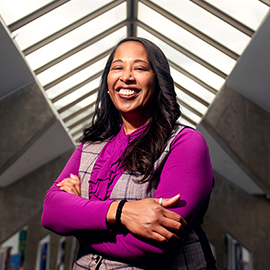 Angela Jones, CEO of Washington STEM, was interested in STEM (science, technology, engineering, and math) fields while growing up, but wasn't sure how she might pursue that path. She was sure, however, of the calling to embrace and advance her role as a woman of color. The underlying themes that inspire Jones' work are ingrained in those experiences.

This drive animated Jones' 25 years of professional experiences, which revolve around passion, service, and leadership. She fosters a strong belief in building community through sustainability and generational growth through access to education.
Click here to read the full story
Caitlin Elizabeth O'Brien ('13): 'Up & Coming' Award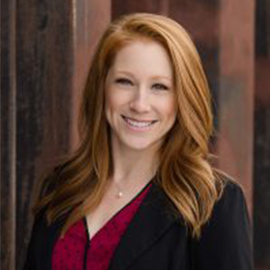 O'Brien was named as an "Up & Coming Lawyer" in the Idaho Business Journal's 2019 Leaders in Law issue. O'Brien currently works for Smith + Malek and is passionate about working with federally qualified health centers, helping small health centers that do not have in-house counsel.

"I went into law because I wanted to change the world," she says. "I like working with health centers, and different health care organizations, because they're also changing the world: they're changing the practice of medicine for the better."
Read the full story in the Idaho Business Journal
Cora Whitney ('13): 'Up & Coming' Award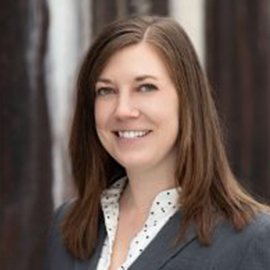 Cora Whitney, a member of the Smith + Malek team with O'Brien, was also named an "Up & Coming Lawyer" by the Idaho Business Journal in its 2019 Leaders in Law issue. Whitney is dedicated to mentoring other women in the field of law.

"Women have a hard enough time competing in a male-dominated field; we should and can be inspirations to each other to help us all succeed," she says. "To see women I helped to influence, even in a small way, succeed in making the legal profession better is all I can hope for in my career."
Read the full story in the Idaho Business Journal
Jessie L. Pellant ('09): IP Expert for Colorado
Jessie L. Pellant was named as the 2019-2020 IP Expert for Colorado by The IP Lawyers, an online directory of IP lawyers whose expertise in the field has been vetted by the site's research team. Pellant is the founder and managing partner of StudioIP. With over a decade of experience advising clients in transactional and litigation matters, Pellant has earned the role of trusted advisor for her longtime clients. StudioIP is a boutique intellectual property firm providing personal client service that is strategically crafted to fit each client's needs.
Read the full story
Upcoming Events
Women Lead Napa Valley Conference 2020
Friday, February 21 - Saturday, February 22, 2020
Harvest Inn 1 Main St.
St. Helena, CA 94574
$349/person

Join us in Napa Valley for this one-of-a-kind Women Lead conference! In partnership with the School of Leadership Studies, the School of Law is hosting the next women's leadership conference in beautiful St. Helena, in Napa Valley, California. The conference will offer two tracks - one in women's leadership and one in wine law. Workshops will be hosted at local wineries, where conference attendees will immerse themselves in the culture of the wine industry. Whether you work in the wine industry or you are a wine enthusiast, this conference is for you!

Interested in practicing wine law or becoming a wine law instructor? Contact Professor Jessica Kiser, Director of the Gonzaga Wine Institute, at kiser@gonzaga.edu to learn more.
GPILP Auction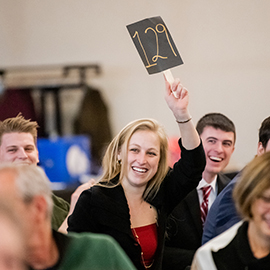 Saturday, February 22, 2020
5:30 - 10:00 .M.
Hemmingson Ballroom

Join us for the annual Gonzaga Public Interest Law Project (GPILP) Auction, a night where members of the community, faculty, staff, and students are invited to bid on donated items in a silent and live auction. The proceeds from the evening are put towards grants for law students pursuing public service internships that are otherwise unpaid.
Call for Donations!
Gonzaga Law Pop-Up Shop
The Center for Professional Development (CPD) will be holding a pop-up shop in the spring. This is always a great opportunity for our students to acquire professional clothing for internships, externships, and a variety of other law student activities.

We need your help to make this event a success! Donations of gently used professional clothing can be dropped off at the CPD office on the first floor of the law school until January 31. Examples of donations needed: suits, dress shoes, belts, dress shirts, professional dresses, etc.
Recent Photos
Moot Court Victory

On to Nationals! Gonzaga Law Team E (for Exhaustion of Administrative Remedies) won best brief at the regional rounds in Missoula, Montana. Team E also defeated the University of Montana in the final round to take first place! In February, Team E will move on to the national round in New York City.
All Rise: The Gonzaga Law Podcast

Are you caught up on All Rise: The Gonzaga Law Podcast Season 1? All five episodes are now available. Season 1 special guests include Bob Ferguson, the Attorney General of Washington, and 2019 graduates Sather Gowdy and Emily Hazen.