Thank you for taking the time to check in and catch up with GU Law's recent news and upcoming events with the November Alumni Newsletter. We also wish to thank you for your continued support in helping the next generation of GU Law students.
Happy Holiday Season!
Our staff spent the day before Thanksgiving getting the building into the holiday spirit. A great Zag Law tradition, we are now ready to usher in the holidays! We are grateful to all our alumni and donors who assist us in continuing our mission. Thank you for being a part of the Zag Law family.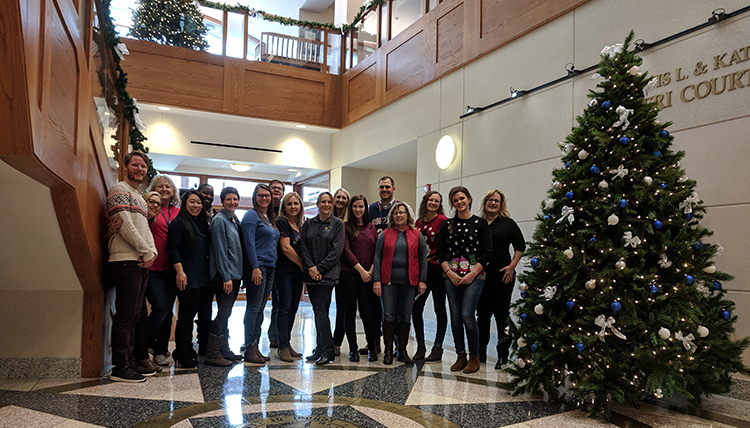 Your gift makes a difference. Any amount helps Gonzaga Law to support current and future generations of students. Our students are working to put their Passion Into Practice and you are an important part of that journey
Contents:
Alumni in the News
Gonzaga Alumna Featured in ABA Journal's Podcast
ZagLaw alumna Janice P. Brown('83) appeared on the October 29 episode of the ABA Journal's podcast Asked and Answered to share her insight into client relations. More specifically, how do you explain your worth to a client who balks at your fees? Brown says that if a client can't or won't pay your retainer, they are not worth a discount, but there are effective ways to explain your value to a potential client. Along with confidence, Brown advises attorneys to have a good sense of what the market rates are for legal services.
Brown's expertise comes from her experience as the founder of Beyond Law, a business designed to provide lawyers the entrepreneurial skills necessary for success in today's legal market and from her role as founding partner of the Brown Law Group, a full-service employment law firm in Southern California and Nevada. Prior to founding the Brown Law Group, she worked for the Department of Justice's Tax Division; was a partner with Seltzer Caplan McMahon Vitek; and spent four years with the Vantage Law Group, which she also founded. She has received numerous awards, including the Department of Justice's Outstanding Trial Attorney Award in 1987.
Borskofsky named Native American 40 Under 40
Peter Boskofsky ('11) has been named a 2018 "Native American 40 Under 40" by the National Center for American Indian Enterprise Development. The award is given to individuals who have demonstrated leadership, initiative, and dedication and made significant contributions in business and their community. Currently Boskofsky serves as general counsel to Koniag, Inc., on of thirteen Alaska Native Regional Corporations. He also serves as vice president of the Koniag Education Foundation Board, co-chairs the Alaska Native Law Section of the Alaska Bar Association and volunteers for the Alaska Color of Justice. Before working at Koniag, he served as an attorney at Afognak Native Corp. and Alutiiq LLC.
Elections Coverage: Zags in Office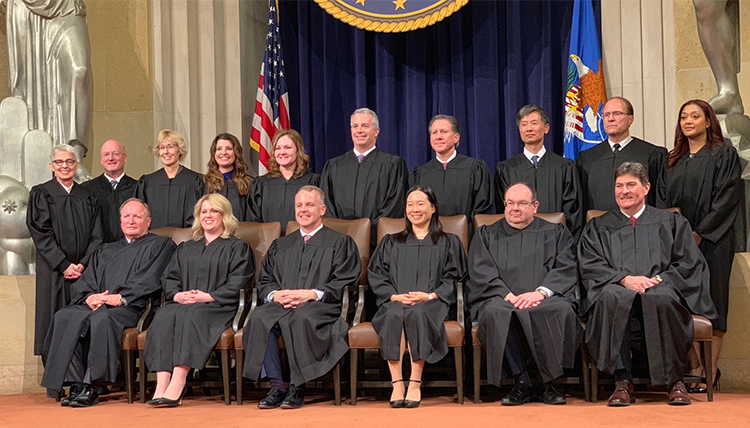 Two of our alumni recently became US Immigration Law Judges. Photo featuring Ann McDermott ('02) (back row third from left) and Scott Gambill ('99) (back row second from right).
Election season has come to a close and we congratulate our Gonzaga Law alumni who were elected to new offices or retained their seats. Here are just some of our great alumni who emerged victorious in their recent elections. Congratulations to all alumni who ran for office and participated in the democratic process.
Scott Gambill ('99) is now a member of the San Francisco Immigration Court bench.
Ann McDermott ('02) was also appointed to begin hearing cases as a judge with the Las Vegas Immigration Court.
In August 2018, Leon J. Francis ('96) was sworn in as an immigration judge with the Executive Office for Immigration Review.
Cecily Hazelrigg-Hernandez ('05) won her race for a seat on the Washington Court of Appeals, Division I. Before her win, Hazelrigg-Hernandez served as a deputy public defender for Skagit County.
Annie Pelletier Hightower ('07) was elected to a seat on the College of Western Idaho Board of Trustees.
Jeff Holy ('89) retained his seat as senator for Washington State's 6th District.
Patrick T. Johnson ('98) won his race for a sear as a Spokane County District Court judge. Since 1998, he has served Spokane as a deputy prosecuting attorney working his way from misdemeanors to felonies.
In a close race, Kristin Luis ('94) became the new Justice of the Peace in Carson City, NV. She currently worked as the assistant district attorney with the Carson City District Attorney's Office and will be sworn in in January 2019.
The Honorable Peter Nault ('79) retained his seat as a district court judge for the Northeast Division of King County in an uncontested election.
Mike Pellicciotti ('04) was re-elected to the State House.
Lindsey Schromen-Wawrin ('13) was sworn into the Port Angeles City Council in January 2018 after winning his race last November.
Michelle "Shelley" Szambelan ('91) retained her seat on the Spokane Superior Court.
Mindy Walker ('06) is leading in the race for Jefferson County District Court judge.
Upcoming Events
Loan Assistance Repayment Programs
Our Loan Repayment Assistance Programs (LRAP) are designed to assist a select number of our graduates who are pursuing careers in public service. Applicants with outstanding law school student loans, both federal and commercial, are invited to apply to the LRAP program. The program functions to provide loans of up to $4,000 a year to help meet the repayment of specified law school loans.

Applications for the General and John Clark LRAP Programs are due December 1, 2018. For questions and more information please contact Bryn Boorman at boorman@gonzaga.edu or 509-313-3742.
Click here for more information
The Gonzaga in Florence Alumni Experience
Experience the best of Gonzaga Law in Florence! This one-week program begins in Florence with our third-annual International Human Rights Symposium, which will offer world-renown scholars and professionals to address this year's theme, Freedom of Expression as a Human Right. Then, escape to the Tuscany countryside, where we will spend three nights in one of the world's most famous wine regions, learning more about the legal and business aspects of wine through on-site visits to wineries and lectures and tastings by leading experts.

3rd Annual Human Rights Conference
June 2-3, 2019
CLE Credits Pending
Florence, Italy

Wine Law Program: The Legal and Business Aspects of Wine
June 4-7, 2019
CLE Credits Pending
Florence & Chiani, in Italy's famous Tuscany region
For those attending the CLE portion the cost will be $1300.00 USD. This will cover CLE credits, stated meals, stated transportation costs/transfers, stated wine tastings and activities. This price does not include airfare, lodging, or transportation and activities outside of the stated itinerary.

For those attending as a guest—not attending the CLE portion of the program—the cost will be $550.00 USD. This will cover stated meals, stated transportation costs/transfers, stated wine tastings and activities. This price does not include airfare, lodging, or transportation, and activities outside of the stated itinerary.
Please note: Gonzaga Law will apply for Washington State CLE credit. Attendees from other states will receive a certificate of completion to submit to their state bar for credits.
Click here for registration and schedule information
Recent Photos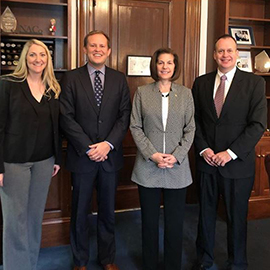 Dean Jacob H. Rooksby and several staff members traveled to Washington DC this month to meet with alumni. Here they are with one of our distinguished alumnae, Senator Catherine Cortez Masto ('90) (center right).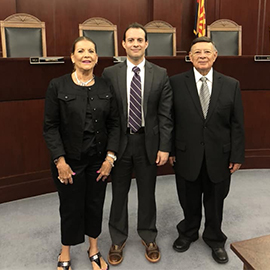 Emmanuel Leon ('17) was recently sworn in to the Minnesota Bar and is now a practicing attorney in both Mexico and Minnesota.
In Memory
We are sad to lose members of the Zag Law family. The following alumni and friends have passed away recently. We ask that you keep their friends and families in your thoughts and prayers.

Alexandra J. Kwak ('04)
Russell Van Camp ('73)
Questions?
If you have any questions, concerns or suggestions, please contact Sarah Guzmán, Assistant Director of Annual Giving & Alumni Relations at guzmans@gonzaga.edu or (509) 313-3738.